10 Attractions You Must See Before Leaving Aurora, Baler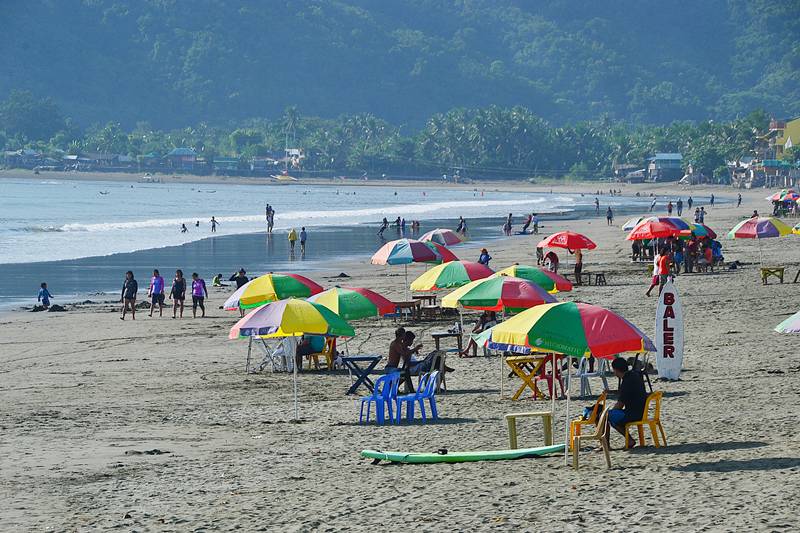 Sabang Beach
Aurora, Baler proudly proclaims itself as the surfing capital of Eastern Luzon and most travelers do flock to its shores to discover their inner surfer. The town's new-found status and glamour is largely because of its blockbuster attraction, Sabang Beach; a gorgeous stretch of sand and sea lining the eastern side of the town. This is where everyone goes to test their surfing skills.
For first-timer surfers, it could either go very good or very bad. In my case, it was the latter. After a dozen falls from the surfboard followed up by a wave crashing on my back with each fall, I called it quits to my instructor's dismay. Nonetheless, I discovered that a surfboard is an excellent contraption for sunbathing and ocean photography, and my not-so-epic attempts at surfing didn't spoil my Baler holiday at all.
But whether you are into surfing or not, there is much more to see and do in the region. If Baler is on your bucket list, below are attractions you should visit while in town.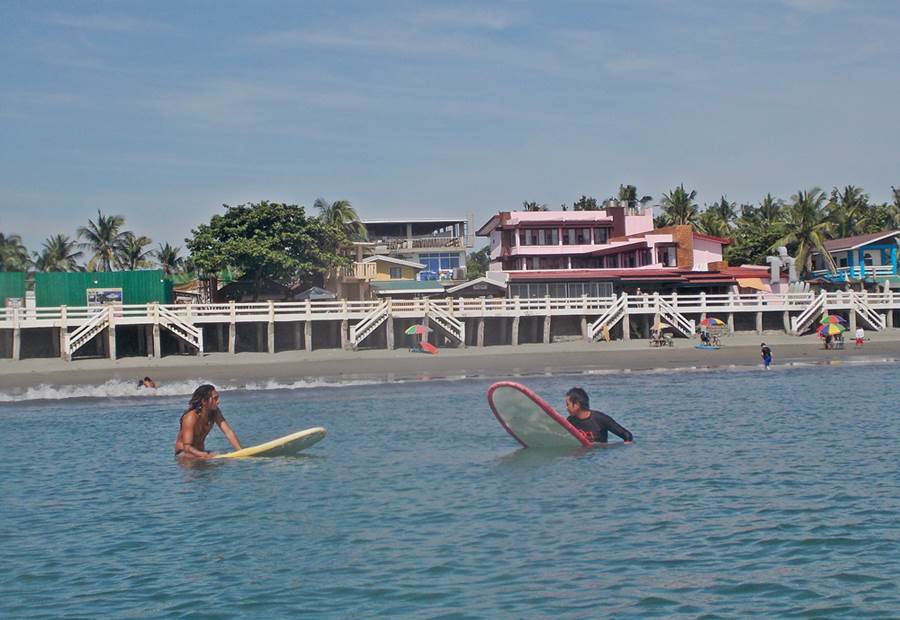 Water Shot in Sabang Beach
Ermita Hill
Towering over the towns of Poblacion and Sabang, Ermita Hill is a favorite sightseeing spot for locals and tourists alike. It offers panoramic views of Baler Bay from Sabang Beach further up to the rocky coasts of Dipaculao and Casiguran. Ermita Hill is a significant historical landmark because it served as a sanctuary to residents during and after a catastrophic tsunami that struck Baler in December, 1703. Only six families are said to have survived the ordeal. There is a ₱15 admission fee per group charged at the site.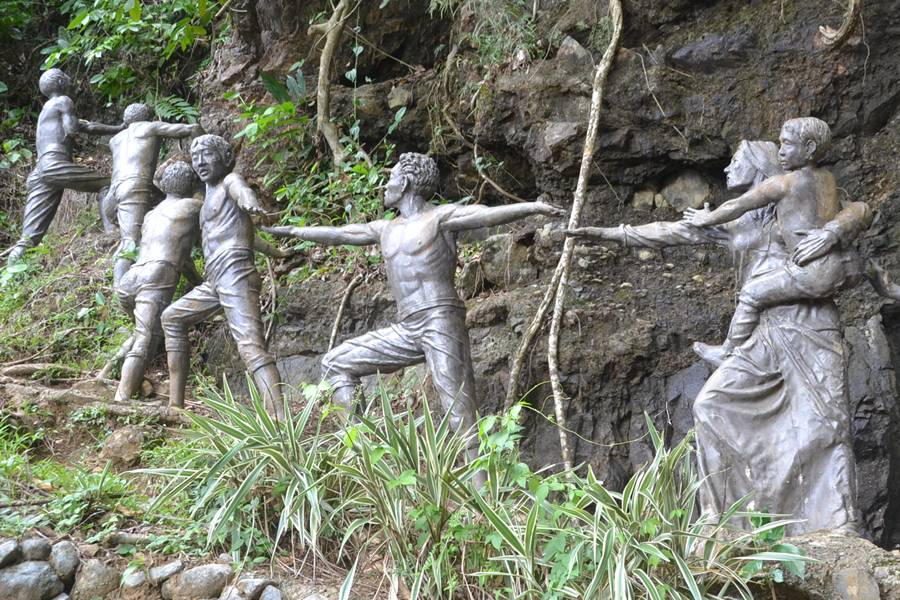 Monument installed at the foot of the hill to honor those who perished in the storm. 
Diguisit Beach, Diguisit Falls and Aniao Islets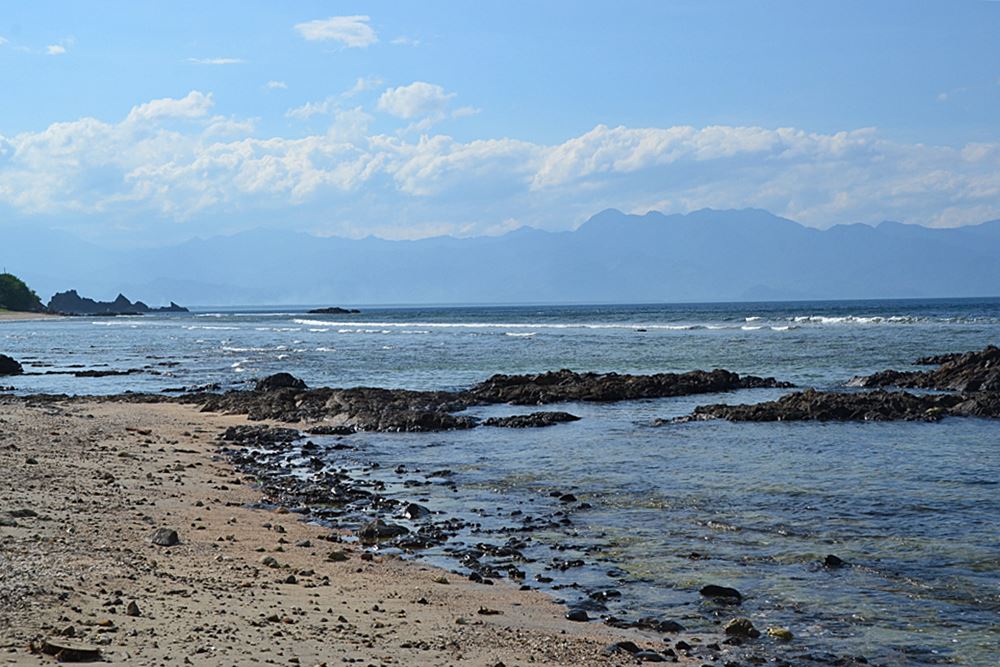 Diguisit Beach
From Ermita Hill, head down to the stony stretch of Diguisit Beach which offers pretty photo spots with the eye-catching Lukso-lukso Islets looming in the background. Beyond Diguisit Beach lies a tiny cove that contains the Aniao Islets—without a doubt, this is the most exquisite spot in the entire coast. There is a ₱20 admission fee per visitor at Aniao Beach.
But before you gravitate toward Aniao Cove, don't forget to look up at the mountainside across Diguisit Beach and admire the enigmatic beauty of Diguisit Falls.  It's almost unnoticeable if not for the subtle sound of water spilling down the rocky slope beneath it.
Aniao Beach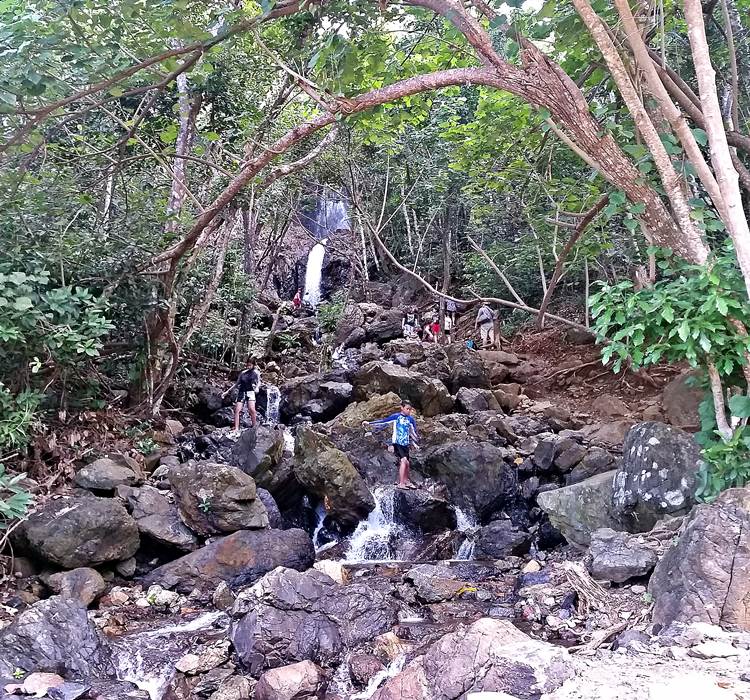 Diguisit Falls
Millenium Tree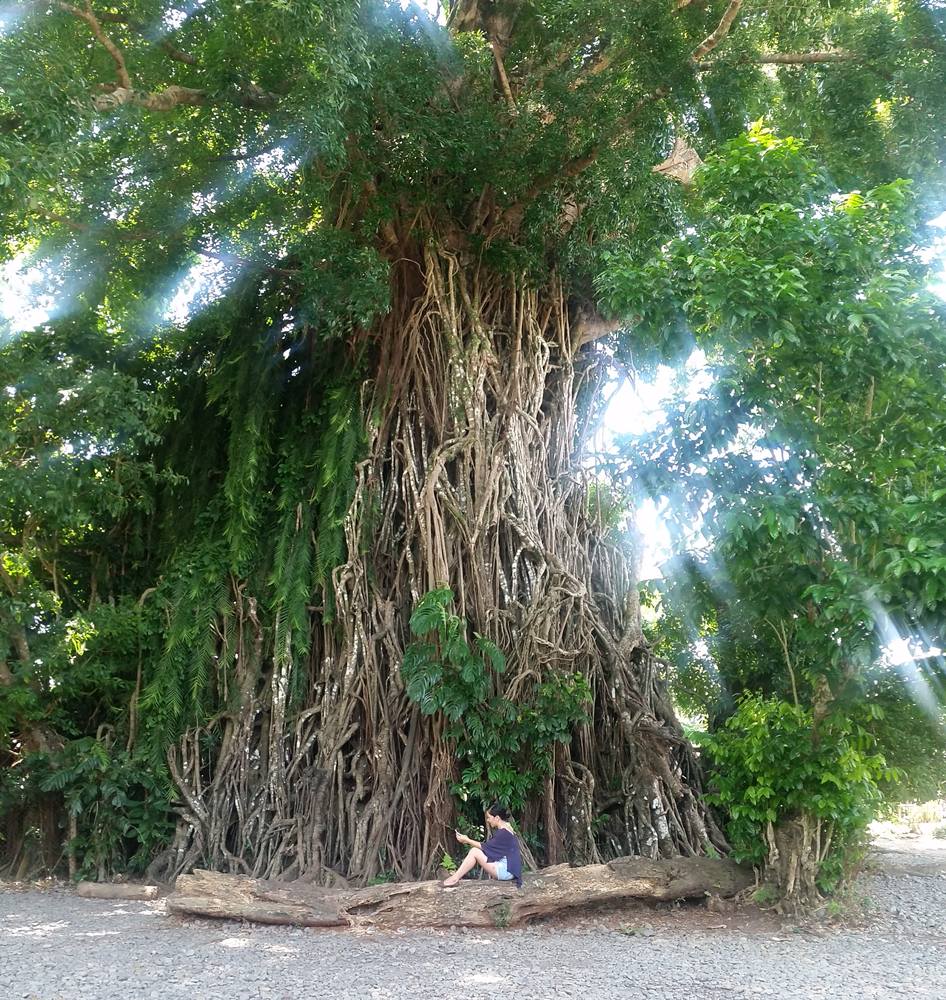 Like something out of a Lord of the Rings film, the gargantuan Millenium Tree is a sight to behold. It stretches above 50 feet and has been around for 600 years. It's also believed to be the largest Balete tree in South East Asia. In Philippine folklore Balete trees are often attached to supernatural beings. The admission fee to the site is ₱30 per group.
Note: Given its age and to help preserve it, please refrain from climbing the tree.
Ditumabo Falls
Located in the mountainous outskirts of the town of San Luis, Ditumabo Falls also known as Mother Falls, is one of Aurora's treasured natural wonders. However, be warned that a visit here entails a 30-40 minute trek through rugged terrain which could leave you feeling sore all over for the next few days. Also, on peak days a pool party of sorts builds up at the foot of the waterfalls, and rowdy groups of tourists could make it hard to appreciate the falls in all its splendor. So if you're looking to savor a quiet, meditative trek to Ditumabo Falls,  go on a weekday. You could hire a guide for ₱200 to lead you there, although you could also go on your own, simply follow the markers along the trail. Visitors each pay a ₱30 environmental fee.
Photo by VJ Antonis
Hanging Bridge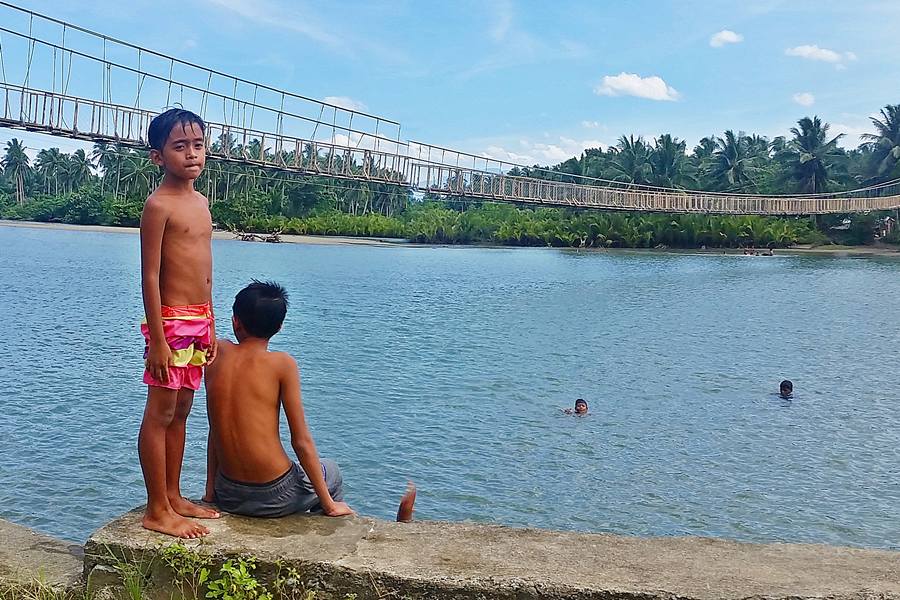 The Hanging Bridge is a crafty and rather bouncy walkway that links two communities separated by a vast waterway. It's located on the southern end of Sabang Beach. You could actually walk there when it's not too hot and enjoy scenic views of the ocean atop the bridge or take a dip in the shallow lake beneath it.
What to See in Town
Just like other countryside communities Baler is a sleepy, laid-back town filled with tiny homes, tiny roads, buzzing tricycles, and wandering cattle. Although it does have a few interesting sites which offer newcomers deeper insights into the local culture and town history. Among them are:
Museo de Baler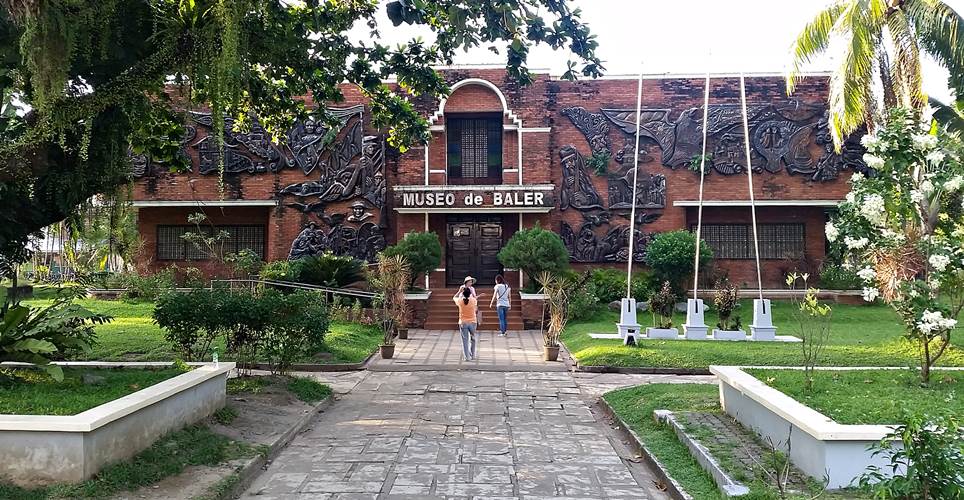 This museum features historical artifacts, artworks, and antique publications that depict life in Baler during 300 years of Spanish colonial rule. Some of the museum's highlights include an exhibit dedicated to late President Manuel L. Quezon, a native of Baler who served as president of the commonwealth government from 1935-1944. In addition, there is a section for artifacts retrieved from shipwrecks of Spanish galleons discovered in the seas of Southern Luzon and Palawan. Admission to the museum is ₱20 per visitor.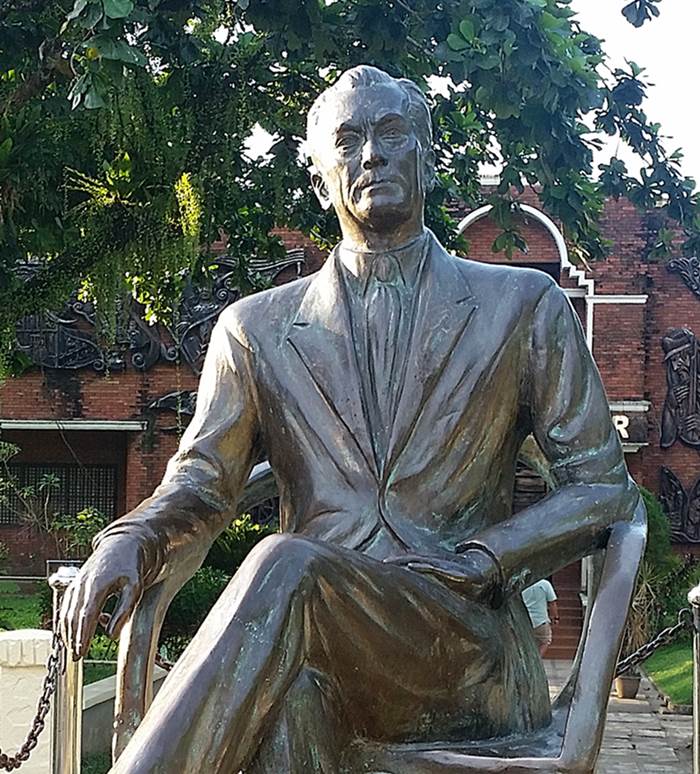 Monument of President Manuel L. Quezon in front of Museo de Baler
Doña Aurora Aragon Quezon House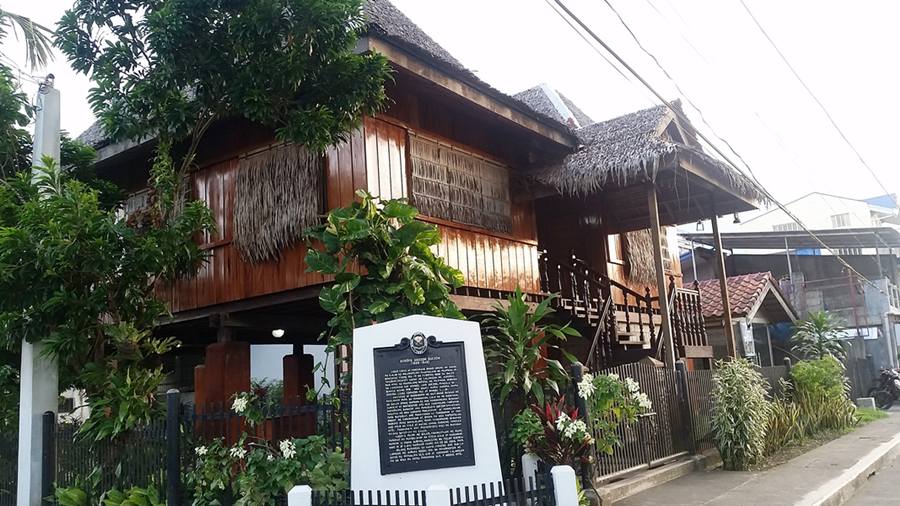 From Museo de Baler cross the street to the historical home of Doña Aurora Aragon Quezon, wife of late President Quezon, of which the province was named after. Waltz through the house's wooden chambers and learn more about her story. Remembered as a devout first lady, humanitarian, and champion of women's rights, Aurora Quezon was beloved by the public. She was actively involved in organizations such as the Philippine National Red Cross founded in 1947. She was among the first women's rights activists in the country and had staunchly campaigned for Filipino women's right of suffrage.
In the field of education, she participated in the founding of several schools. The establishment of Mount Carmel College of Baler in 1948 was one of her most successful endeavors. It's said the whole country wept upon learning of her assassination and death by Hukbalahap insurgents in 1949.
Simbahan ng Baler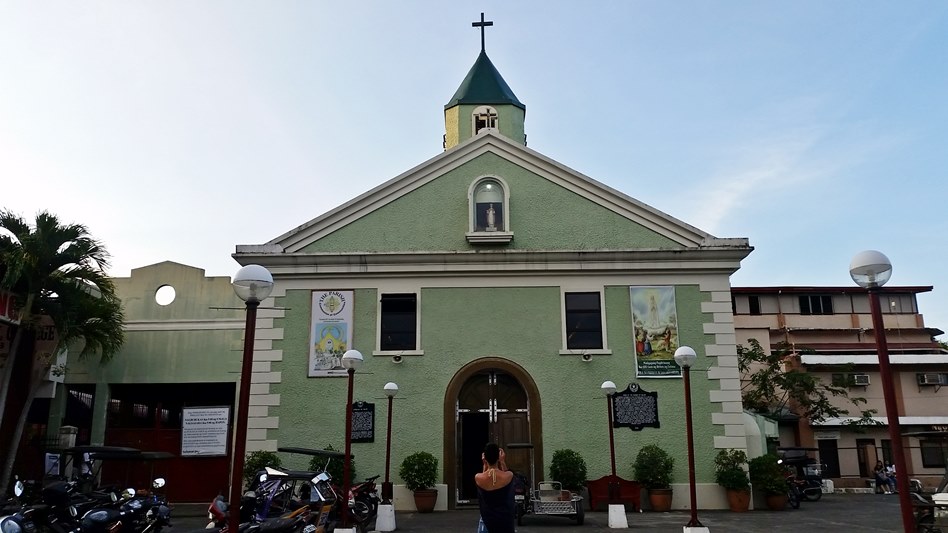 The Church of Baler is a Catholic church originally built in Baranggay Sabang under the auspices of Franciscan missionaries in 1611. However, since it was merely made of nipa and bamboo, it was easily destroyed by the tsunami in 1703. The church was rebuilt in 1735 at its current location. It has undergone several restoration works over the years, but fortunately has escaped destruction during the war.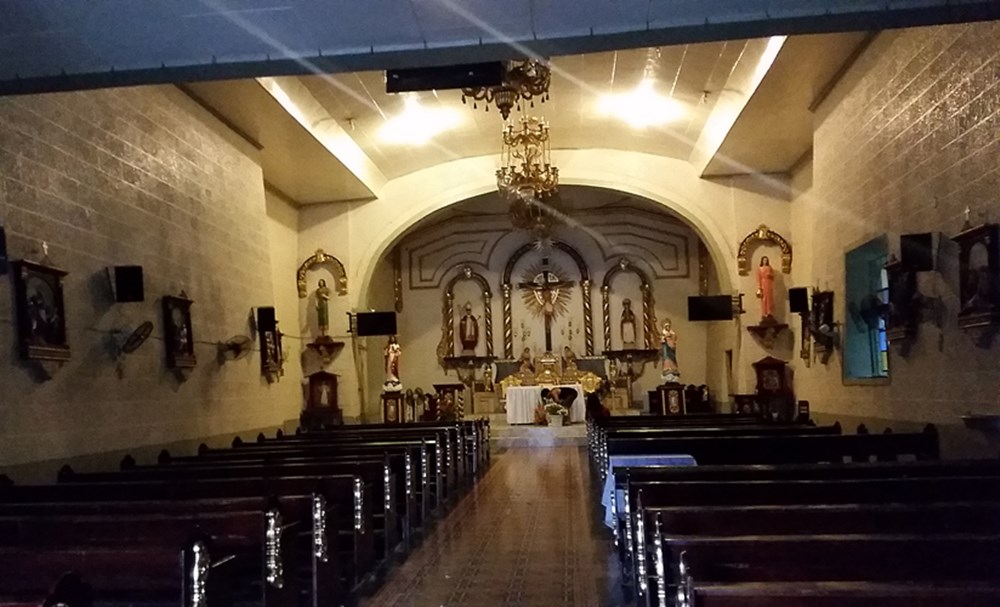 Other Options
Aurora Province is a springboard to explore some of Eastern Luzon's breathtaking coastlines. In Baler alone, there are so many options you'd find it hard to fit them all into your itinerary. But if you do have more time in town, you could venture farther out to these less frequented beaches:
Dicasalarin Cove — Privately owned by a certain ruling clan but tourists are welcome to visit for a fee of ₱300/pax. Also, you may need to rent a habal-habal for ₱150 because tricycles can only take you up to a certain point. The site is about 17 kilometers or 40 minutes by tricycle from the town center.
Ampere Beach — Another rugged coastline with attractive rock formations. It's located about 24 kilometers north of Sabang. You could get there by car in about 1 hour.
Dipaculao Beach — A beautiful white sand beach, farther up north about 50 kilometers or 1 hr. and 20 minutes by car from Sabang Beach.
Surfing is just part of the fun in Baler. Once you've explored the region it's easy to understand why a quiet, unassuming town  like this has attracted so many travelers to its doorstep. If you're one of them travelers heading here soon, bookmark this page so you won't miss out on the awesome sites above.
If you found this article useful, please pass it on. Cheers.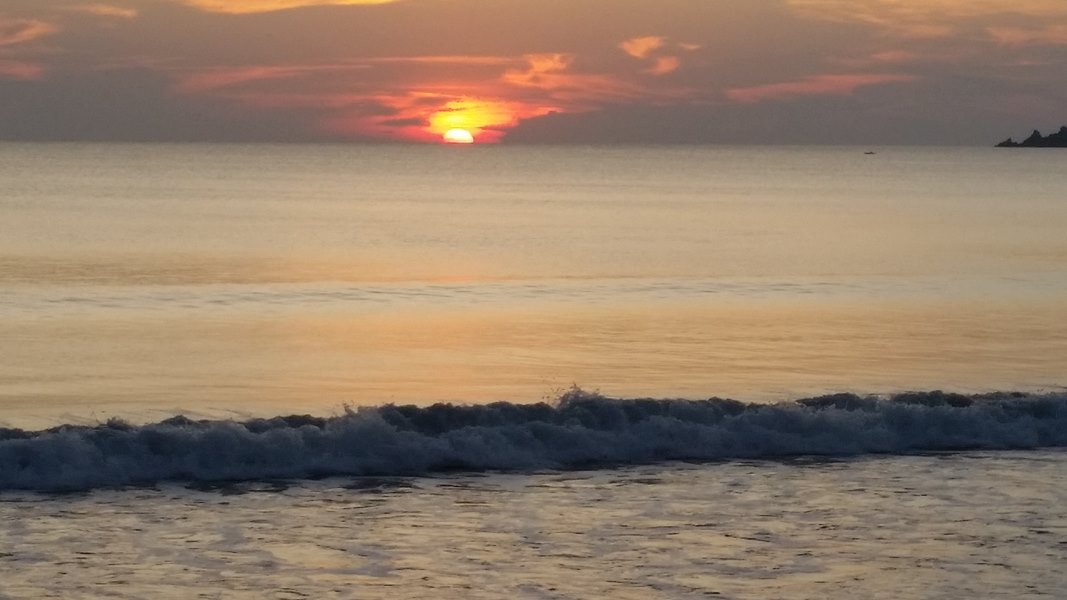 Sunrise in Sabang Beach
Like, Share and Spread the Love!!