Discovering Siem Reap's Chong Khneas Floating Village – A Travel Guide
Like most travelers what brought me to Siem Reap Province was the majestic Angkor Wat and other ancient temples. But after two days on the temple trail, I decided to try something different and booked a boat tour of the "Chong Khneas." A floating village along the Tonle Sap River – an amazing community that thrives on fishing and tourism.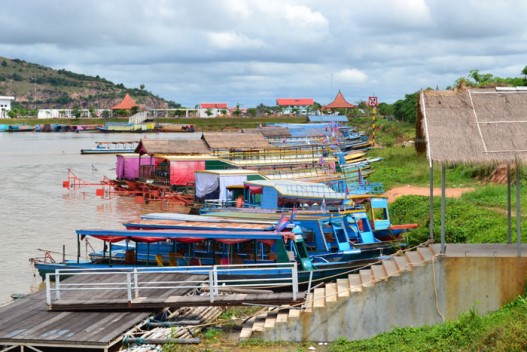 My hotel had partnered with one of the tour operators and they took care of my reservations. At around 10:00 in the morning my guide fetched me at the hotel and we immediately proceeded to the port. It was a long drive approximately 45 minutes from town with absolutely no traffic.  Nonetheless, it was an interesting journey where you could get to see the rural areas of Siem Reap.
We passed vast rice fields and clusters of wooden huts built on high stilts, some still standing on flood water brought in by a recent typhoon.  After driving by a few more towns and open fields, my musings were interrupted as we approached the noisy port overflowing with crowds boarding and disembarking the boats.
The Tonle Sap is an important resource for the Cambodian fishing industry. For the river dwellers fishing is their main livelihood. The homes at the Chong Khneas are made of wood and sheets of galvanized iron. They are built on wide floating platforms anchored to the river's base. The community is surprisingly complete with a school, a police station, vegetable markets, restaurants and a community center.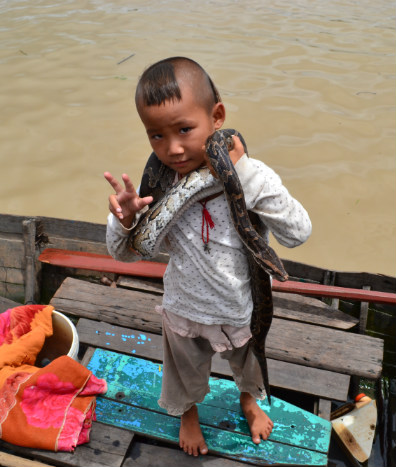 According to my guide tourism has steadily increased in recent years and it obviously has become a significant source of income for the villagers. From the port to the floating restaurant we visited there were many vendors most of whom were children selling items like scarves, postcards or figurines.
As my guide was taking my picture, a child with a snake stood beside me, I was quite startled by the snake. My guide took our picture and later the child asked for a dollar. According to my guide payment was not mandatory, although it is somewhat expected. Cambodia is a developing country and people have a very simple way of life. But sadly, poverty pushes children out of their homes and into the streets to start earning their way at a very young age.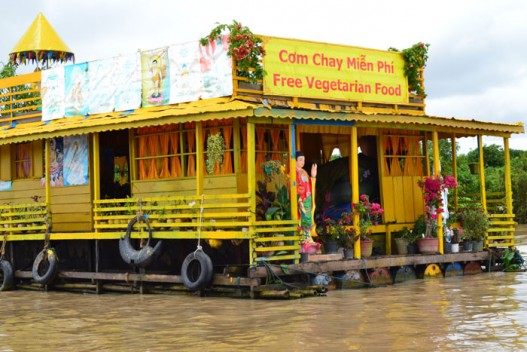 From the souvenir shop, my guide and I had lunch at a barge which had been converted to a restaurant, they called it the "Tara Boat." It was located on an undisturbed corner of the river and set up like any other restaurant you'd see in town. Clean, green and quaint with a handful of staff waiting on no other customers but me. Apparently, I was the only tourist that had booked a mid-day trip so I was quite spoiled by the staff that day. After my meal, I took time sight-seeing on the deck, then my guide and I cruised back to the port and head off to the town. Read more about the Tara Boat Tour here.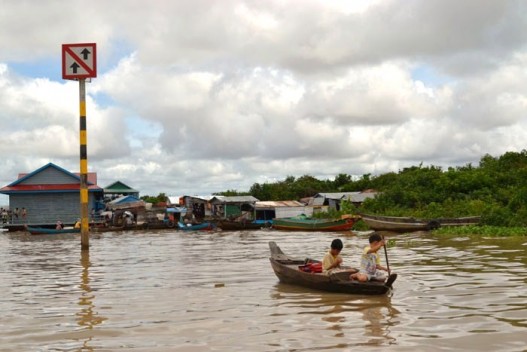 The tour included the trip from the hotel to the port and back, the boat and guide fee and a sumptuous meal on the Tara Boat. Overall, it was a unique experience. I felt fortunate to have met some of the river dwellers, learn about their extraordinary lifestyle and witness up close a true-to-life water world.
"Below is a short video of my river tour"
See more images of Siem Reap City, Cambodia here.
If you found value in this article, please feel free to like & share it with the links below. Cheers!
Like, Share and Spread the Love!!