Nagasasa and Anawangin Cove – Memoirs of a Camping Escapade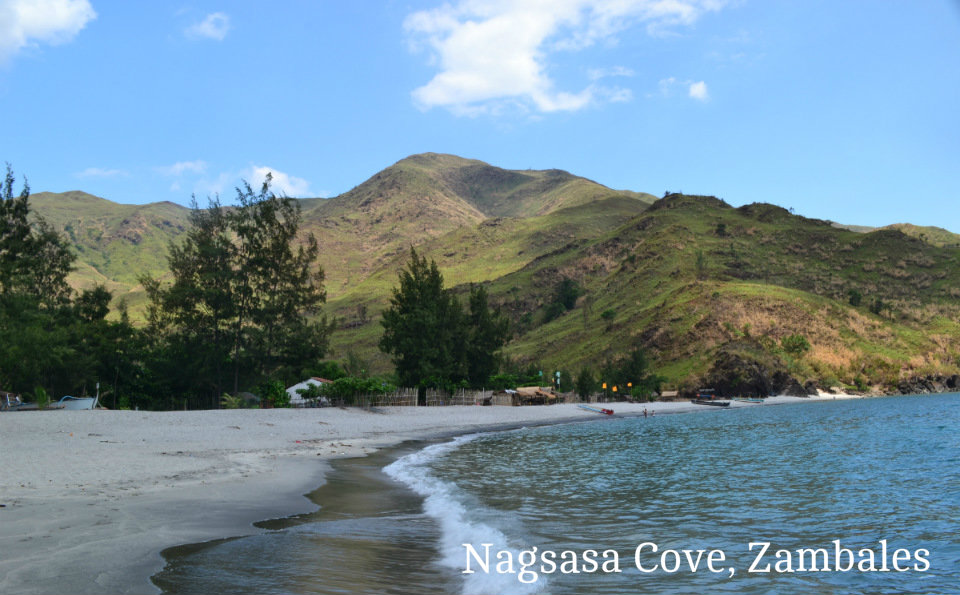 In recent years Zambales has become a tourist hot spot with the growing popularity of Nagsasa and Anawangin cove. The two sites attract hundreds of campers with their pristine beaches, majestic mountain ranges, nearby lakes and waterfalls. Their proximity to cities like Metro Manila, make them accessible to people seeking a quick weekend vacation without having to spend a lot. It's a perfect place to immerse in nature and detach oneself from the noise of the city.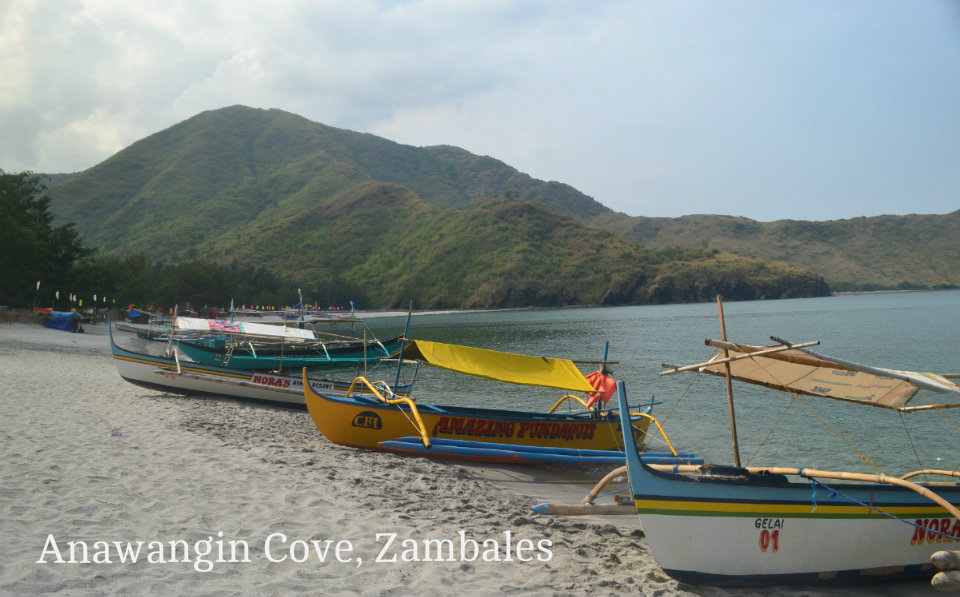 In planning trips, I usually follow the "Do It Yourself Strategy," for the purpose of saving money that would otherwise be spent on the services of a travel agency. But, for this trip, the strategy was partly DIY and partly packaged. From Manila my friends and I rode a bus to the town of San Antonio, Zambales. The bus route was Manila to Iba, Zambales. We were to get-off at the town of San Antonio and from there meet our local tour coordinator who arranged everything else that we needed for the trip.
Following online guides, we got off the bus at the San Antonio Municipal Hall, shopped at the wet market behind the complex and since it was getting late, we finished shopping in a quick 20 minutes. There was a lane of tricycles across the street. We quickly hired one driver to take us to Pundaquit Beach and arrived there in 10 minutes. At Pundaquit beach our local contact met us and took us to the boat headed for Nagsasa Cove. This was where we would camp-out for the first night.
The boat ride took an hour. The ocean was calm and the sun was low as we traveled to the cove with another group. All of us silently mesmerized looked on at the surreal images of the mountains, deep blues and ocean rocks that appeared sporadically along the way.
I wasn't sure what to expect from this trip with my limited experience in living outdoors. My last camping trip  was more than a decade ago on a mountain called Batulao in the province of Batangas.  It was a tough adventure and I still recall the eerie feeling of walking through an endless path of six feet grass en route to our campsite. But, camping on a beach was far more appealing and the thought of clear blue skies and the sound of the ocean by our campsite was enough motivation for me.
Nagsasa and Anawangin Cove are remote beaches, quite far away from civilization and that's not an overstatement. Electricity and mobile network signals weren't available out there. But living without these modern day attachments was one good reason to embark on the adventure. "My travel buddies and I were going back to the basics." I was relieved though that there were cemented toilet and shower facilities for campers. Although these were crude with no light and no tiles, they were cleaned regularly and had fresh running water. Not exactly a dream vacation at the Holiday Inn, but satisfying enough for an adventurous soul.
We were to spend our first night camping at Nagsasa Cove. It was easy to set-up our campsite with the assistance of the locals. They were very kind and helpful. Our tour coordinator assigned three boatmen to the two groups on our boat.  On the shore, we were met by several other men who, like boy scouts quickly grabbed our bags and carried them to our assigned beach hut. Some of the men were from Aeta communities in the area. You can tell by their dark skin and kinky hair.
Aetas are tribal people who live in closely-knit communities in the mountainous regions of Luzon. Historians suggest that they are the earliest native inhabitants of the Philippines. They have a nomadic lifestyle and thrive on fishing and hunting. In some towns though, Aetas have adapted to the modern ways earning a living as boatmen, travel guides or food vendors. They are very friendly and can communicate in both Tagalog and Ilocano.
An Aeta father and his son taught us the basics of cooking rice at the campsite. A tedious, time-consuming process that requires persistent fanning of charcoal to keep the fire alive. As I worked on this task, I thought of my old, reliable rice cooker back home and the nice, warm bowl of rice it cooks up in 15 minutes. On charcoal cooking rice felt like eternity. Eventually it boiled though.
Our campsite was set-up in less than 15 minutes and for the rest of the day we swam, snorkeled and explored the serene beach with its calm shores cradled in a perfect semi-circle by the Zambales mountains. The highlight of the trip though, was our bonfire by the beach.
A woman who owned one of the three sari-sari stores at the cove sold us bonfire wood at 150 PHP per bundle. As always, the locals helped us with our bonfire. Under the stars we sat by the the bonfire snacking on a bizarre mix of chips, roasted marshmallows and beer. Then while the water was still warm from the afternoon sun we took a dip. This was the life, I thought.
The next day our curiosity prompted us to take a formidable trek to the waterfalls. I have mixed emotions about this part of our trip. As mentioned earlier, I'm not much of a camper or a mountaineer. By the time we left the campsite, the sun was high and you can already feel the sting of heat on your skin. En route we walked through tall and sharp grass, forests and a river bed that was dried-up by the summer heat.
My thoughts began to linger on the possibility of death by dehydration when we finally arrived at the waterfalls. Apparently, the waterfalls was also suffering from dehydration. All but a trickle of water flowed down to the lagoon. It was somewhat disappointing. Nonetheless, the rock wall of the waterfalls was admirable. There were 3 lagoons where you can swim in after the long walk. Tiny fishes called them home and fortunately there were no water snakes, toads or other repulsive reptiles in the community. A dip in the cool water after the excruciatingly hot walk was inviting.
Our second night was spent at Anawangin Cove. This cove paled in comparison to Nagsasa Cove, however, more campers flock to this site because it's closer. We arrived on a Sunday afternoon when most of the weekend campers were leaving. It was not a welcoming sight. Like confetti after a street parade, garbage was scattered all over the camping grounds. The parting gift of weekend campers who had little concern for environmental conservation. By nightfall though, the locals have done some routine cleaning and by daytime the place was looking much better.
At night, we set-up our bonfire just a few meters from our tent because bonfires were not allowed on the shores of Anawangin Cove. As much as I enjoyed our stay at this beach, I wouldn't recommend going there on a weekend because of the crowds and the rubbish that comes with it. A weekday trip to Anawangin Cove would be better, particularly for tourists in search of solace or even a likeness of it. Between the two coves, my personal favorite was Nagsasa. Although, Anawangin had its wonders and is still worth a side trip.
Our last day was reserved for a morning tour of the smaller islands Capones and Camara. These islands are a short 15 to 30 minute boat ride away from each other. Our boatmen have warned us of the dangers of erratic tidal movement. On that morning though, the tide was calm and perfect for a quick trip to these islands. Leaving Anawangin Cove behind, we head-off for Capones and Camara Island. These twin sites was the last leg of our trip.
On Capones Island, we arrived on a white stone shore. It was a pretty site, very different from the typical sand beaches. To prevent any damage to the hull, our boatmen anchored the boat a few meters away and from there we hopped-off the boat, got soaked to the hips and walked towards the stony shore. Had we known this, we wouldn't have wasted time showering at Anawangin Cove, and should have gone straight-away to these two islands.
Our goal at Capones Island was to see the old abandoned lighthouse which entailed another 20 to 30 minute trek under the sun. Our hearts were pounding when we reached the peak but, the view from up there made it worthwhile. The tower was ideal for panoramic viewing of the South China Sea and other islands nearby.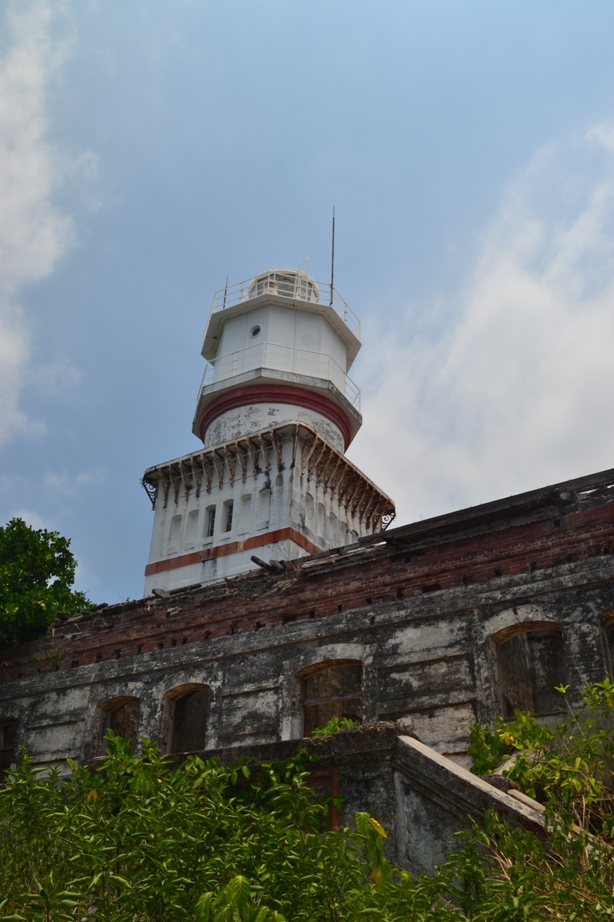 Although, the Capones Lighthouse is still actively used to guide boats traversing the South China sea along the coast of Zambales, its deteriorated condition shows that there is very little funding for its maintenance. But, despite many years of neglect, the lighthouse and its forgotten history still stands gloriously amidst the vast ocean and continues to draw a steady influx of visitors. We spent some time taking-in the view, then proceeded to our last stop, Camara Island.
Camara Island was a tiny neighboring island on the western side of Capones. It had peculiar rock formations and small sandy beaches. It was noontime and we were running behind schedule. One of my friends had to report for her night shift that same day so we managed a 15-minute swim, pose and shoot stint, then rushed back to Pundaquit Beach soaked in our supposedly going home clothes. At Pundaquit beach, there was a shower area, where we freshened-up for the trip back home.
Our pre-booked package trip included island hopping and boat fees, rental of camping gear, cooking utensils, drinking water and some charcoal. This was convenient for us because we were traveling by bus and the extra luggage would have been a burden to us. We paid 1600 PHP per person for a group of 3. A fairly good deal for our 3 days and 2 nights escapade.
On the other hand, if you have your own vehicle, you can bring your own camping gear and shop for provisions before leaving Manila City. At San Antonio you can rent a bangka and make your own arrangements for your camping itinerary. It is your option, always go with whatever works best for you.
Check-out "A Traveler's Guide to camping at Nagsasa & Anawangin Cove.
If you enjoyed reading this article, please like or share it with the buttons below. Thanks!
Like, Share and Spread the Love!!