Cuatros Islas, the Undiscovered Gems of Hindang and Inopacan, Leyte
Central Philippines is widely-known for stunning white-sand beaches, like the glitzy, white stretches of Boracay to the dreamy, rugged islands of Palawan. The entire region is a tropical utopia. And if you delve deeper into its most remote areas,  you could chance upon many tropical havens like Cuatros Islas, in Southwest Leyte.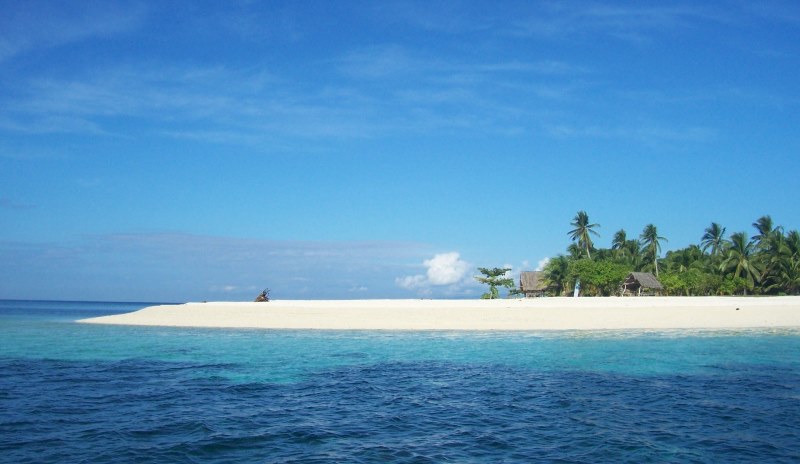 Cuatros Islas is a Spanish name which means "four islands." The islands are located within the sea area of Hindang and Inopacan town. Ormoc International Airport is the closest airport to these towns, it's around 79 kilometers or one hour away by car or by bus.
Hindang and Inopacan are among the poorest towns in Leyte. Most residents here live off the land and raise poultry in their backyards, so it's no surprise that wherever you go in town, you would hear a rooster crowing somewhere in the distance. But, what the town lacks in infrastructure it makes up for in the warmth and strong community spirit of its residents. If you are from Manila, you will strongly feel that welcoming vibe. Throughout our one week stay in Hindang, my friends and I were treated like rock stars by everyone.
A terminal for sidecars also known as "Padyak" in Hindang, Leyte. (Photo Courtesy of Phyllis Abrasaldo)
Fishing is the typical livelihood of men. Every morning as early as 4 a.m., they sail out into the open sea.  By 9 a.m. they would be back at shore inspecting their nets and discussing among themselves whether it was a good or bad day. The fishermen ride on small narrow boats (bangkas), and their fishing equipment is really quite crude.
On the morning of our visit to the islands I watched how the fishermen worked together almost mechanically as they retrieved their nets and collected the fish. When the men were done, the women came forward, sorted the fish, and then carried them off to the market. Shortly after watching these scenes take place, we were able to employ the services of two fishermen to take us to Cuatros Islas.
Fishermen hauling the nets on the shores of Hindang.
An early morning scene at the shore of Hindang, Leyte.
Hindang, Leyte has a long way to go before becoming a tourist hub. However, with the presence of Cuatros Islas there is promise. So, on our trip to the islands, my friends and I rode a non-traditional tour boat and braved the oceans "mangingisda style." This entailed balancing ourselves on a flat and narrow piece of wood laid on top of a bangka while getting baked by the sharp midday sun.
Braving the ocean fishermen style.
Each island of Cuatros Islas is visible from the shores of Hindang. They may look close from the shore but they actually aren't.  Despite the fact that we were traveling at a moderate pace, the boat trip took longer than I expected. All four islands we visited were spectacular. The first two were Himokilan and Digyo, then we proceeded to Apid and Mahaba islands.
Digyo Island
Nobody lives on these islands and they are seldom frequented by locals and tourists. There were no commercial establishments and no mobile network signal. My friends and I wandered around the islands for a whole day soaking in the elusive beauty of these tropical gems.
My hope for the town of Hindang and Inopacan is that tourism would pick up someday and boost the livelihood of the locals, especially after the Yolanda tragedy which has economically crippled the province of Leyte. In the meantime, if you're looking for an off-the-beaten-path adventure, Cuatros Islas is the ideal destination.
Cuatros Islas in Photos
"A Tribute to Leyte"
On November 08, 2013, the province of Leyte was hard-hit by Typhoon Yolanda also known as Typhoon Haiyan. It was one of the strongest typhoons in Philippine history. Around 6,000 people perished in the storm and thousands more have been displaced. Many Leyte residents are still struggling to rebuild their lives because their villages were completely wiped out by powerful waves during the peak of the storm. Below are links to non-profit organizations that continue to help these communities. Please follow the links below for information on how to help. Thank you.
International Federation of Red Cross and Red Cross Societies.
The United Nations High Commissioner for Refugees (UNHCR)
Habitat for Humanity Rebuild Philippines Project
UNICEF Philippines Typhoon Haiyan Project
If you found this article useful please like or share it with the buttons below. Thanks
You may also like "The Ultimate Island-hopping Guide to Honda Bay, Palawan"
Testing the waters at Himokilan Island

Like, Share and Spread the Love!!