Damnoen Saduak Floating Market Tour – A Travelogue for First Timers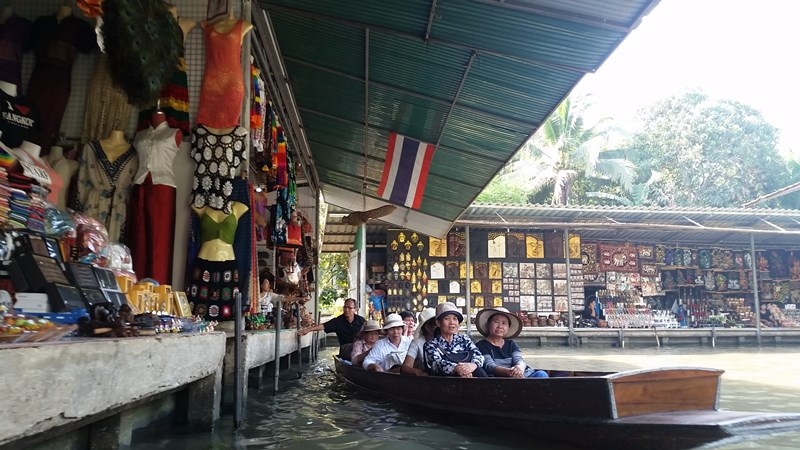 I barely heard our tour guide's instructions as I stood on the platform of Damnoen Saduak distracted by the colorful sights and morning chatter of tourists and vendors. It was around 9:00am and the market was getting busier by the minute. In my mind I pictured Anthony Bourdain sitting on the sidelines of one of these floating markets snacking on something from a boat vendor. He couldn't have visited Damnoen Saduak, there were too many tourists here who'd likely mob him so it must have been one of the smaller, lesser known floating markets. Anyway, that travel episode got me all excited so when I finally visited Thailand I knew I absolutely had to go to one.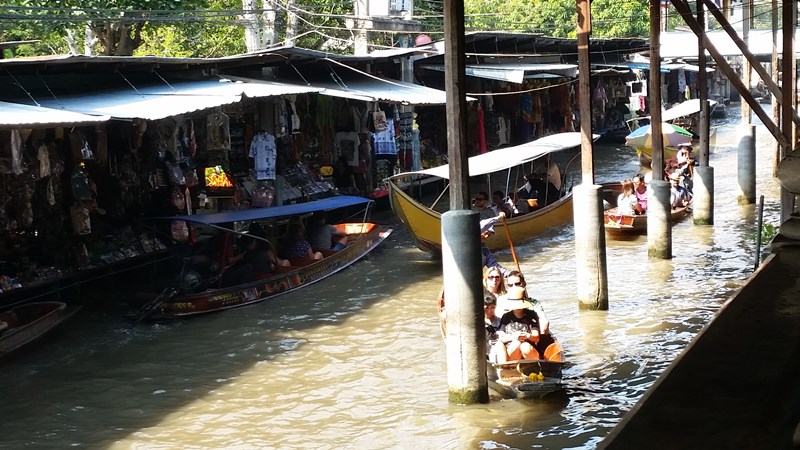 Visiting a floating market is an amazing way to experience a bit of rural, Thailand. The two most popular markets are Damnoen Saduak and Amphawa. Traveling to either of the two takes around 90 minutes from Bangkok City. Damnoen Saduak according to locals is the original floating market. It's definitely busy and crowded. You can join a tour group everyday. The market operates from 6:00 am until noon. It's best to go as early as you can to beat the crowds. Amphawa on the other hand, is an evening market and tours are only available from Friday to Sunday. Some reviews say that it's more authentic since it exists more for the villagers rather than for tourists.
My reverie was interrupted when our tour guide Waan, like a mother goose watching over her chicks hurriedly ushered us to the man selling tickets for the paddleboat ride. "Let's get ahead of the French group," she said as I looked behind us and saw a large group of people pouring into the market. I hastily paid 150 Baht to the very indifferent ticketing man and shortly after I and some people from my group got on the next boat. Luckily I got to sit at the front row.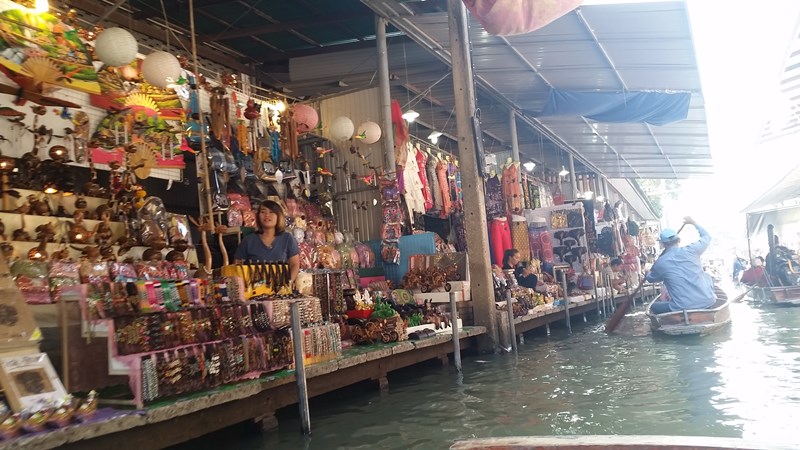 The boat was long and narrow and each row could sit two people. The benches were low but there was enough legroom for you to sit comfortably. Once we were all settled our paddler gently rowed away from the platform and we were on our way. You'd be surprised at how lightly these wooden boats float despite just one person rowing at the back and a cargo of up to eight passengers.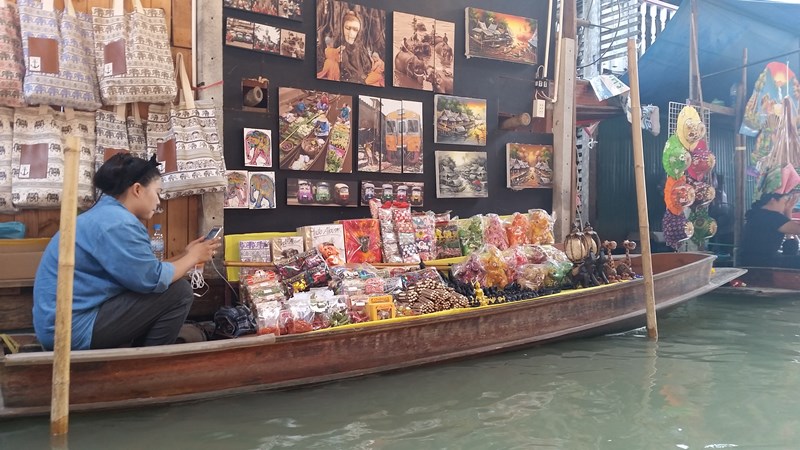 The first boat vendor we encountered sold an assortment of colorful jewellry, hand woven purses, elephant figurines and tiny Buddhas. Nobody was buying so we moved on passing a couple more vendors. The merchandise sold there were no different from what I've seen in the city markets of Khaosan and Chatuchak. But what did make the market extraordinary was the fact that trading was done over water – something you really don't get to see everyday. It was fascinating to watch boats filled with fresh produce and local delicacies and vendors wearing the traditional ngob or bamboo hats. Sadly, it seemed that most tourists like myself were more interested in sightseeing and filming rather than shopping. I felt bad every time our boat pulled away from a vendor and nobody had bought anything.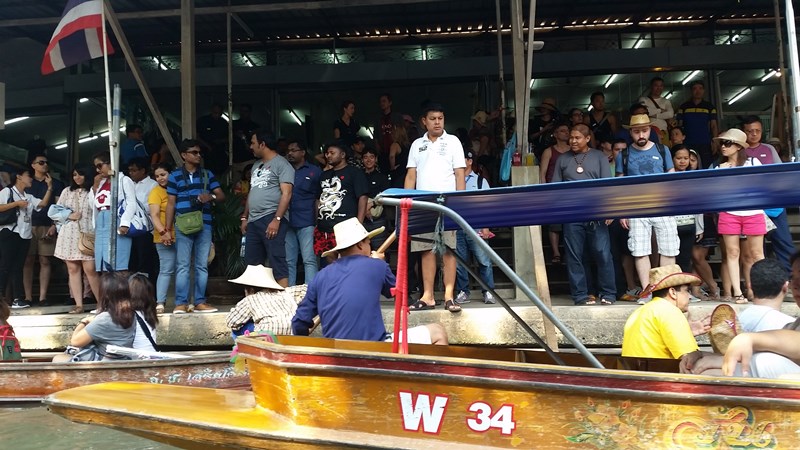 The boat ride lasted 30 minutes and by our second trip around the compound, traffic was crazy. On the platform where we embarked, numerous tourists were now on queue. The narrow canal across the platform was congested and we found ourselves sandwiched between two other boats going the opposite direction. Wood clashed on wood as the paddlers efficiently maneuvered their boats out of the tangled mess. Behind and ahead of us more boats floated into the canal. It was chaos in every sense but totally exhilarating.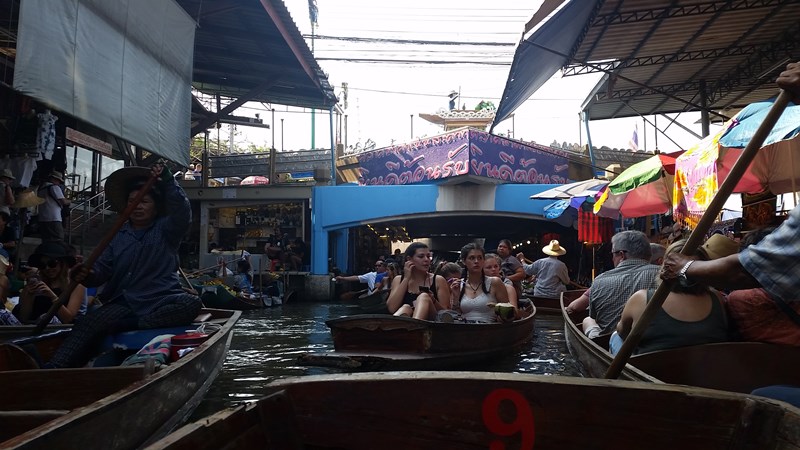 After the paddleboat ride, we had about an hour to check out the multitude of stalls within the compound. Knowing we were on the clock discouraged me from shopping so I just spent the time idly walking through the labyrinth of clothes racks, food stalls, handicrafts and every kind of colorful artwork on display. After I've worn out my feet it was time for a snack so I bought a packet of sliced mangoes and had a whole coconut for only 50 Baht each. Food is wonderfully cheap in Thailand!!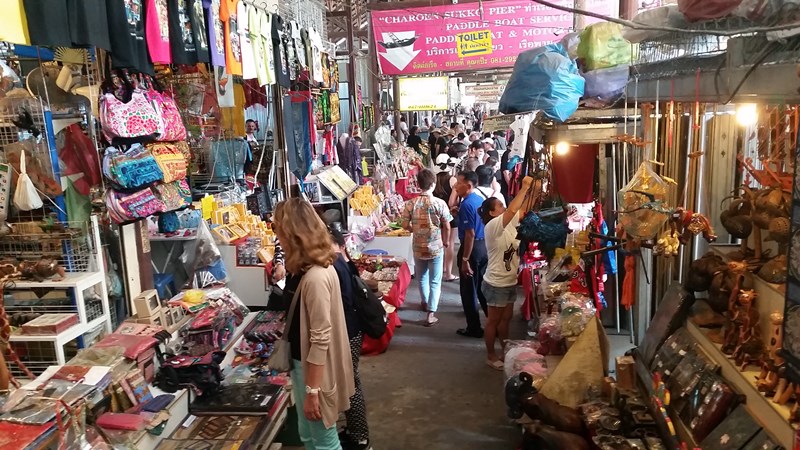 The last part of our tour was a 15 minute escapade on a larger, longtail motorboat which took us to the bigger canals or "khlongs" which led to farther areas of Damnoen Saduak District. Everyone in my group promptly arrived at the meeting area around 10:50 am. From there our guide led us to a wharf not too far away. The ride on the motorboat was included in the tour fee and it was an enjoyable and slightly hair raising way of exploring some villages built on the edge of the water. We also passed through a swamp and along the wider sections of the canal traveled at turbo speed, our boat ferociously cut through the water. I was surprised at how fast our boat could go despite its crude appearance. As the saying goes, looks can be deceiving.
After we had traveled for about four or five kilometers we got off at a wharf where Waan was already waiting. She cheerfully greeted us and said the van was on its way. A few minutes later we said our goodbyes and thanked each other. Waan, our tour guide was efficient and very friendly. I felt lucky to have been in her group.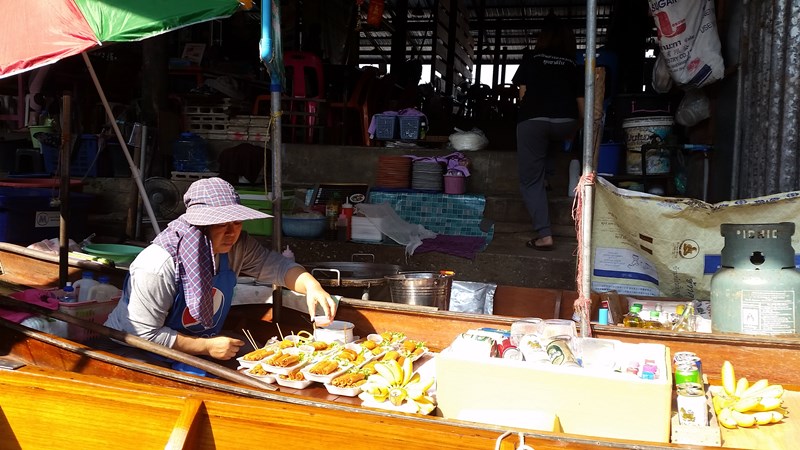 To sum up our day. Well, by 7:00 am the van goes around to pick up people from different hostels. I was fetched around 7:15 am and by that time the van was almost full. Every time I joined a tour, my breakfast had been limited to fresh orange juice from a street vendor and a coconut pie from 7 Eleven, the quickest food I could buy at that time of day. By 7:30 am we officially left the city. Arrival at Damnoen Saduak was around 9:00 am. We were received by Waan outside the market where she gave us a short introduction of Damnoen Saduak. We then proceeded to the paddleboat boarding area. The ticket of 150 Baht is not included in the tour fee but my travel agent did advise me of it. After the 30 minute paddleboat ride, we had about an hour free time to shop and eat. By 11:00 am we did  the motorboat tour and we were pretty much done by 11:30 am.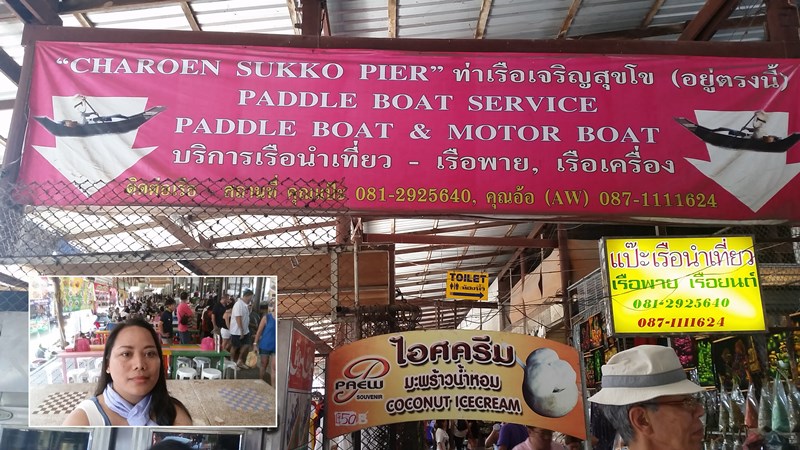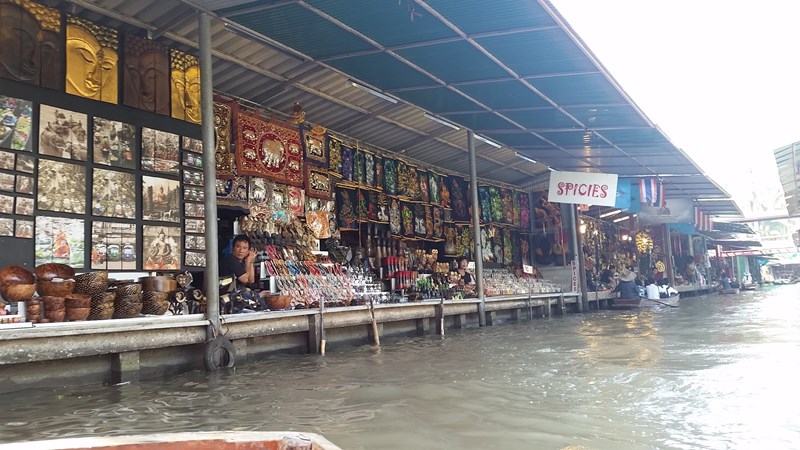 Overall, I had a very interesting morning and a slight sensory overload. Despite having to wake up so early, I was pleased that once we were back in Bangkok I still had the whole afternoon to myself. The only thing I disliked about the experience was the limited time we had to shop and look around. But that's how it goes for organized tours. I had considered the alternative of commuting to the site but after a bit of research it seemed to be harder. Thus, the decision to join a group tour despite the stringent itinerary. My tour agent in Khaosan was kind enough to give me a discounted rate of 250 Baht for the half-day tour since I had booked a few other tours from her. It was a great deal and I had a superb time.
If you found this article useful, please like and share it. Thanks!!
Like, Share and Spread the Love!!