How to Choose Your El Nido Island Hopping Tour – A Travel Guide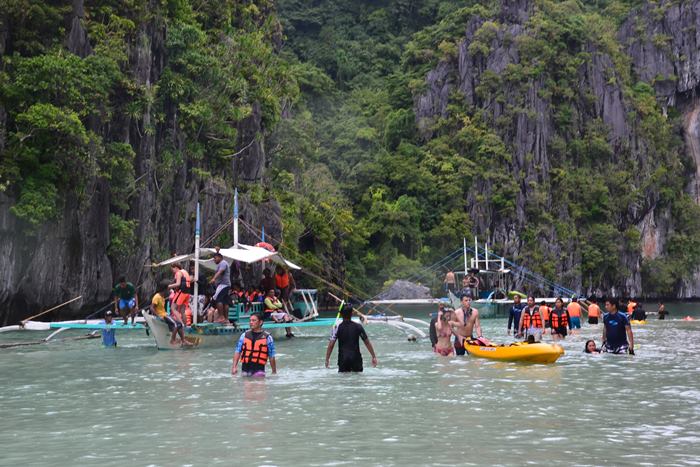 Last year my family and I went on a quick trip to El Nido, Palawan. It was a spur of the moment decision since our original plan was simply to spend our time enjoying the islands of Honda Bay and checking out the latest developments in Puerto Princesa City since we've been there last. It only takes 45 minutes by plane to travel from Manila to Puerto Princesa City and just about 15 to 20 minutes by boat to get to the pristine white sand islands from the nearby ports. On the other hand traveling to El Nido meant spending an additional 6 hours on the road from Puerto Princesa City which can be especially challenging if you are traveling with very young kids. But then the urge to see a different side of Palawan Island got the better of us so after several conferences on facebook my siblings and I agreed that El Nido would be our go to destination.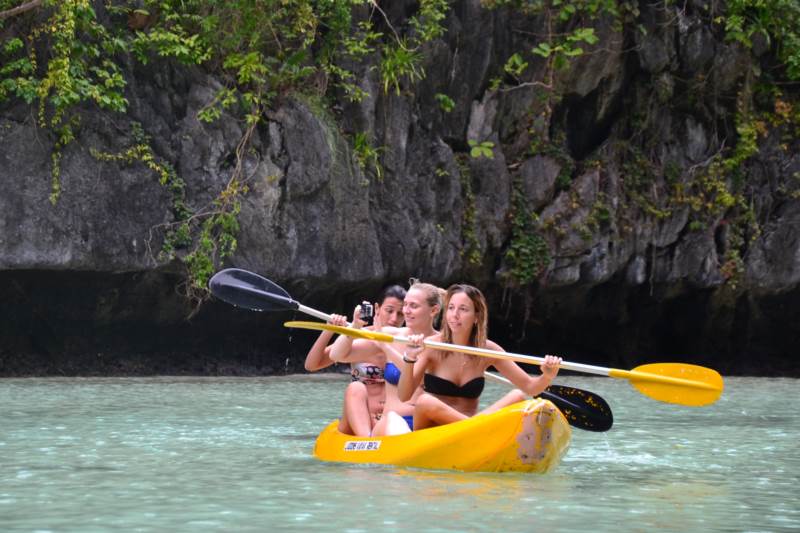 We didn't have a lot of time to research hotels, island tours and other activities in El Nido. But it wasn't difficult to proceed without a real itinerary because once you arrive at the town there are countless vendors that offer everything that you could possibly need from island hopping tours, van rentals, side trips to Coron, motorbike rentals etc. They are all in town, you can compare rates and book on the spot.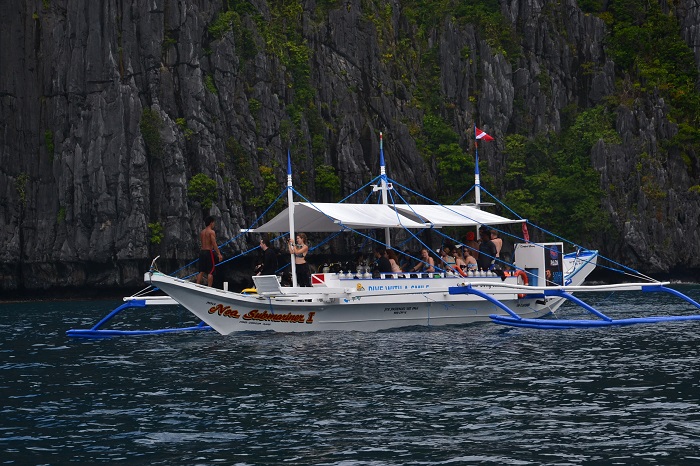 The highlight though of a trip to El Nido are the island hopping tours. These tours are categorized into A, B, C and D. Each tour includes at least 5 points of interest which may be a cluster of islands, beaches or lagoons grouped together because of their proximity to each other. Bacuit Bay is huge and there are a multitude of islands scattered across it. If you want to see all of it you may need to extend your trip because you can only do one tour per day. The tours start at around 8:00 to 9:00 in the morning and you'll be heading back home late in the afternoon. In our case, we only had one full day to go island hopping and so we did Tour A which the locals pitch as the best seller on the menu. Below is a guide to the stop over points of each tour and corresponding rates.
Tour A – is what they call the "Lagoon tour." It includes a visit to the 7 Commandos Beach, Secret Lagoon, Shimizu Island, Small Lagoon and the Big Lagoon. – Rate per pax 1,200 PHP.
Tour B – described as the Cave tour. It includes a visit to Snake Island, Cathedral Cave, Cadugnon Cave, Pinagbuyutan and Entalula Island. – Rate per pax is 1,300 PHP.
Tour C – called the Shrine tour which includes a visit to Talisay Beach, Star Beach, Hidden Beach, Helicopter Island and Secret Beach. – Rate per pax is 1,400 PHP.
Tour D – they call this the Beach tour and it includes stops at Cadlao Lagoon, Bukal Beach, Pasandigan Beach, Ipil Beach and Paradise Beach.- Rate per pax is 1,200 PHP.
To have a better understanding of what area you'll be exploring check out the map below which shows the scope of each tour.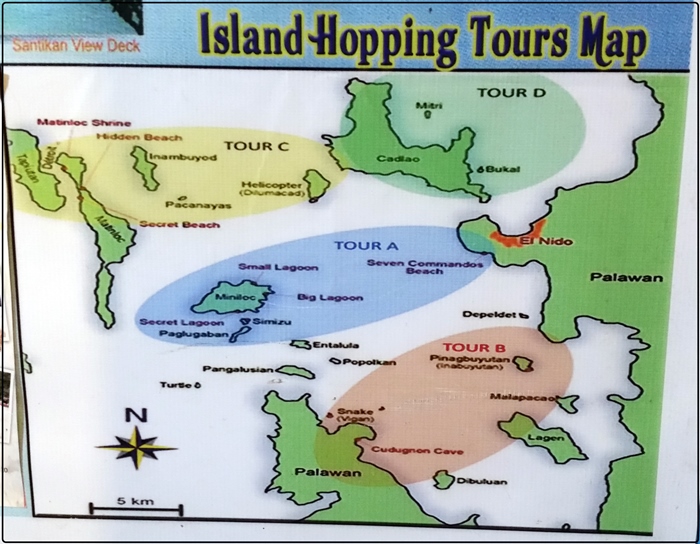 Here is another map of Bacuit Bay and the islands and beaches included in the different tours.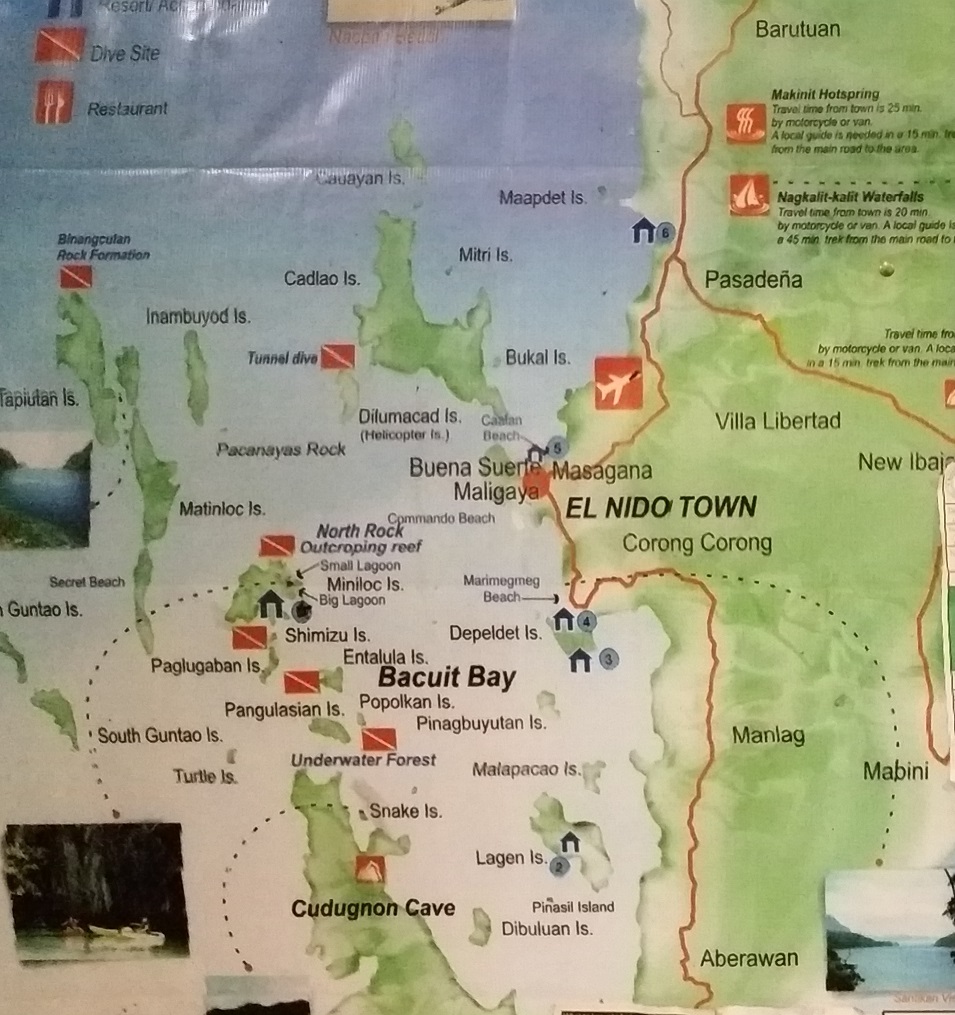 There are slight variations to the destinations offered by the vendors. For example in our case, we went to Entalula Island instead of Shimizu Island for Tour A. Other vendors will likewise take you to Matinloc Shrine instead of Helicopter Island for Tour C. But as I reviewed several ads and posters in town, they are pretty much the same. The price per person per tour is standard among all vendors which I think is the local policy. Below are photos and ads of random vendors which I'm sharing just as a reference. I took these pictures while strolling around town. Although I'm not endorsing all of them, do feel free to contact as you please.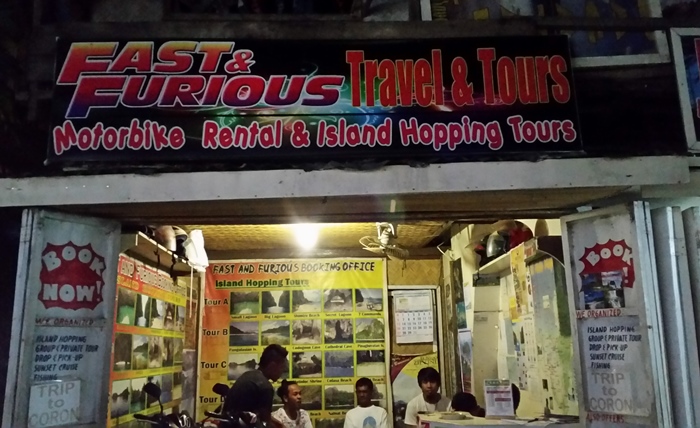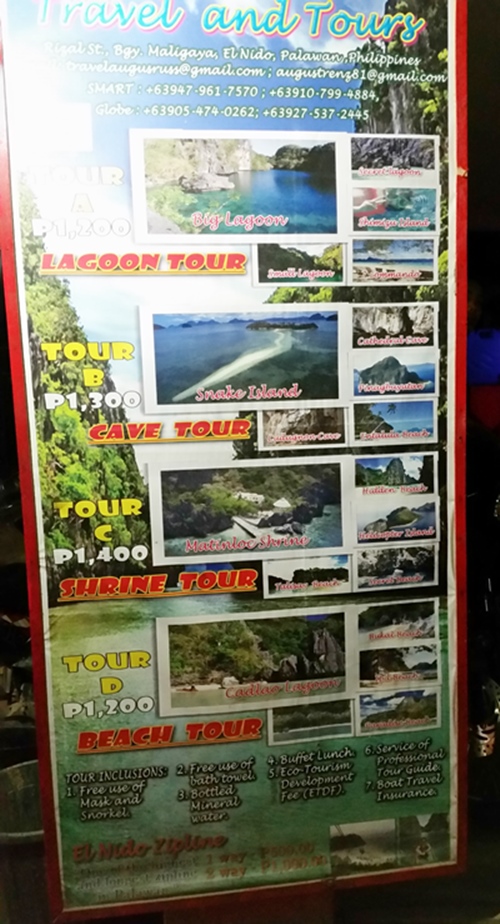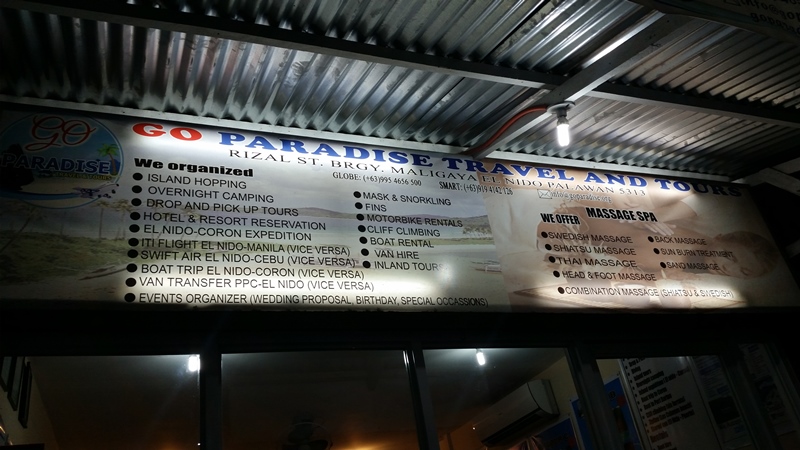 ISLAND HOPPING THOUGHTS AND TIPS
As fun as it is, exploring the islands is physically exhausting. Take note you'll be getting off and climbing up the boat at five stops. The waves can be a horror like the ones we had to battle against on our way to the Secret Lagoon. You may also encounter sharp rocks and stones so be very careful when you're slipping into caves and caverns.- Most of us didn't get away without a minor cut or two, but don't worry, it's nothing time won't heal and the memories of such a paradise-like place are absolutely worth it. Oh, and don't forget surf shoes or similar underwater footwear. You can buy cheap ones at SM Makati or any SM branch I guess. Ours cost 350.00 PHP a pair and they come in all sizes. Your feet won't survive without them.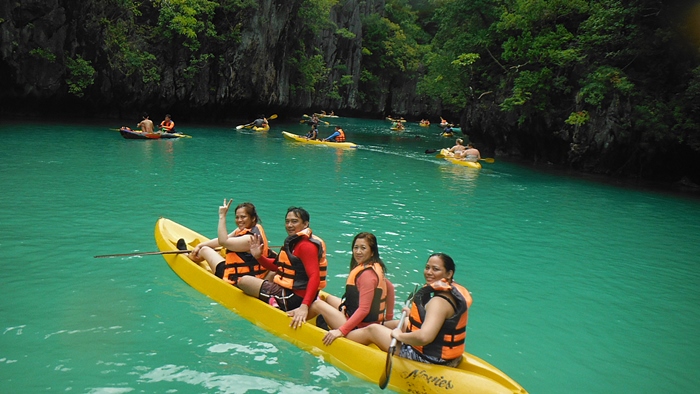 In retrospect, the highlight of our island hopping experience was for me kayaking at the Small Lagoon. This was our fourth stop. We paddled our way into the lagoon through what looked like a mousehole at the bottom of a wall and once inside I felt like we just stepped into a scene from the movie Avatar. It was fantastic. However, it was a busy day at the islands and we weren't alone in there. Outside more tourist boats were arriving and inside our kayaks were bumping into each other. Nonetheless, it was fun to share the joy of the moment with many other awe stricken tourists. The whole thing felt like a kayaking party of sorts.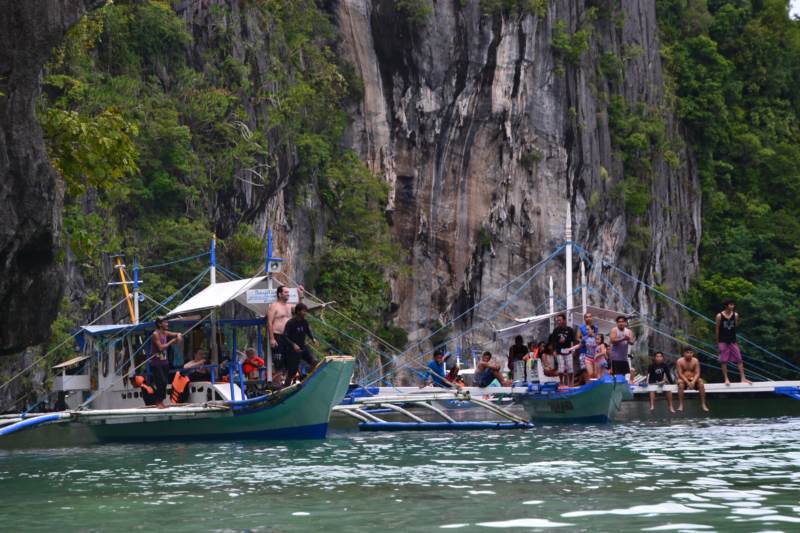 The second highlight of the day was our lunch buffet at Entalula beach prepared by our boatmen. You'd be impressed by these multi-skilled seaside dwellers. They're not only adept at navigation and manning the boat, they also take on the roles of tour guide, lifeguard, itinerary manager, cooks and waiters. Our lunch composed of grilled pork, fish, fruits and vegetables was delicious and they served it to us on the beach with flair. Kudos to our amazing boatmen! At the end of the day, if you're happy with the service of your boatmen I recommend tipping them.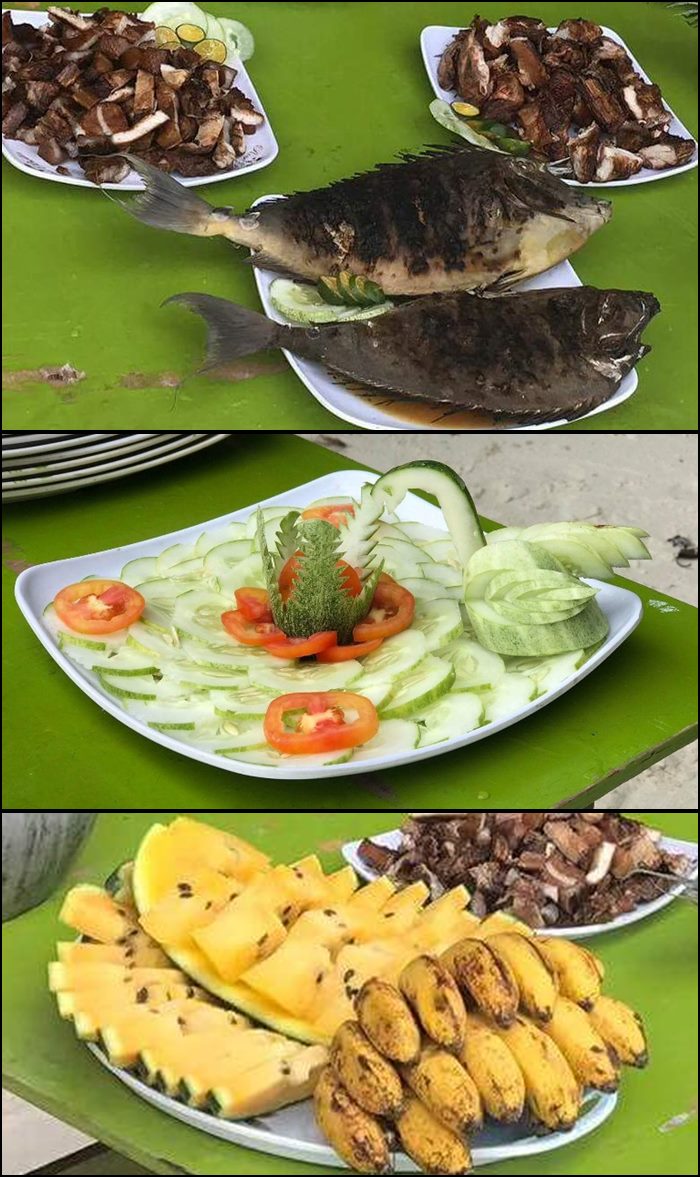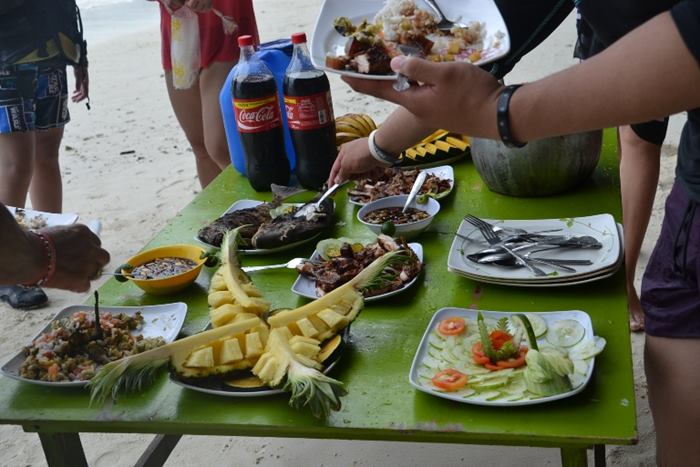 Overall it was a sweet encounter with El Nido's marvelous lagoons, amazing rock formations and alluring beaches. El Nido is definitely one of those places that you can't leave without having an urge to come back as soon as possible. If we had an extra day or two in town we would've surely spent another day island hopping. Probably we would have done Tour C which many locals recommend as the second bestseller after Tour A. But for now we'll just save that for the next trip.
If you've gone island hopping at El Nido, please feel free to share your experience in any of the tours in the comments below for the benefit of other readers. Thanks!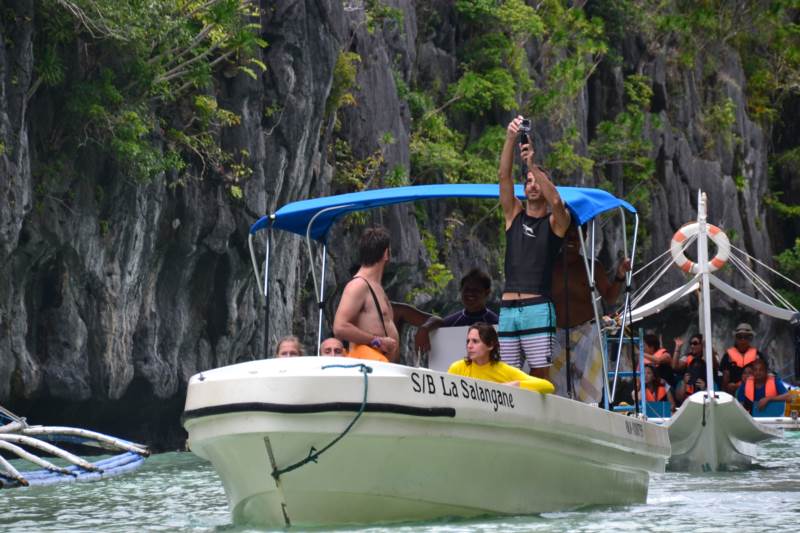 Make the most of your Palawan trip and see another side of the island. Check out this comprehensive Island-hopping Guide of Honda Bay in central Palawan.
Like, Share and Spread the Love!!