How to Plan a Trip to 100 Islands Alaminos, Pangasinan Backpacker Style
The 100 Islands National Park is a celebrated beach destination in Central Luzon. It's located southwest of the Lingayen Gulf and is composed of not 100, but 123 recorded islands and islets. The unique, mushroom-like appearance of the islands and numerous picturesque beaches are what draw thousands of tourists to the site.
The three most popular islands are Governor's Island, Quezon Island, and Children's Island. These also are the only islands that have viable surfaces to set up picnic tables, cottages, or tents.
Getting There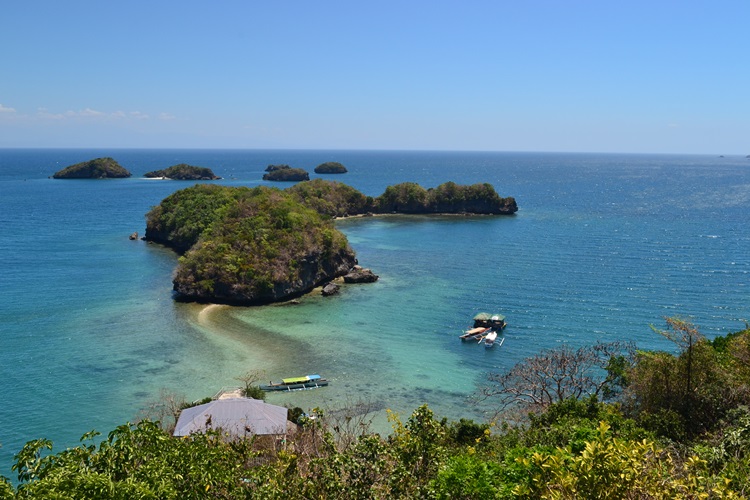 Iza Sanchez Photography
From Manila take a bus bound for Alaminos, Pangasinan. Several bus lines ply this route including, Victory Liner (Cubao terminal only) and Five Star (Pasay Terminal).
The travel time is around 6-7 hours depending on traffic conditions. To avoid traffic particularly in the cities, take last trips which leave usually between 11:00 to 11:30 p.m.
The bus fare is ₱400 one-way, ₱800 round-trip.
Along the way, buses stop at Mabalacat and Tarlac terminal for about 15 minutes, so passengers can get off for snacks and restroom breaks.
Upon arriving at Alaminos City take a tricycle to Lucap Wharf; tricycle drivers charge ₱60 for the trip from the city to Lucap Wharf.
Most hostels are located at Lucap Wharf which is around 2-3 kilometers from the city.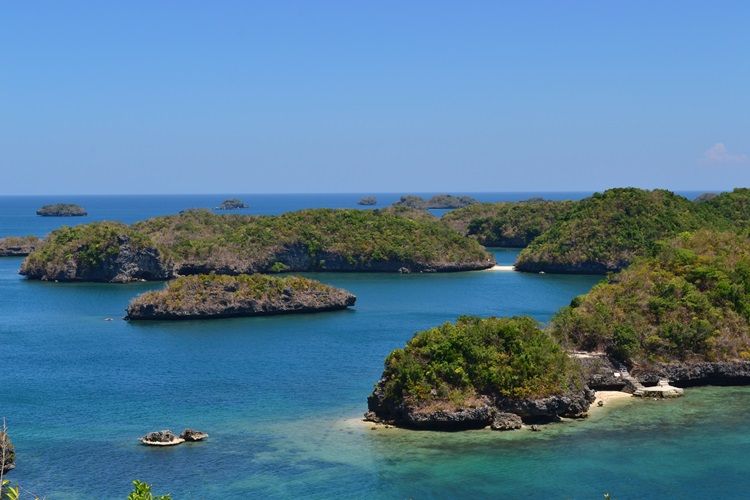 Iza Sanchez Photography
Distance and Travel Time From Other Cities:
Dagupan City – 63 kms, 1 hour
San Fernando, La Union – 123 kms, 3 hours
Baguio City – 136 kms, 3 hours
 The Three Main Islands
Iza Sanchez Photography

Governor's Island
Governor's Island is the biggest island at the site. It was popularized by the Pinoy Big Brother TV series a few years back. It's the only island with a guest house which can be rented for ₱5,000 per night. It's ideal for tour groups looking to spend a night on the islands. Alternatively, visitors can camp out on the beach.
There is a viewing deck on top of Governor's island where you can enjoy panoramic views of Lingayen Gulf. It's a tough climb but it's the only elevated spot that offers such views. Before you climb it don't forget to bring one or two bottles of water.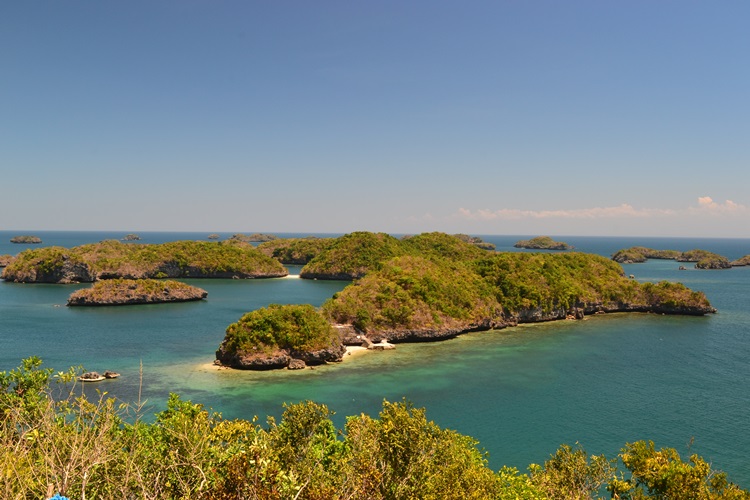 Iza Sanchez Photography
Across from Governor's Island is Virgin Island. According to my boatman  its name was inspired by its shape which from a distance appeared like a woman's body. Although, as much as I tried I couldn't quite see the resemblance. Virgin Island is a perfect place to escape from the crowds.
It is also near the helmet diving site. If you want to try helmet diving, there are divers on stand-by in the area who can assist. You can go roughly 15-20 feet deep and observe a small patch of colorful corals with equally petite fish swimming around. Helmet diving costs ₱300 for 30 minutes.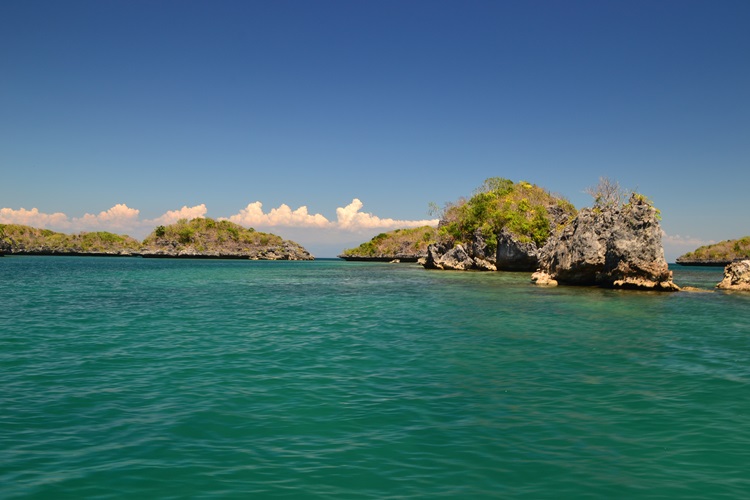 Iza Sanchez Photography
Quezon Island
Quezon Island is the most family-friendly island because of its shallow shores and structured camping grounds. The island was named after the late President Manuel Quezon. There is a snorkeling area roughly 300 meters from the island where you can view beautiful giant clams and a vibrant coral reef. Snorkeling is a must-do activity at the 100 Islands National Park. Snorkeling goggles can be rented for ₱200.00.
Get a closer look at the coral reefs here  – How To Shoot Fish at 100 Islands Alaminos, Pangasinan.
Iza Sanchez Photography
Children's Island
Children's Island is the third most popular island at the site. Its shallow waters likewise, make it an ideal spot for families with small children. Just like Governor and Quezon islands there are cottages and picnic huts for rent.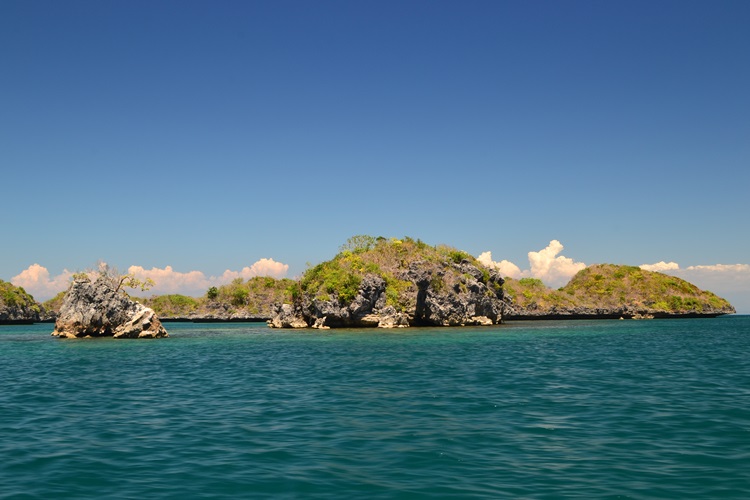 Iza Sanchez Photography
Standard Cottage and Picnic Table Fees
This is the actual flyer given at Lucap Wharf Tourism Center.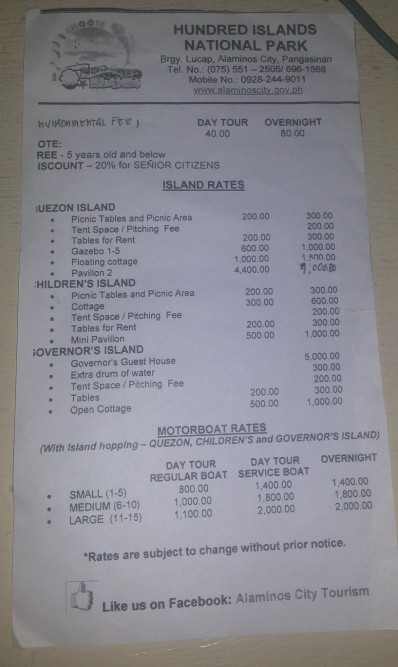 Island hopping and Boat Fees
Boat Fees – The boat fees are standard so visitors don't have to worry about haggling with the boatmen. They are based on capacity and the duration of each tour.
Boat Tour Options
Regular Boat
For this option, the boatmen take visitors to a choice of three islands. The stopover in two islands is limited to 15 minutes. Then, visitors will be taken to the third island where they can spend the rest of the day swimming and picnicking by the beach.
Service Boat
This option is slightly more expensive, but it's the better of the two because visitors can go to as many islands as they like. It is a whole day tour.
Quick Tip – Some boatmen might bypass other islands to save on fuel, so before leaving the wharf consult with the staff at Lucap Wharf about the various points of interest in the area. And before you leave the wharf make sure you and the boatman agree on the itinerary.

Where to Stay
For adventurous travelers the best place to sleep is in a tent on the beach. (See the camping tips below). The next upgrade from a tent are the numerous transient homes along Lucap Wharf. Room rates range from ₱500 to ₱1,000 for single-private rooms, ₱1,200 to 1,500 for standard double-rooms and ₱2,000 to ₱3,000 for larger rooms that can fit 4-5 people.
Where to Camp
Quezon Island – The main camping site.
Scout and Lopez Island – Alternative camping sites.
Camping Tips
Camping on the islands is allowed. However, campers cannot pitch their tents during the day when visitors arrive. Tents can be pitched after regular visiting hours from 5 p.m. onward. Likewise, in the morning the tents have to be folded by 6 a.m.
There is a camping fee ₱200.
Tents can be rented for ₱400, although visitors can bring their own too.
There is no electricity on the islands so portable lamps, flashlights, and power banks will come in handy.
Network signal is weak and non-existent in some areas.
Campers should prepare ample amounts of food and water for the duration of their stay. There are no restaurants on the islands.
Other Points of Interest
Marcos Island – This island was named after late President Ferdinand Marcos. The island has a beautiful beach and at its heart is a cavern with a deep pool at its base. Brave adventurers can jump the height of about 20-feet from the mouth of the cave to the pool beneath.
Monkey and Bat Island
Cuenco Island – Known for its small pristine beaches and a beautiful cave called Cuenco Cave.
Romulo Island – A small and picturesque island once a setting for the film Dyesebel.
Turtle Island – A small islet shaped like a turtle.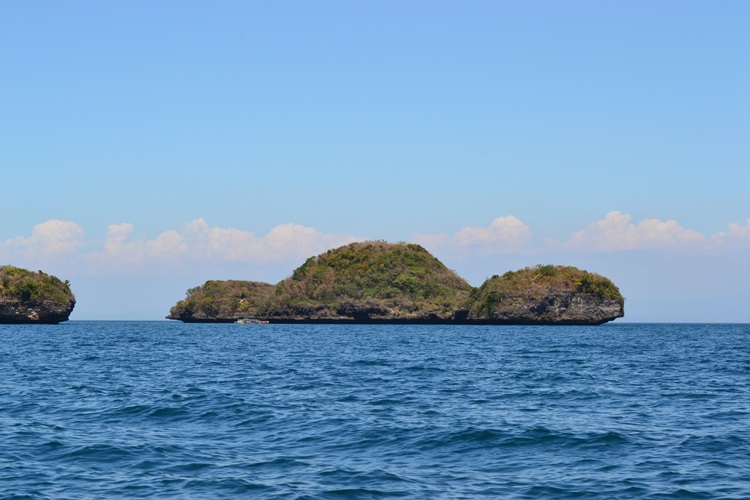 100 Islands National Park Fees
Iza Sanchez Photography
Registration Fee @ Lucap Wharf – ₱40 per person for day tours, ₱80 per person overnight stays.
Kayaking – An awesome of way of exploring the islands. Perfect for those traveling in pairs or in large groups. Kayaking gives visitors the opportunity to explore farther out islands usually not included in boat tours.
Kayaks can be rented for ₱250 per hour and ₱750 whole day (good for 2 people).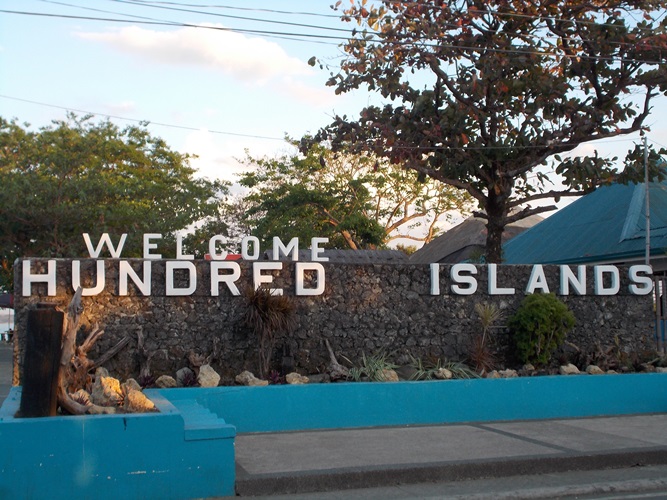 Snorkeling goggles can be rented at the wharf for ₱200
Picnic tables and hut rentals range from ₱200 to ₱600 a day. (Please see rates in the photo above).
There's a maintenance fee of ₱5 for toilets
Where to Eat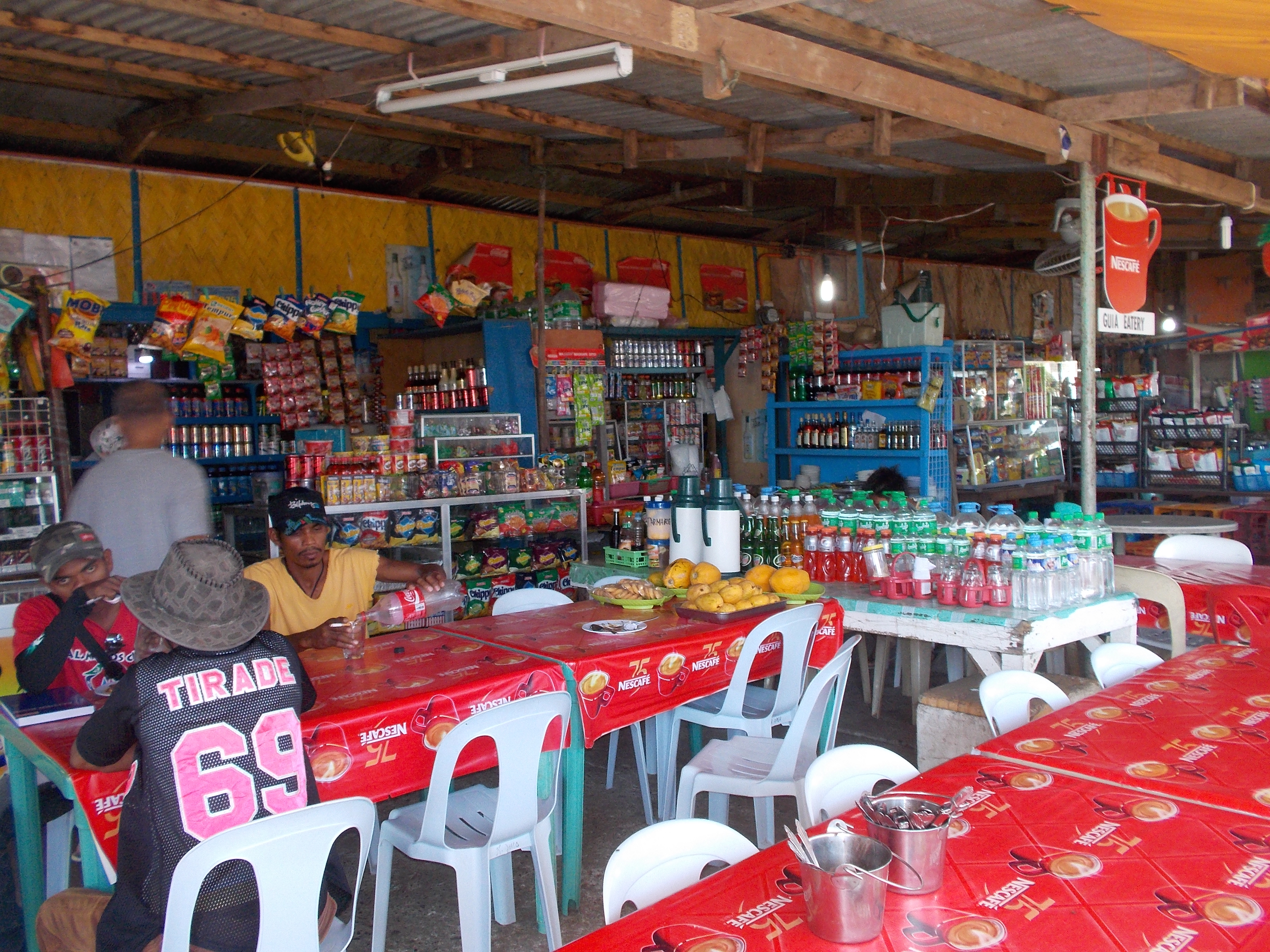 The cheapest place to eat is at carinderias in Lucap Wharf. A rice meal costs roughly ₱100. To be more specific: ulam ₱65, rice ₱15, and soda ₱15. Bottled water is expensive there so if you have a private vehicle it might be cheaper to buy a lot of drinking water in town.
Allocate at least ₱300 per day for food.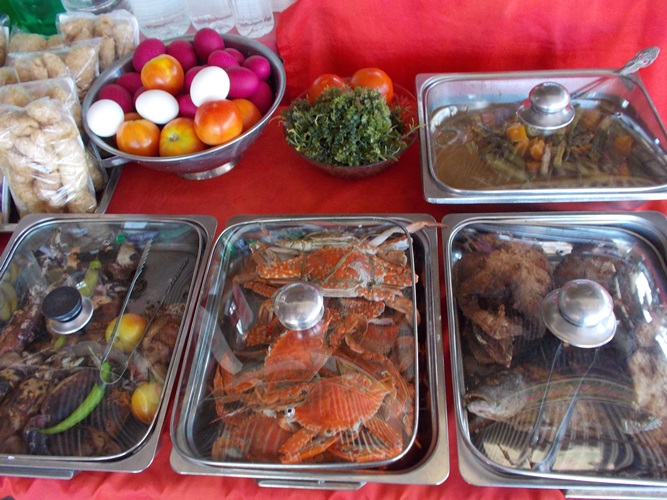 Note: On the morning of my island-hopping tour I had breakfast at one of the stalls at the wharf. When I returned for dinner, the same food was on display. I had a feeling that the same food would be served the next day. Since I am used to carinderia food I didn't have stomach troubles though.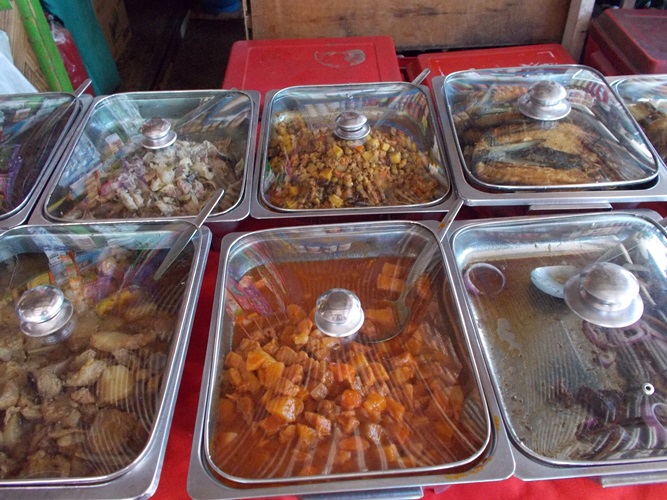 If you have a sensitive stomach it might be better to eat at your hotel resto. On a positive note, the carinderias at the wharf were clean and decent. I just had qualms about the freshness of the food.
What Else Should You Know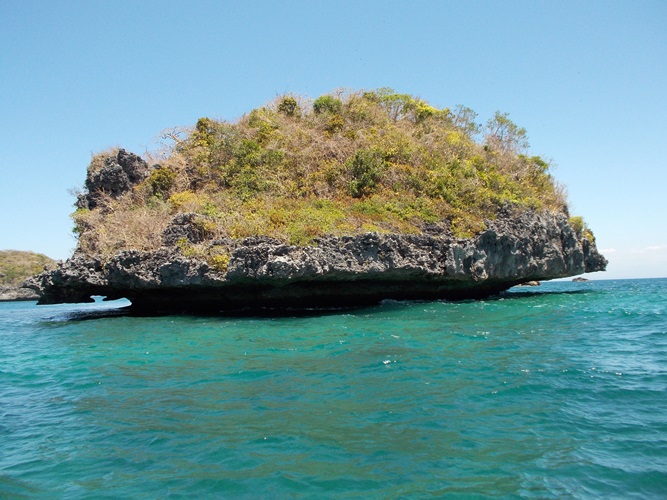 Travel at night to avoid traffic and crowded buses. Aside from traffic, the buses stop to pick up passengers along the route which prolongs the trip. But, at night there are lesser travelers so you can expect faster trips.
The best time to go there is from December to May when the weather is dry and warm.
When you go island-hopping, bring a lot of food and water.
Bring sunblock and a summer hat.

Forget about fine white-sand beaches, the beaches of 100 Islands National Park have many stones and surf shoes are a must.
Bring an underwater camera and make sure to rinse it with fresh water after snorkeling or diving.
Watch out for snakes inside the caves.
Be respectful. Don't leave any rubbish on the islands.
Take a side-trip to Bolinao which is only one hour away from Alaminos City. Bolinao is another popular tourist attraction in Pangasinan.

It's not unusual for the front desks of hotels to be unmanned or non existent. I have tried to make inquiries at several hotels but couldn't since there was nobody at the front desks. Also, you can walk in and out of a home and the homeowner won't have a clue. This is typical in Philippine provinces where people still trust each other.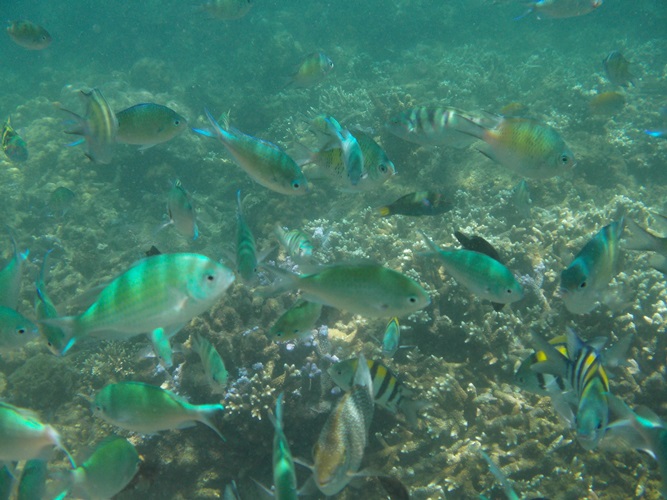 The rugged and ethereal beauty of the islands keeps them on the list of top destinations in the Philippines. Spend a weekend there and you'll surely gain wonderful memories that will stay with you forever.
If you found this article useful, please give it a thumbs-up and pass it on. Cheers!
You Might Also Like:
How to Travel to Bolinao, Pangasinan, Backpacker Style
Pros and Cons of Traveling to Bolinao, Pangasinan
Quezon Island, Coral Reef Photo Documentary
Like, Share and Spread the Love!!