How to Spend a Weekend in Aurora, Baler – Backpacker Style
Surrounded by marvelous mountains, far-stretching rice fields, and stunning coastlines, Aurora, Baler is a veritable utopia to weekend warriors eager to escape from the city and commune with nature. Moreover, a trip to Baler is delightfully affordable, so it's no surprise that this quiet, unassuming town is such a hit among many travelers. If you're eyeing Baler as your next weekend getaway, below are some useful tips.
Day 1 — Day Tour Guide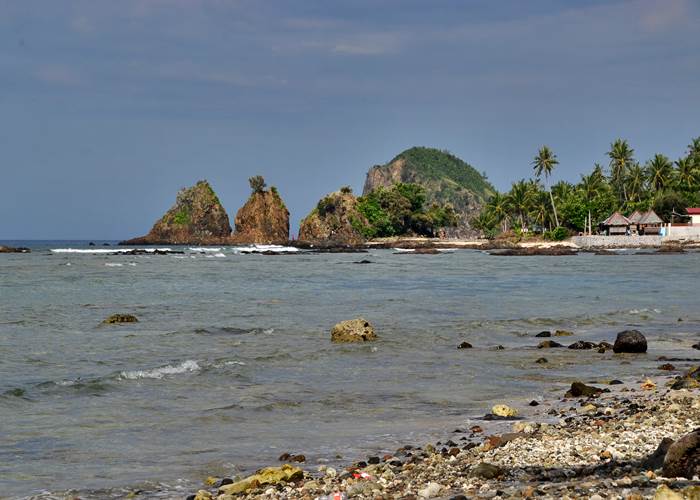 Upon arriving at your beachfront hotel in Sabang after a 5-hour bus ride, the call of the ocean could be hard to resist. But, let the beach wait and channel that excitement toward the promise of fantastic sights and novel experiences on a day tour. Day tours are the best way to explore the town and beautiful ecological sites in the region.
The cheapest tours are offered by tricycle drivers who weave through the town like an army of ants. They offer full-day tours for ₱800 and half-day tours for ₱500. Most hotels liaise with accredited tricycle drivers who double as tour guides. It's advisable to go with someone referred by your hotel. Below is a list of attractions typically included in a day tour.
Top Sites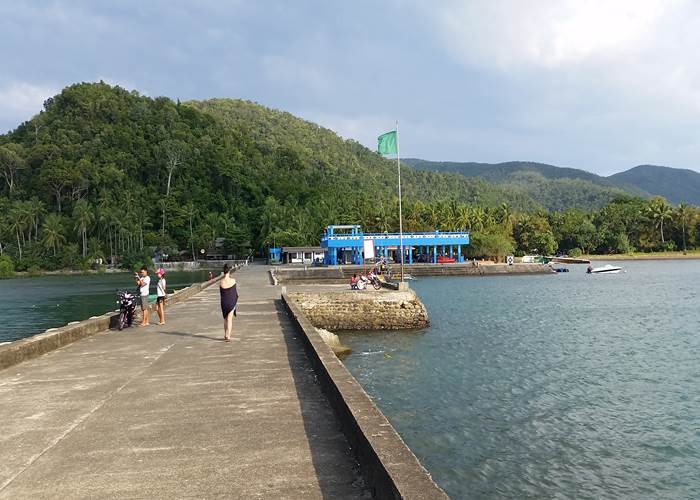 Sabang Beach — Baler's top attraction and surfing center
Millenium Tree — A celebrated, 600-year-old Balete Tree. Admission is ₱30 per group
Ditumabo Falls/Mother Falls — ₱200 guide fee per group, ₱30 Admission fee per person
Hanging Bridge
Ermita Hill — The highest point in Baler, popular for sightseeing. Admission fee is ₱15 per group
Diguisit Beach and Diguisit Falls
Aniao Cove — A beautiful cove in Baranggay Zabali. Admission fee is ₱20 per person
Fishing Port
Town Attractions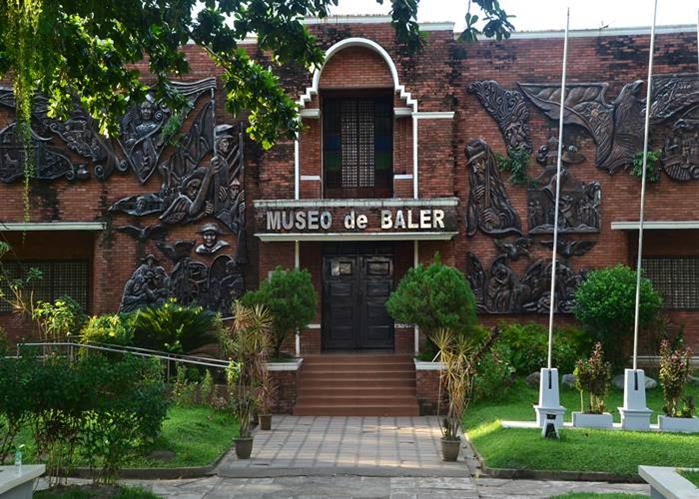 Museo de Baler — Admission is ₱20 per person
Dona Aurora Quezon House
Baler Church
Find out more here — 10 Attractions You Must See Before Leaving Aurora, Baler
Other Options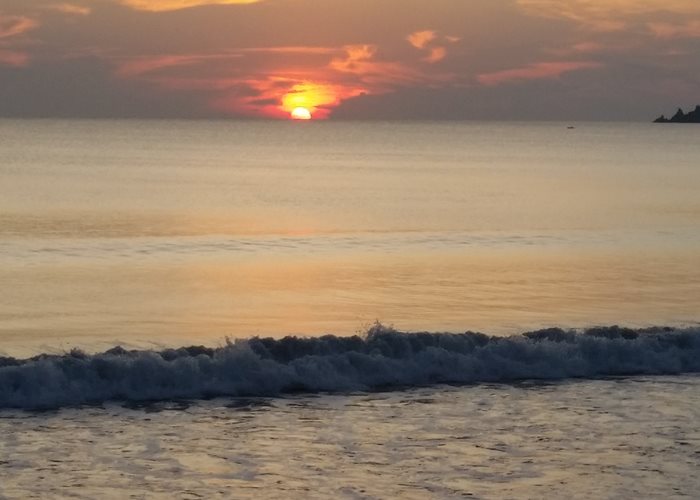 Dicasalarin Cove — Privately-owned but open to the public. Admission fee per person is ₱300, ₱150 habal-habal
Cemento Beach
Ampere Beach
Day 2 — Surf to Your Heart's Delight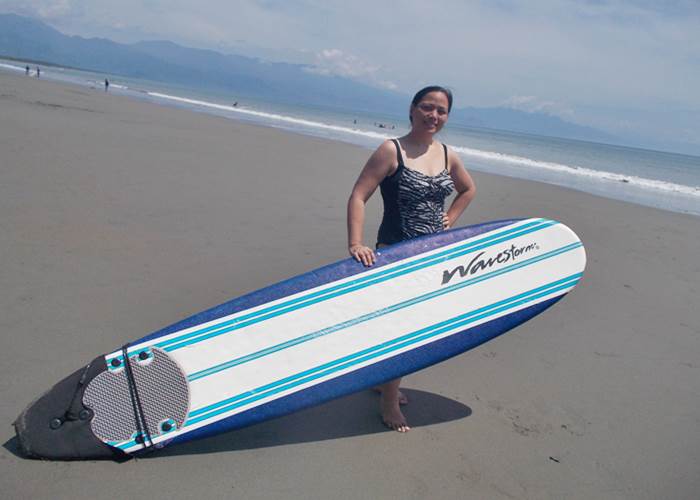 Now that you've explored the region you could dedicate your second day to the ocean. In Sabang, find your way to the colorful umbrellas  along the beach. Beneath them you'll find eager surfing instructors waiting on standby for newcomers. They'll all claim to be a champion at some surfing tournament. Champion or not, they seem to know their craft. The going rate for a 1.5 hour lesson is ₱350 including surfboard. In the off-season the rate is ₱250 per session. For seasoned surfers, board rentals cost ₱200 an hour.
Traveling to Baler
 
A weekend trip to anywhere requires some serious time management and since Baler is about 4 to 5 hours away from Metro Manila, it's advisable to get on the road as early as Friday night. Yes, you'll have to make that not-so-small sacrifice of sleeping uncomfortably in a freezing bus. They provide blankets, but you'll still need to layer up with a jacket.
A number of bus lines serve the Manila-Baler route although the most popular choice is Genesis Lines in Cubao, Edsa. They offer five evening trips starting at midnight up to 5:30 a.m. There are deluxe and semi-deluxe buses, the former costs ₱730 and the latter  ₱650. According to the ticketing clerk the only difference between the two is, deluxe buses have reclining seats. All other amenities are the same.
Traveling Back to Manila
Genesis offers four trips from Baler to Manila daily. The earliest is at 4:30 a.m. and succeeding trips are from 12 noon to 3:30 p.m. On Sundays tickets sell fast so it's best to book in advance. However, if all trips are booked up by the time you arrive at the terminal, your next option is the van-shuttle. The downside of shuttles are, the trips are longer, (about 6 hours), due to a longer route, and you'd have to wait until the vans are filled up which can take anywhere from 1-2 hours. The fare is ₱650, and you could find the shuttles parked right across Genesis' terminal.
So, if you're one of them weekend warriors in need of respite from city living or just another wanderluster pondering on your next adventure, look no further, Baler awaits with a promise of breathtaking sights, friendly people, and delightful memories to look back on.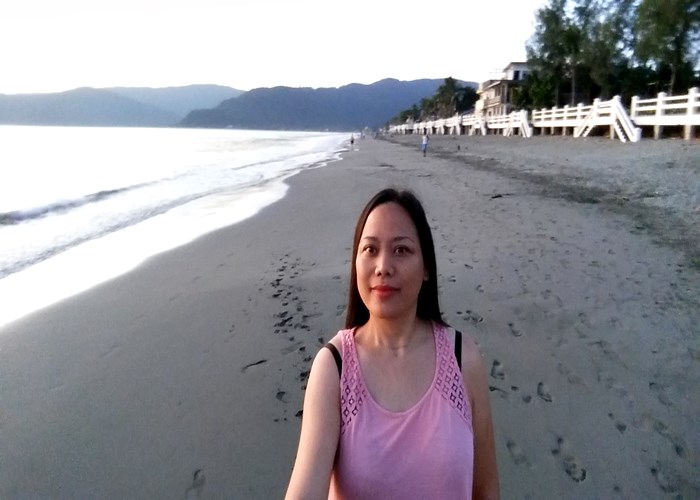 Selfie during an early morning stroll at Sabang, Beach. Sunrise at Sabang is a not-to-be-missed event, but if you can't get up early enough, make sure you don't miss the equally stunning sunset.
If you found this article useful, please pass it on. Thanks!
Like, Share and Spread the Love!!