Plan the Best Palawan Trip with These 5 Useful Tips
El Nido, Palawan is without a doubt one of the most excellent travel destinations in the Philippines. This week Guest Writer, Carmela Alvarez, a Palawan expert and an Editor of the Let's Palawan blog shares ideas and tips from  first-hand experience on how to make the most of your El Nido adventure. 
*****
There certainly are many places that you would want to visit and explore in your lifetime and Palawan is probably one of those jotted down on your list. Being one of the most recognized travel destinations in the Philippines, it's no wonder why this island is the most sought-after place for people seeking both adventure and relaxation.
Nestled at the northern tip of the Palawan Island is El Nido. This municipality offers some of the best sceneries and escapades you shouldn't miss. El Nido, Palawan can surely provide you with enough travel bliss.
Still, your journey to the place would be more commendable if you get to plan in advance the things that you'll do when you get to the island. So here are some tips on how to plan the best El Nido, Palawan trip.
1. To start off, get a van transfer from the airport to the hotel and take time to relax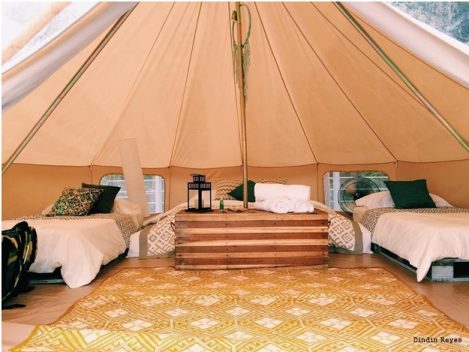 Upon arrival at the airport, get transported to your hotel via van. The ride is relatively smooth so you'll get to enjoy the sceneries along the way. By the time you reach your hotel, you'll most likely be drained of energy from the trip so take a break and relax at the hotel. Most hotels have great views of the island. This is the perfect time to settle down as you prepare for the adventures that await you.
2. Watch the sunrise while having breakfast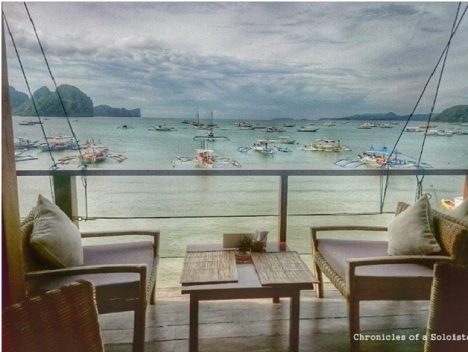 What better way to start your day than to witness the stunning art show in the high heavens? Sunrises are remarkable scenes to watch, but it's even more breathtaking when you get to view it in a place with spectacular island sceneries like El Nido, Palawan. Enjoy your toast, sip your coffee, and delight in the panorama unfolding before you. Breakfast in Palawan doesn't only fill your stomach; they fill your eyes as well.
3. Pick island hopping tours – Enjoy your adventures one day at a time

Many of us start our great day of adventure perusing the long line up of activities the island has to offer; and sometimes we can get dazed thinking of where to begin. As a tourist, it is recommended that you choose a packaged tour, of which several types are available. Choose one that best suits your time and budget. Considering the abundance of attractions all over the island, it would be impossible to go over all the beautiful spots at once. My advice is pick a tour and enjoy each activity one day at a time.
4. Enjoy your dinner at Las Cabanas

After a full day of adventure, there is nothing more relaxing than to settle down for a quiet dinner retreat by the beach. The soothing sounds of the waves, the cool breeze and the lovely setting all create a perfect ambiance for a satisfying evening feast. The sunset beach at Las Cabanas will complete your adventure. The restful atmosphere and scrumptious meal is a wonderful treat after your energy-filled exploits.
5. Chill over cocktails and enjoy the lights and sounds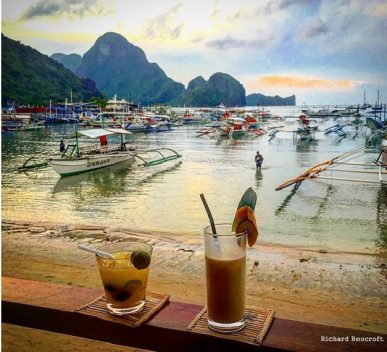 Nothing defines tropical vacations more than a tropical drink in your hand and beautiful sights before you, and just because the sun has gone down doesn't mean you should end your day as well. When you're in El Nido, Palawan the fun continues even after the sun bids goodbye. Appreciate the island scenes at night by chilling over cocktails and getting charmed by the rhythms and harmonies of the island bars and cafes where local artists showcase their talents and skills.
In Palawan you'll never be weary or bored. The place has so much to offer from island adventures to quiet beach walks  — the multitude of activities you can do in the island is a total package for an unforgettable travel experience.
*****
More about the author
Carmela Alvarez is an Editor and Customer Service Representative of 'Let's Palawan.'
She's a 20-something bubbly and adventurous female who loves to take selfies.
Her aim is to share her travel experiences and inspire fellow travelers.
Follow Let's Palawan on Facebook,  Twitter and  Instagram now!
Like, Share and Spread the Love!!