Quad-Biking at Glenworth Valley – How to Conquer a Monster Bike
By: Iza Sanchez          
Being in 3 car accidents in the past has led me to develop an aversion for driving. As hard as I tried, I never quite achieved the level of driving skills necessary to survive the chaotic roads of Manila. Behind the wheel I always had my tail behind my legs as I drove alongside the countless reckless drivers that rule this city's streets. So at some point I've resigned to being the "passenger" and not the "driver."
"Okay, now pull the lever on your right handle-grip for your front brakes and the lever on your left-handle grip for your front-rear brakes. Pull on both to bring you to a complete stop," said the instructor in his beaming Australian accent. Once we were settled on the bikes and were instructed to turn on the ignition, my old driving fears resurfaced.
"Press on the red button to move forward, then on my signal I want each one of you to move towards me, cross the orange barrier, park your bike on the other side and wait for the person behind you." he merrily chirped on while I, the agitated thrill-seeker tried to mentally recap his instructions – red button forward, left handle, rear-brakes, right handle-back brakes, right, left rear-front brakes, what?!
Then, it was my turn. On his queue I take a breath and press the accelerator. The bike jerks forward – stop, go, stop and go. It took a few minutes but eventually I made it from point A to point B. Relieved, I waited on the corner contemplating on the next test drive. These bikes were tougher to handle than I thought. Considering that children aged 12 and above are allowed to ride these things, I didn't think it would be anything like driving a car. I was wrong.
Like any other high-speed vehicle Quad Bikes must be handled with diligence and caution. These bikes with their mammoth rubber wheels are used for a variety of activities in farming, construction, security, hunting, racing or recreation. The wide diameter and thickness of its tires makes it possible to traverse the most rugged and uneven landscapes.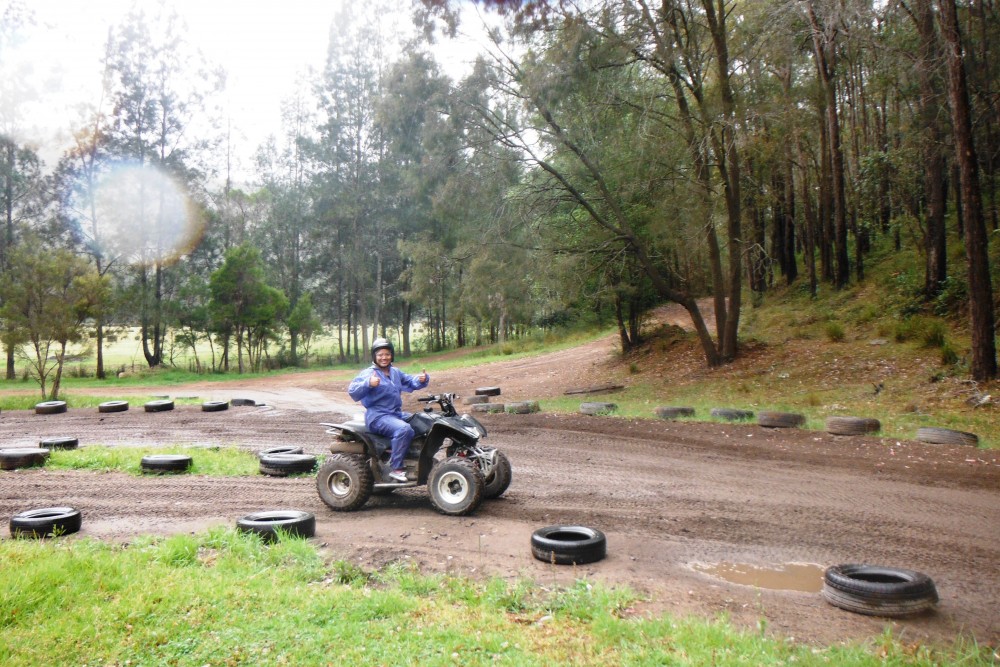 During the briefing, one of the trainers spent a little extra time on me than with the others. Be a little more careful in pressing the accelerator, I recalled him saying. So after some trial and error phases I got a hang of it. There were 3 trainers who alternately gave us instructions followed by test drives. After that, our group was divided into 3, each group led by 1 trainer. We were 5 in our group, so I named us the Fantastic 5.
If you have children in your group, it's advisable to keep them in the middle of the convoy with one adult tailing behind. I was ahead in our convoy and leisurely advanced at my own pace. However, several times though, I had to push hard on that little red button to decrease the widening gap between myself and our lead.
We were on the go and in a few minutes the vast view of Glenworth Valley was before us. We traversed a ranch nestled within the mountains of Gosford in New South Wales. There were rain showers all morning and now a layer of haze covered the landscape. Despite the cold and the mud ridden path, everything around us was a divine sight. As we carried on, I felt that detoxifying flow of energy I always get when surrounded by nature.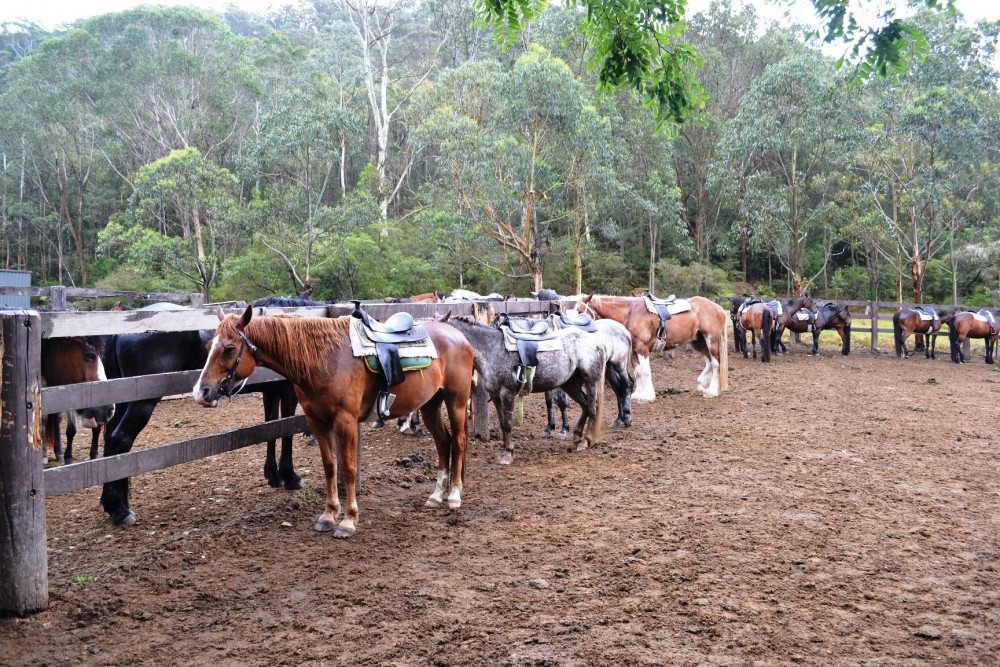 More trees welcomed us on the path, more cows and more horses. Finally, we arrived at a concourse where we were given some free time to test our motor skills. My attention was drawn toward some boys who were already racing furiously around the track. I remind my nephews not to go too fast.
Quad-Biking is relatively safe as long as you drive at a reasonable speed. But honestly, at that point I was more afraid of damaging the bike than falling off the bike. From the briefings we had earlier, one sentence stuck to my head. A broken headlight can cost up to $200. Did I hear him right? Whatever, breaking anything was not an option.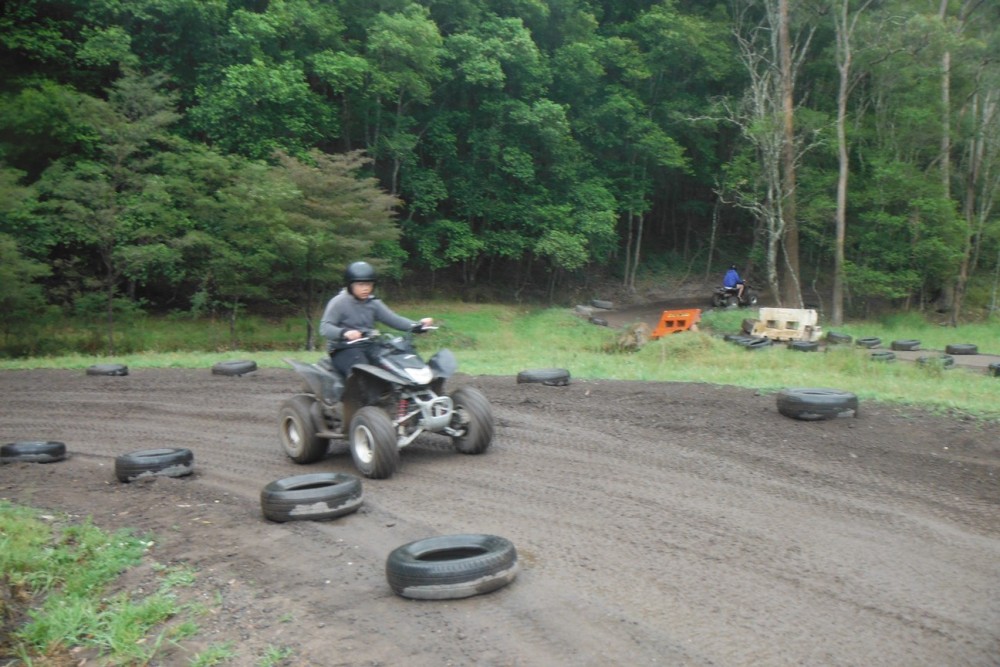 Unlike smaller bikes where a slight shift of weight is sufficient, a Quad-Bike requires much more weight-shifting when turning on curves or driving through uneven paths. It was a heavy machine that required powerful maneuvering. As a result, I was sore the next day.
For clothing, soft comfortable and preferably disposable outfits are perfect. Helmets and goggles are provided at the site. And for footwear, flat, comfortable and closed shoes are ideal – wear sneakers and you are all set.
Unless a category 5 storm or similar event hits the area, the biking sessions are not cancelled. You'll need to do your own weather forecasting and if you deem it's not a good day to go out biking, better call the site to let them know. On a fair weather day, you can probably wear lighter fabrics. Just remember that at the end of your biking session, expect to be sweaty and covered in either dust or mud. Hence, a change of clothing should be on your checklist.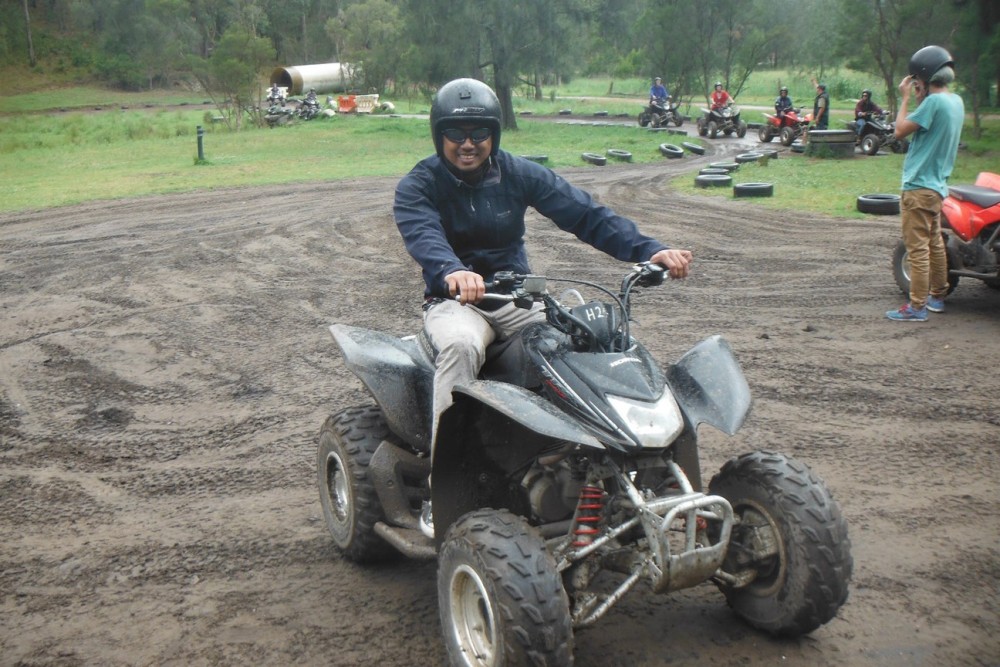 Packed food is an essential. At Glenworth Valley, once you penetrate the mountain region don't count on finding a McDonalds or Hungry Jack's nearby. It is a site for nature-oriented recreations like camping, horse-back riding, kayaking and mountaineering. When we arrived for the day we found that all but a little counter that served coffee and some meat pie was the closest thing they had to a restaurant. While waiting for our 1:00 PM session we gobbled down some of those meat pies. From Sydney's CBD, the site is a 1-hour drive away. We traveled from a suburb so it took us 1.5 hours.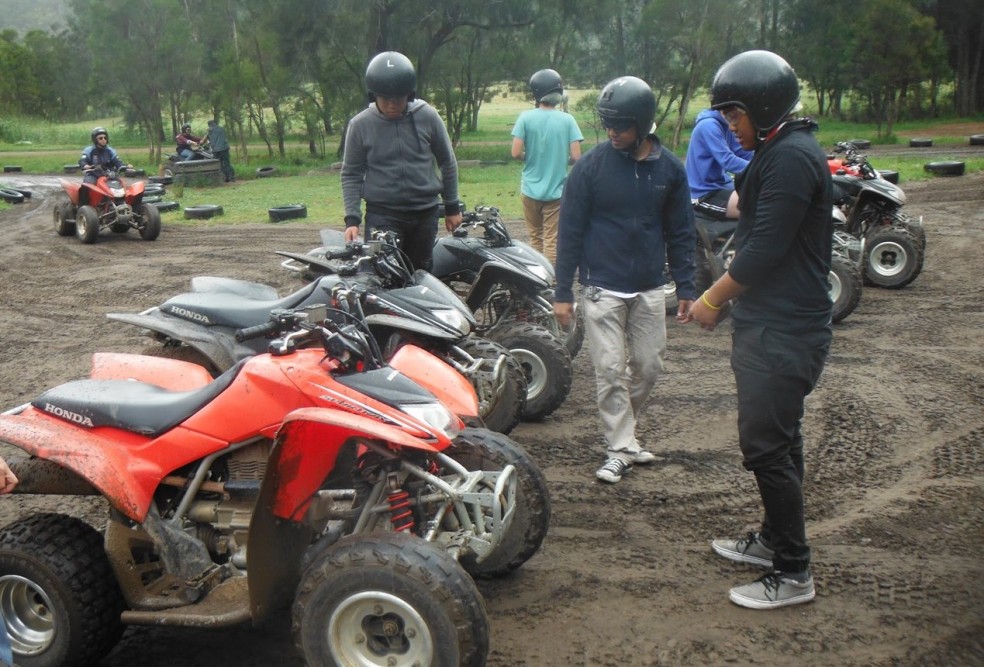 On the race track a simple set of guidelines are to observed; No overtaking, it's a one lane track. Bikers should keep a gap of at least 10 feet from the person ahead of him. For slow-pokes like me, there are detour areas on each side of the track which a rider should enter if you are signaled to do so. This is necessary to prevent traffic from building up behind slower riders. Once inside the detour, a rider does not have to stop. Taking a detour will simply allow other bikers to proceed ahead of him. For some time, I kept on at a very safe speed. I was having my fun, while pretending to be a kick-ass motorbike rider.
The whole activity should have been completed in 1.5hrs. Luckily for us, our trainers seemed oblivious of the time while we merrily raced around the track. My hands and shoulders began to feel sore but I kept on until we were finally summoned back to the concourse. Our trainers gave a few short reminders for the drive back to camp, then they took some group photos. These complimentary pictures were to be emailed to us in 3 weeks. Sadly, those pictures never arrived. Luckily, we had my sister's reliable Fuji waterproof camera and were able to take a few snapshots of the activity.
Thinking back on that day, I realize it was actually my first time to drive a motor bike. I've rode on many motorcycles before but just as a passenger. To be in control of a powerful vehicle like that felt AWESOME. The day was a success. We all went home happy and craving for more.
Check-out their website for more information about Glenworth Valley Outdoor Adventures.
( Disclaimer: Although it took 2 months, the photographs were eventually sent by the Glenworth Valley campsite coordinators. To the Glenworth Valley staff – Thank you!).
Quad-Biking Slideshow
If you enjoyed reading this article, please like or share with the buttons below. Thanks!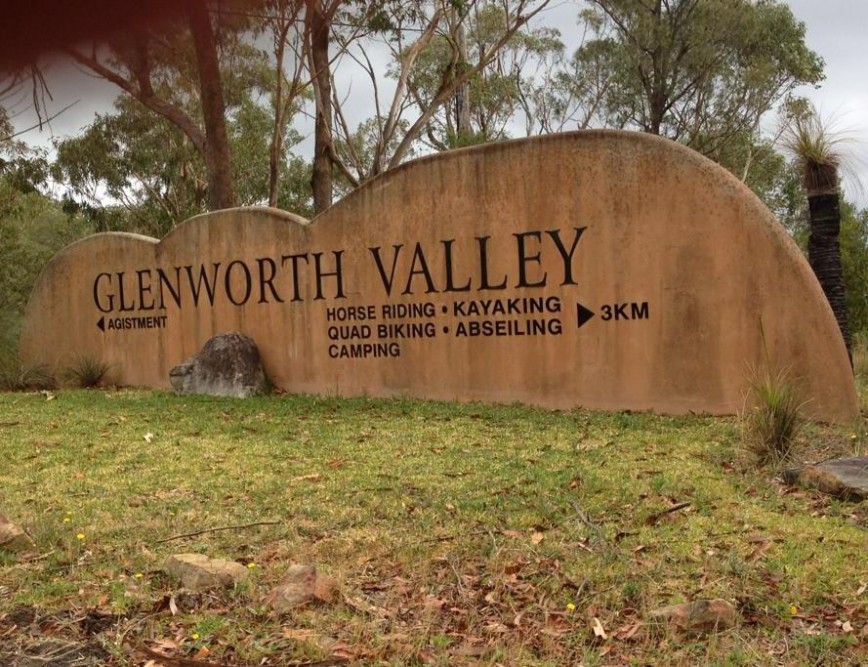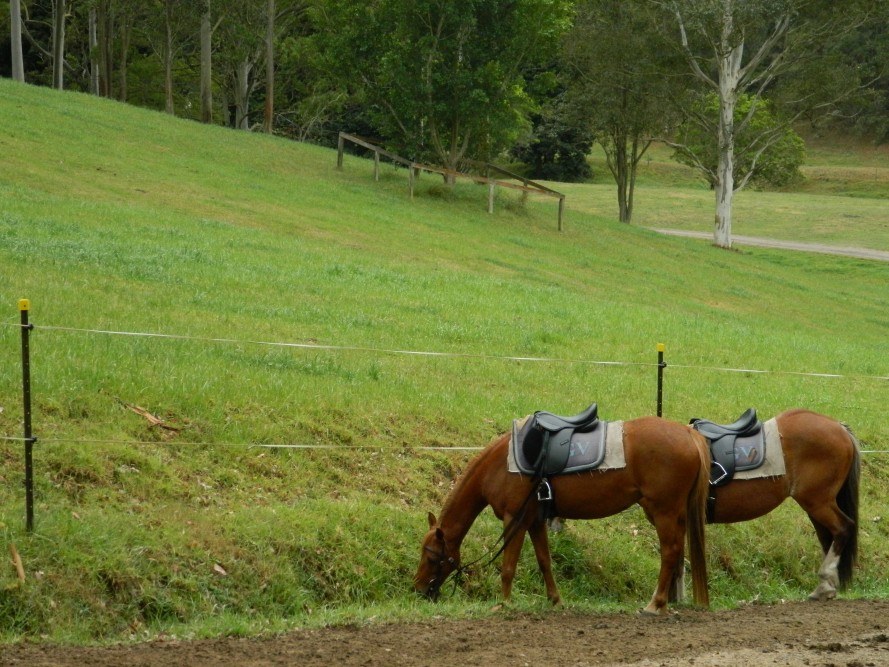 Like, Share and Spread the Love!!