Sydney from the Skies – 360 Views from the Sydney Tower Eye
The Sydney Tower Eye is an observation tower where you can enjoy panoramic views of Sydney and farther areas of New South Wales. It stands 300 meters tall and is said to be the third tallest structure in Australia.
How to Get There:
It's easy to go to the Sydney Tower since it is visible from almost all areas of Sydney's central business district. If you take the train the closest station to the tower is St. James. Once you emerge from the long tunnel leading out of station, you'll find yourself on Elizabeth Street – cross the street and walk straight ahead on Market Street up to Westfield Center, a mall on the right side of the road. At the 5th level you will find the Sky Tower ticket booth.


Operating Hours:
The Sydney Tower is open daily from 9:00 in the morning to 10:30 in the evening. There is no limit to how long you can stay at the observation deck.
Ticket Fees:
The walk up fee is 26 AUD, see SYDNEYTOWEREYE.COM.AU for more information.
If you would like to go to the tower's peak for an open air view of the city, you can avail of the Skywalk + Observation ticket for an additional fee.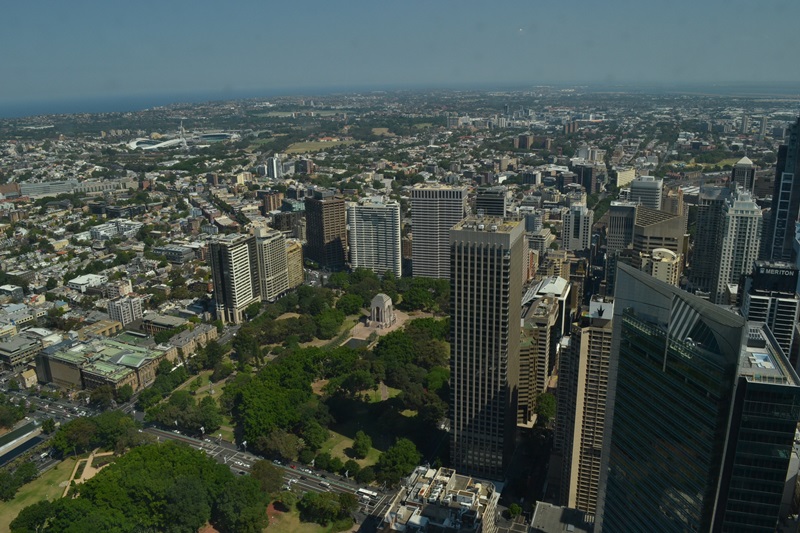 The Sydney Tower Eye is a quick side trip attraction. You won't need to spend too much time up at the tower. It's a spectacular vantage point where you can view areas as far out as the Olympic park and have an aerial view of Bennelong point, Darling Harbor and Hyde Park.
Sources: wikipedia.org, sydneytowereye.com.au
If you enjoyed reading this post, please like or share it with the buttons below Thanks!

Want more of Sydney? Check out:
Like, Share and Spread the Love!!