The City of Pines – A Photography Blog
A view of the Benguet Mountain Range at Mines View Park
Baguio City known as the "City of Pines," was built on the mountains of  Benguet Province in Northern Luzon.  Much of its infrastructure was developed by the Americans during their colonization of the Philippines from 1898 to 1946.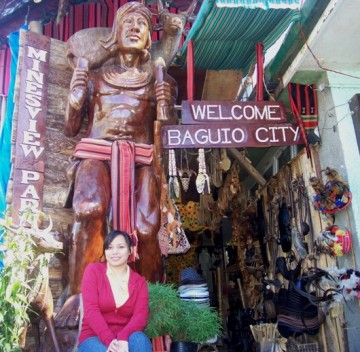 The city is close to my heart because this is where I was born before our family settled in Manila. A few years ago I took a trip back to the mountain city. Here are some pictures from that trip.
Some photographs taken SM Baguio
Statue of an Igorot huntsman behind me.
The Botanical Garden is a nice park located in downtown Baguio City along Leonard Wood Road. It's an ideal meditation site for Tai Chi or Yoga practitioners. I did some soul searching of my own while enjoying the cool weather and fresh scent of pines at the park. Here are some images of the Botanical Garden.
It's always amusing to walk through souvenir shops even if shopping is not on your agenda. At  souvenir shops you can learn about the local culture and heritage.
Here's something interesting for the ladies.
If you liked this article please give it a thumbs-up pass it on. Thanks!
See more of my travels here.
Like, Share and Spread the Love!!