Tips on Visiting the Petronas Towers
They are currently more known as the world's former tallest buildings. But, there was a time when the Petronas Towers were hailed as the world's tallest skyscrapers standing at 452 meters from ground level for a period of 6 years from 1998-2004.
The majestic twin towers lost the title to Taiwan's Taipei 101 in 2004 and as of 2013 the title has been taken by Dubai's Burj Khalifa with a staggering height of 828 meters. The Burj Khalifa was completed in 2010. Still, the Petronas Towers are among the most elegant and unique structures in the world and continue to draw thousands of tourists yearly.
On a hot September morning I scheduled a visit to see the towers. I've read some reviews that said that tickets sell fast, so I tried to make it to the towers as early as I can. Since I'm not a morning person the earliest I could make it was 10:30 am. By that time they were already selling tickets for the 7:15 pm viewing, tickets were almost gone!
Luckily, since I was alone the counter agent found a single slot available for the 3:15 pm batch and I got to join that group. So, if you want an early viewing schedule it's imperative that you arrive as early as you can  maybe an hour before they open at 9:00 am, especially if you'll be needing 2 or more tickets.

To kill time, I considered taking a quick trip to somewhere nearby like the Menara Tower. But, September is a hot month in Kuala Lumpur and at 35C-36C that day, I decided against it and instead spent the next 4 hours lingering around the KLCC park and mall.
Wander around the park and mall – The KLCC Park was a neatly manicured park with fountains, ponds, and a waterpark where children and even adults can swim. It's a nice place to hang-out and take great photos of the towers.
By 3:00 pm I queued with my group at the concourse where we were shortly introduced to a hologram for a short do's and don'ts briefing. She reminded me of Princess Lea in Star Wars Episode 4.
Each group is composed of roughly 20 people. Be back at the ticket counter 15 minutes before your scheduled tour –  this will give you enough time to deposit your bags and go through the ticket inspection process.

Viewing session are over before you know it – There are two viewing areas, first is the Skybridge and second is the Observation Deck. From the ground floor, we rode an elevator to the Skybridge on the 41st floor where you can view the city from a height of 170 meters from ground level.
The Sky Bridge is a pathway connecting the two towers. According, to the guide it serves as passage from one tower to the other and had 2 levels. I assumed the level we were on was for tourists and the other for employees of the KLCC Towers. It also serves as an emergency passage. We were given a brief 15 minutes viewing time on the Sky Bridge.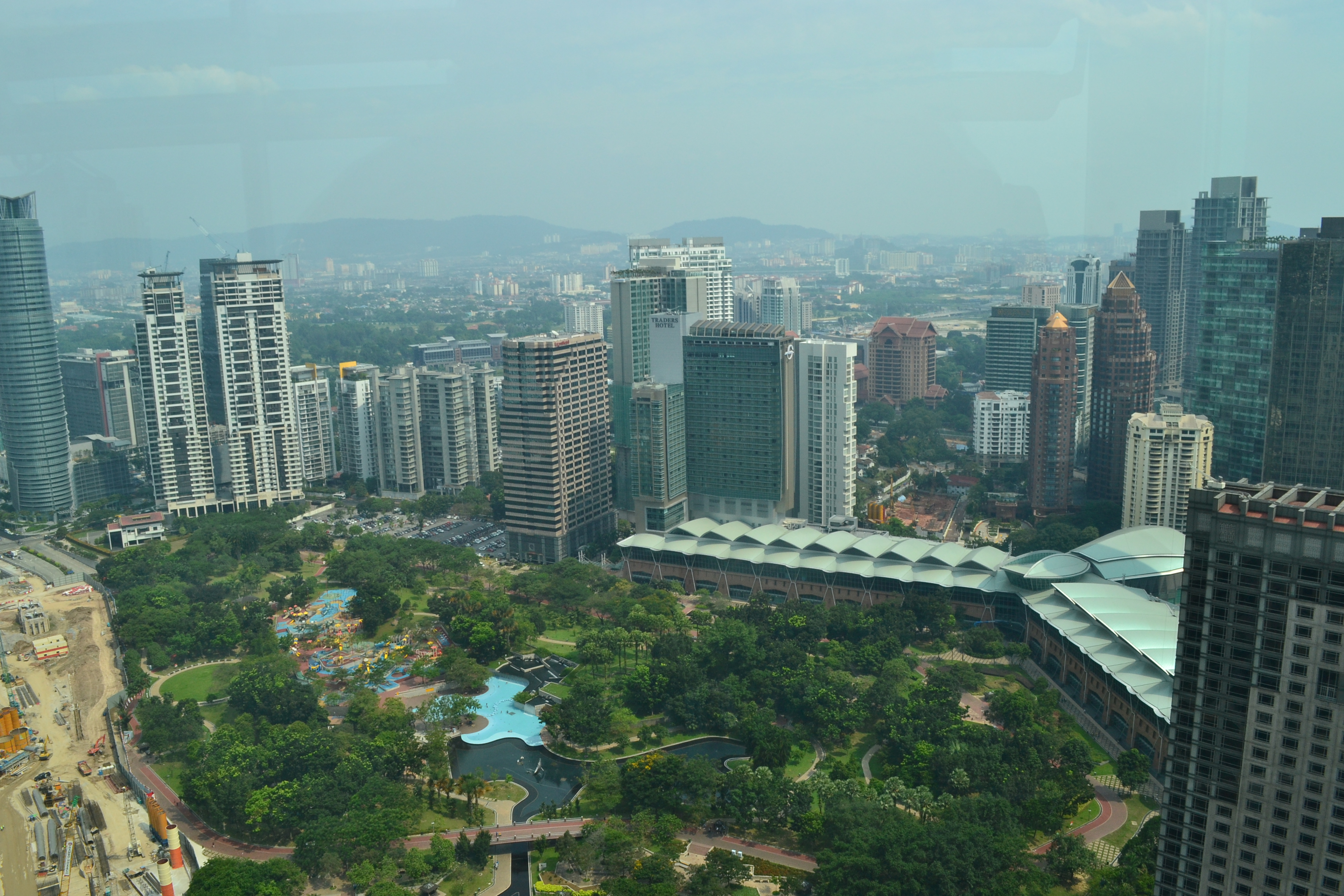 When our 15 minutes on the Sky Bridge was up, we were ushered to an elevator up to the Observation Deck on the 86th floor of Tower 2. Once more, we had around 15 minutes of viewing time. I wasn't very happy with the time limit but I guess it was necessary to accommodate the hundreds of visitors coming to the towers.
Gazing at the Kuala Lumpur skyline from this height was awesome, there are many windows where you can view the city from different angles and there are comfortable seats by some windows. I had to shoot through the glass windows, so my photos were a bit murky, but you don't really have a choice since there are no open viewing areas.
The session ends at the souvenir shop where you have unlimited time to look around and grab souvenirs. Some reviews suggested to skip the city viewing from Petronas Towers and just go to the Menara Tower since it's on higher ground, out of curiosity I went to both towers.
Who knows when I will have a chance to visit Kuala Lumpur again, so I figured why not. For me both towers give you a great vantage point and you will have a chance to admire Kuala Lumpur from various angles. It was a great experience.
Photography by Iza Sanchez
If you liked this article, please thumbs-up or share it with the links below. Thanks!
Check out more travel photos here
Like, Share and Spread the Love!!