Celebrating Christmas with Lights and Music at Makati City
These are photographs from last year's Christmas lights and music show at Ayala Triangle Garden, Makati City.
The Enchanting Lights and Sound Show has become an anticipated tradition each year in the city of Makati. It is a vibrant showcase of holiday lights synchronized with classic Christmas melodies. The program duration is usually from the first week of December up to the first week of January.
The shows run for 15 minutes from 6:00 pm to 9:30 pm with 10-15 minute intervals. It is open to the public and spectators are welcome to stay for succeeding shows. A nice treat for the after office crowd since it is held at the Ayala Triangle Gardens at the heart of the Makati CBD.
This annual activity is spearheaded by the Ayala Corporation in collaboration with the Makati City Authority. Every Christmas season a variety of musicals and cultural events  are also held at the Ayala Triangle Gardens.
According to the Make It Makati page administrators, equipment utilized for the shows include "800,000 colored LED bulbs connected by 45,000 meters of cabling and with almost 500,000 digital channels."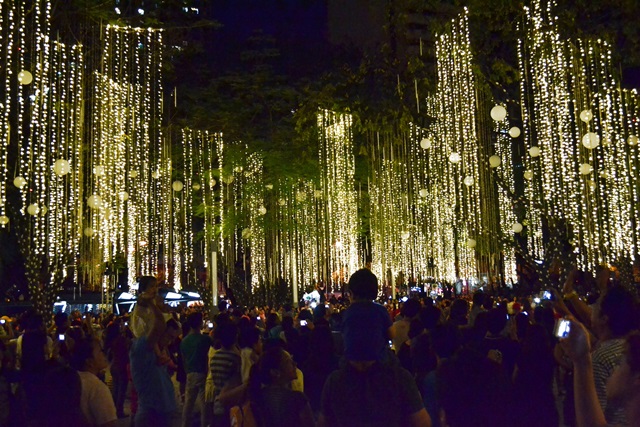 If you enjoyed reading this post, please like or share it with the buttons below and feel free to leave your comments. Thanks!
View more images here of the Enchanting Lights & Sound Show here 
See more photography blogs here
Like, Share and Spread the Love!!