Bangkok: Five Temples in One Day, A DIY Travel Guide
Photography by Iza Sanchez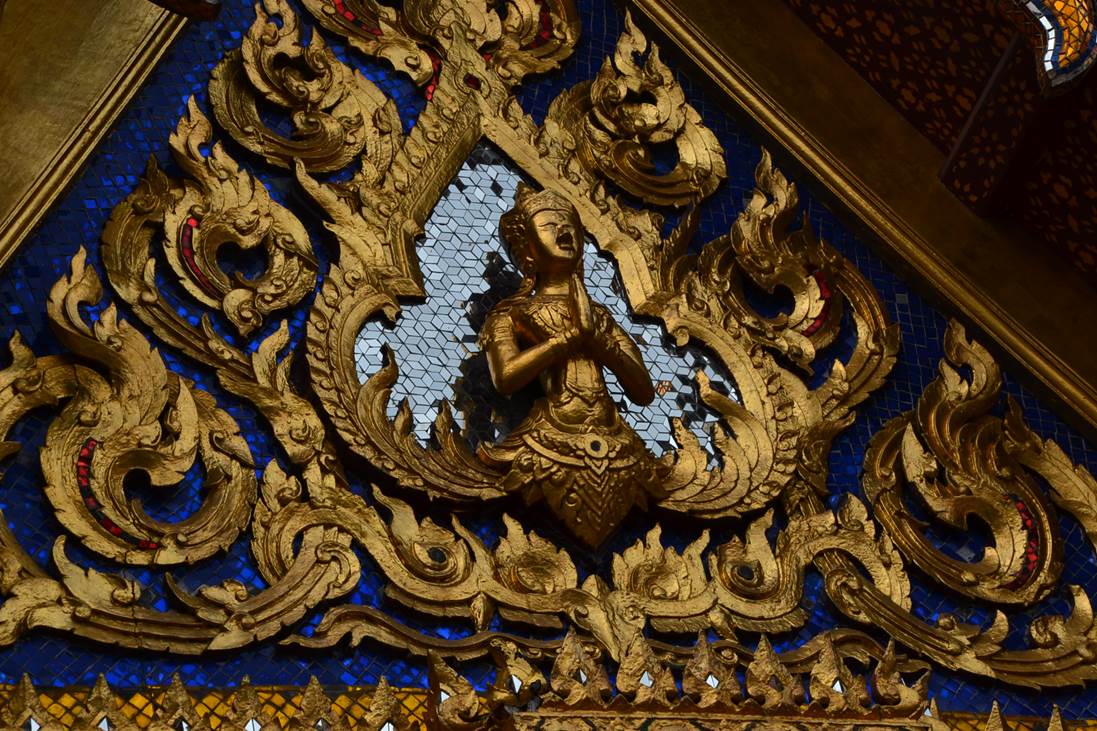 Upon arriving in Bangkok one of the things that first caught my attention was the religious symbolism on billboards at the airport and along the highway as I traveled to my hostel. It immediately conveyed to me how deeply ingrained Buddhism is in Thai culture.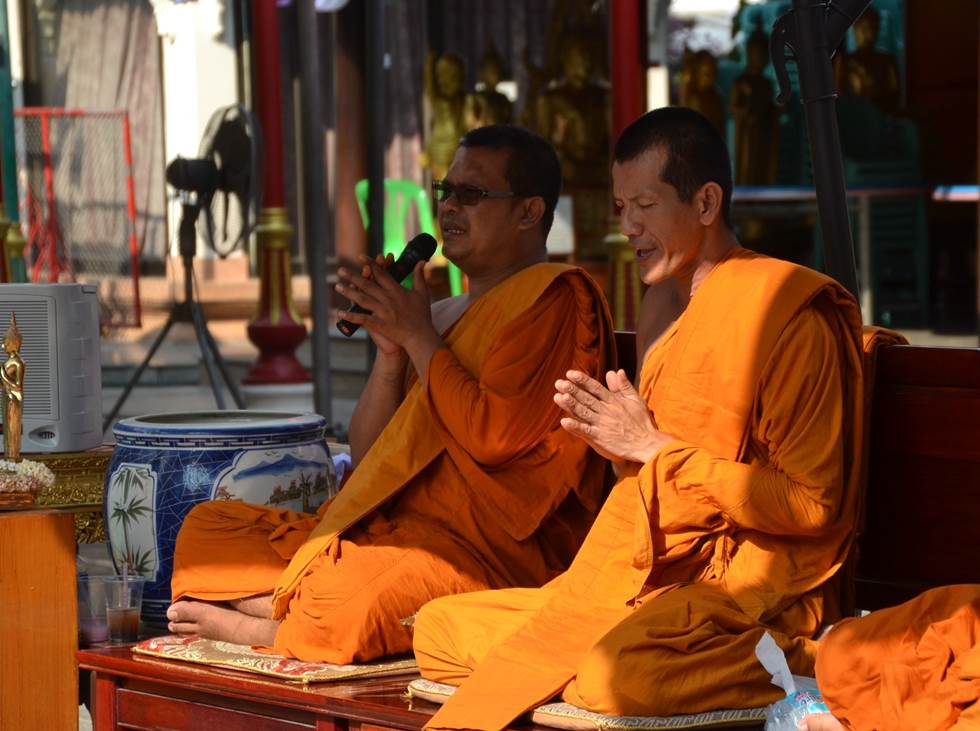 In the following days as I explored the city I often saw Buddhist monks in their bright orange robes roaming the city and the reddish gilded roofs of the temples or in Thai the "wats." Even from a distance their aesthetic quality was remarkable.

The temples are the main attractions in Bangkok so I dedicated my first full day in the city to visiting them. Prior to my trip every blog I've read mentioned three must-see temples, these were Wat Phra Kaew located inside the Grand Palace, its neighbor Wat Pho and finally Wat Arun which sits majestically on the banks of the Chao Phraya River. One day is all you need to see all three but you can manage to squeeze in one or two more temples if you like. Below are a few things to take note off when you plan your day at the temples.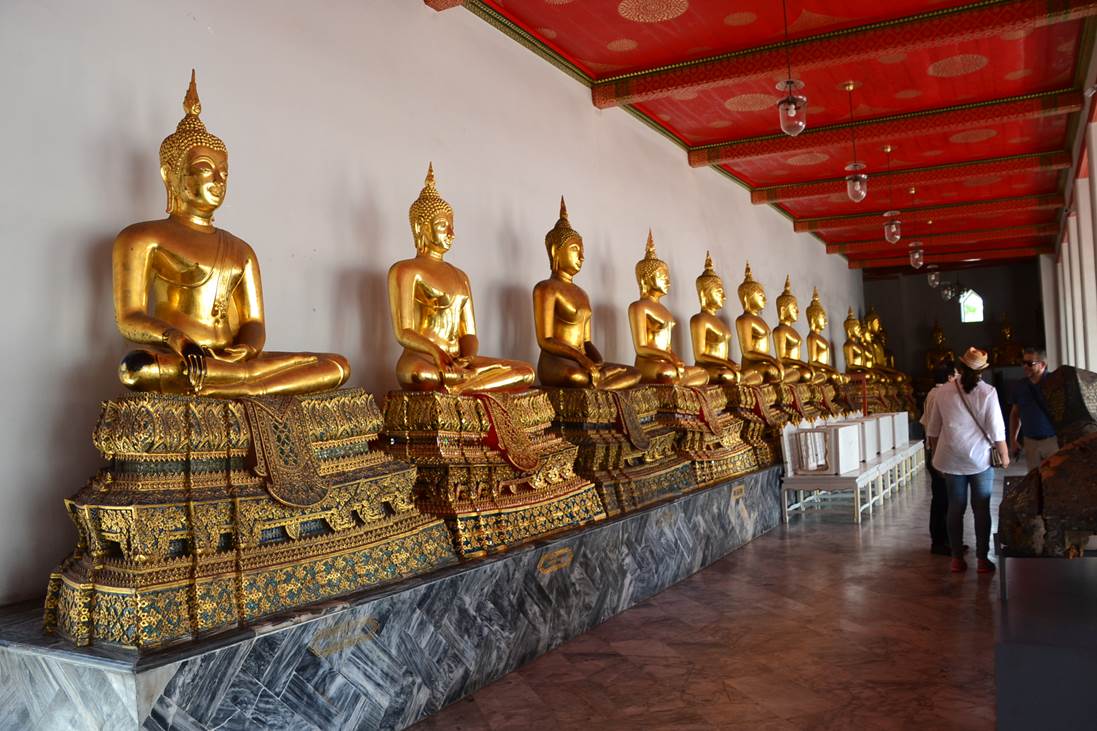 What to Wear
Thailand like most Asian countries is conservative and in places of worship, wearing clothes that reveal too much skin is considered inappropriate. You'd have to be covered up to the ankles and your upper garment should have sleeves. At the Grand Palace a girl beside me wasn't permitted inside because she wore ripped jeans. I do hope she had the sense to buy one of those cheap Boho pants sold at the shops outside the gates. They're stylish and look good on both men and women. As for footwear comfortable, flat shoes are ideal since you'll be walking the whole day.
The Elements
It's hot in Thailand with temperatures ranging from 29°C to 35°C in the daytime. Thus, some items you may want to consider bringing are sunblock, a summer hat, shades and a water bottle.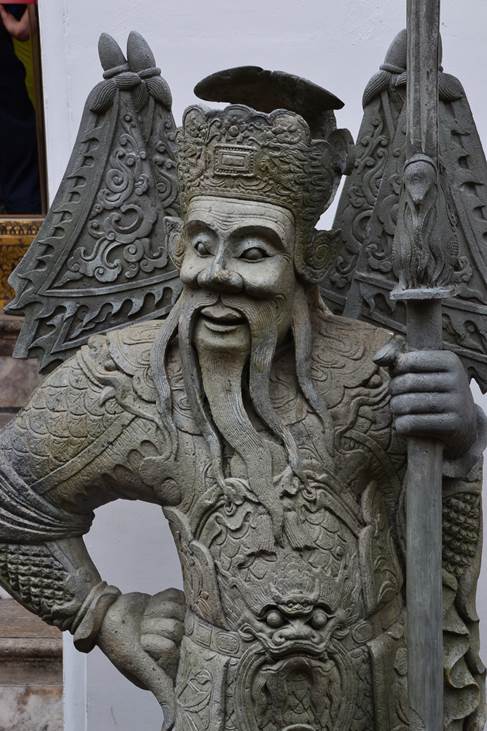 Starting Your Day
Start out as early as you can. I left my hostel in Khaosan around 7:30 am and because I knew it was going to be a full day of exploring, I had a heavy breakfast at a street restaurant on my walk to the pier.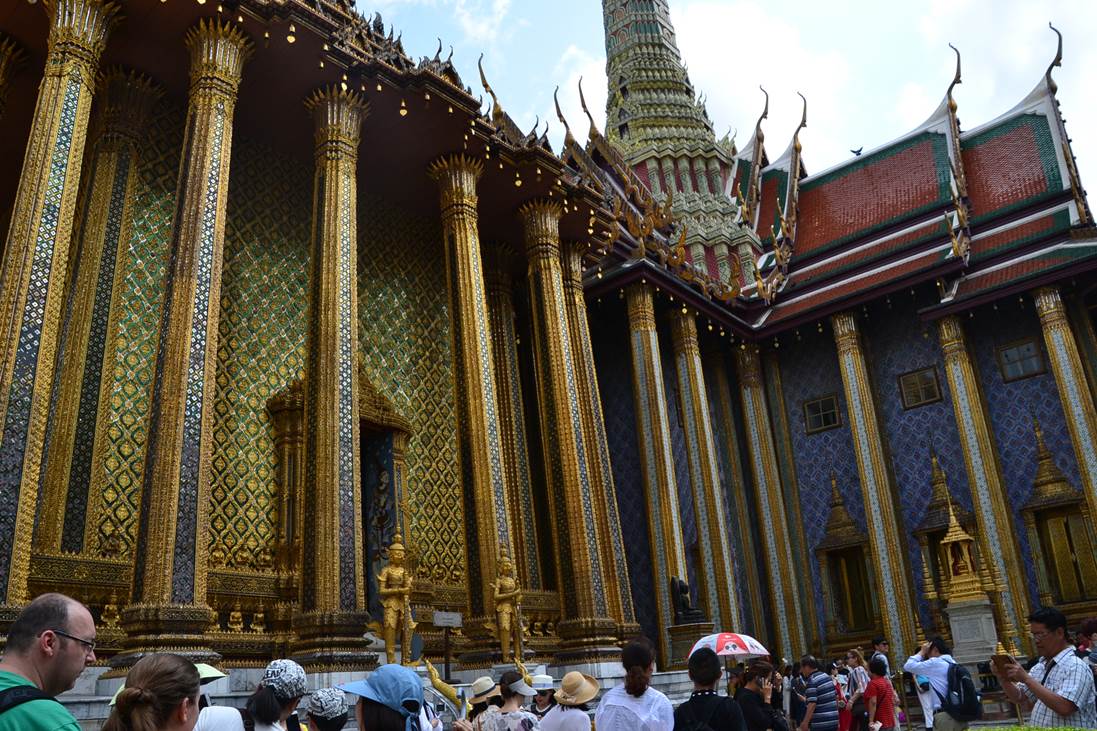 Getting Around
The best place to start your day is at the Grand Palace since it's the number 1 attraction in Bangkok. If you're staying at Khaosan it only takes 5 to 10 minutes to walk to Phra Athit Pier. At the pier ride a longtail boat to the Grand Palace, you should get off at Tha Chang Pier. The waiting time between boats is around 5 to 8 minutes. A point to point trip costs only 15 Baht regardless of the distance.
If you're taking the BTS (Bangkok Mass Transit) or metrorail, the closest station to the Grand Palace is Hua Lamphong. It's around around 4km from the palace. From Hua Lamphong you can take a taxi which will cost roughly 60 to 80 Baht.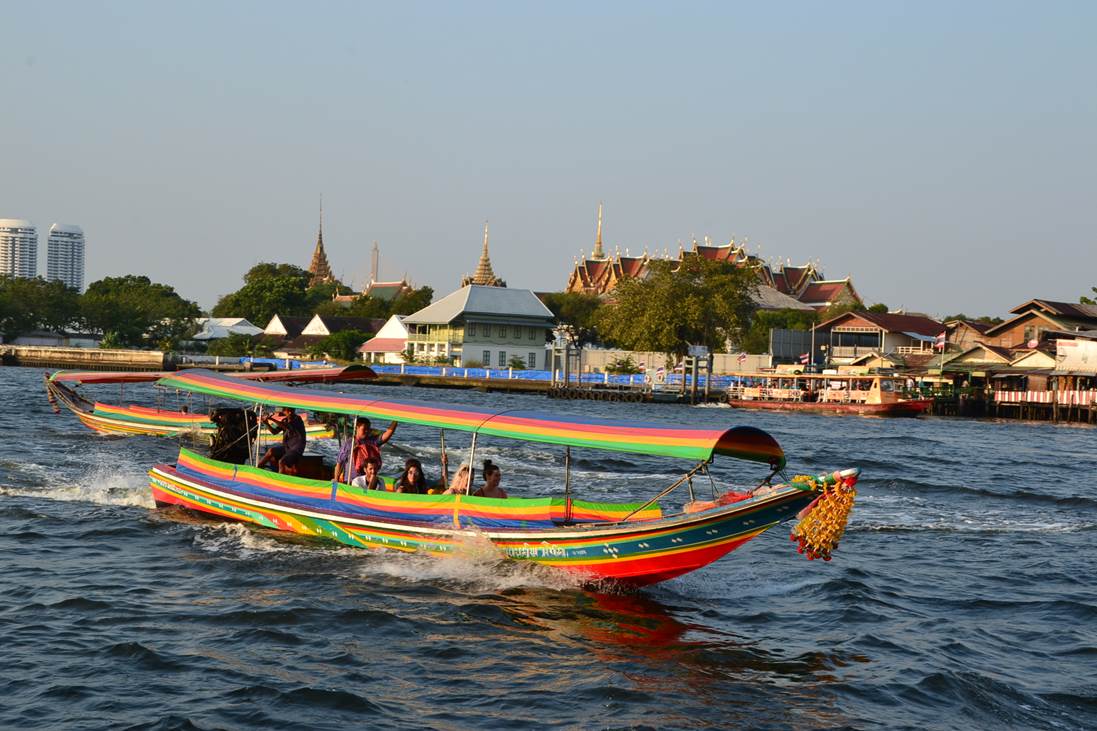 A commuter boat on the Chao Phraya River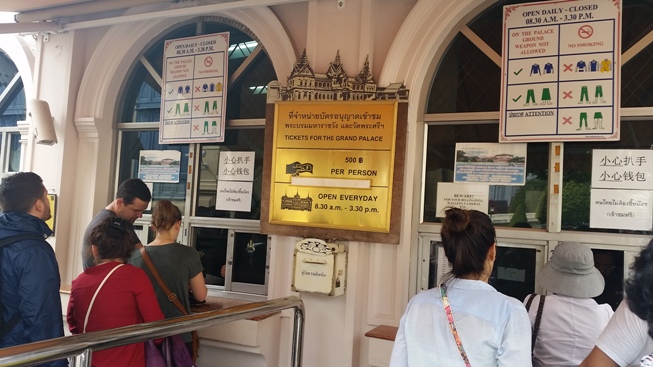 Temple Overview and Admission Fees
Operating Hours
The temples are generally open from 9:00am to 5:00pm, others are open up to 6:00pm.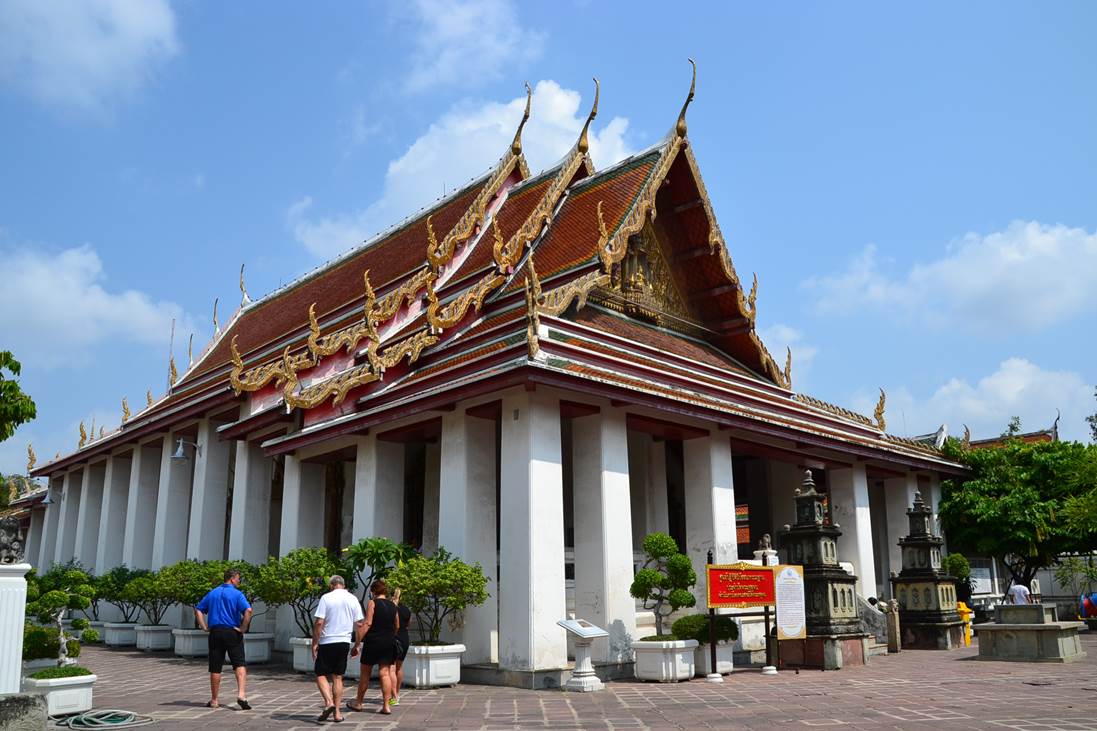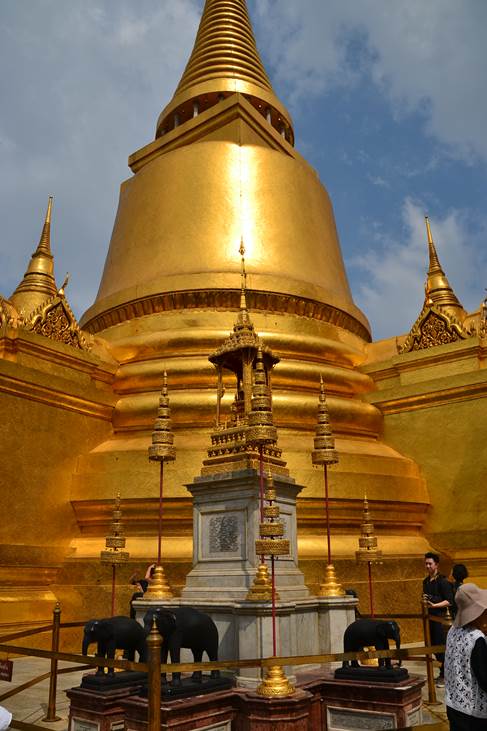 The Grand Palace and Wat Phra Kaew
The admission fee to the Grand Palace is 500 Baht and tickets are sold inside the compound. Don't worry the admission fee to other temples won't cost as much. When you're at the vicinity be wary of scammers who might approach you and make all sorts of offers, just avoid them. If you encounter anyone who encourages you to visit a jewellry store, get away as quickly as you can.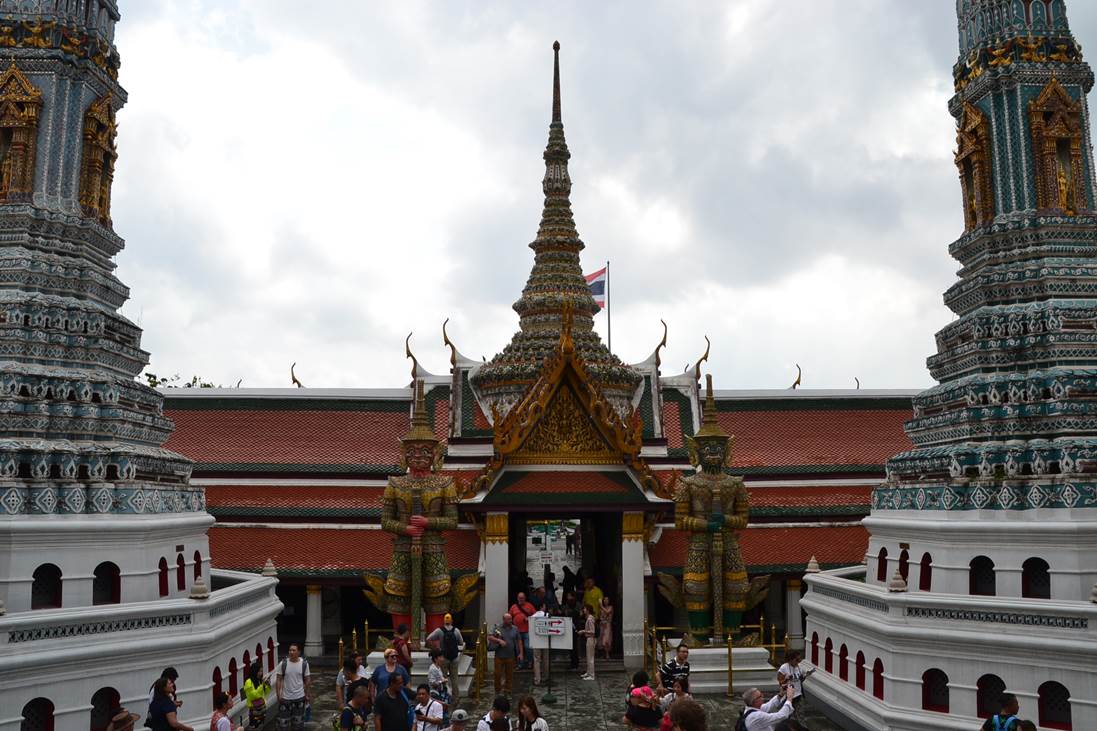 Wat Phra Kaew inside the Grand Palace is one of the most beautiful architectural structures you might ever see. I could've spent the whole morning admiring it if not for my desire to see the other temples.  According to wikipedia, Wat Phra Kaew is considered the most sacred temple in Thailand. But, I do wonder how locals are able to worship there in peace with the mob of tourists that come everyday. Yes, the crowds can be overwhelming.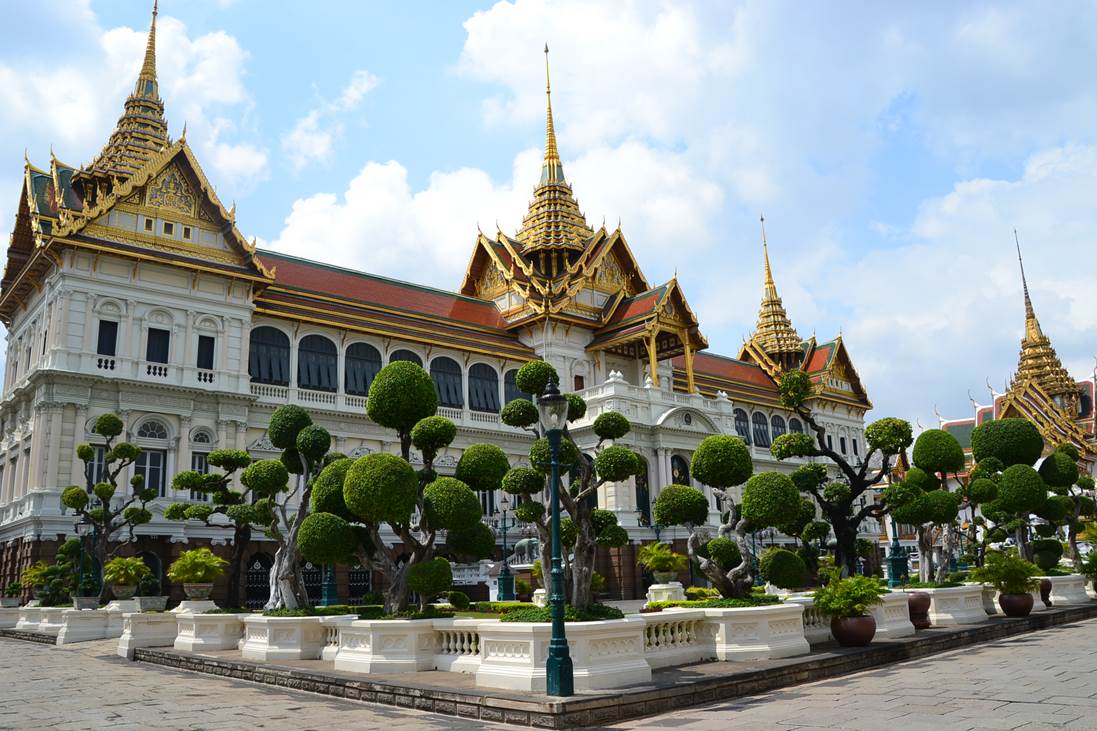 Once you're done at the temple, walk toward the Grand Palace which is the King's residence. It's another architectural masterpiece to marvel at. I spent about two hours at the Grand Palace obsessively photo documenting every inch of it. But you really won't need that much time.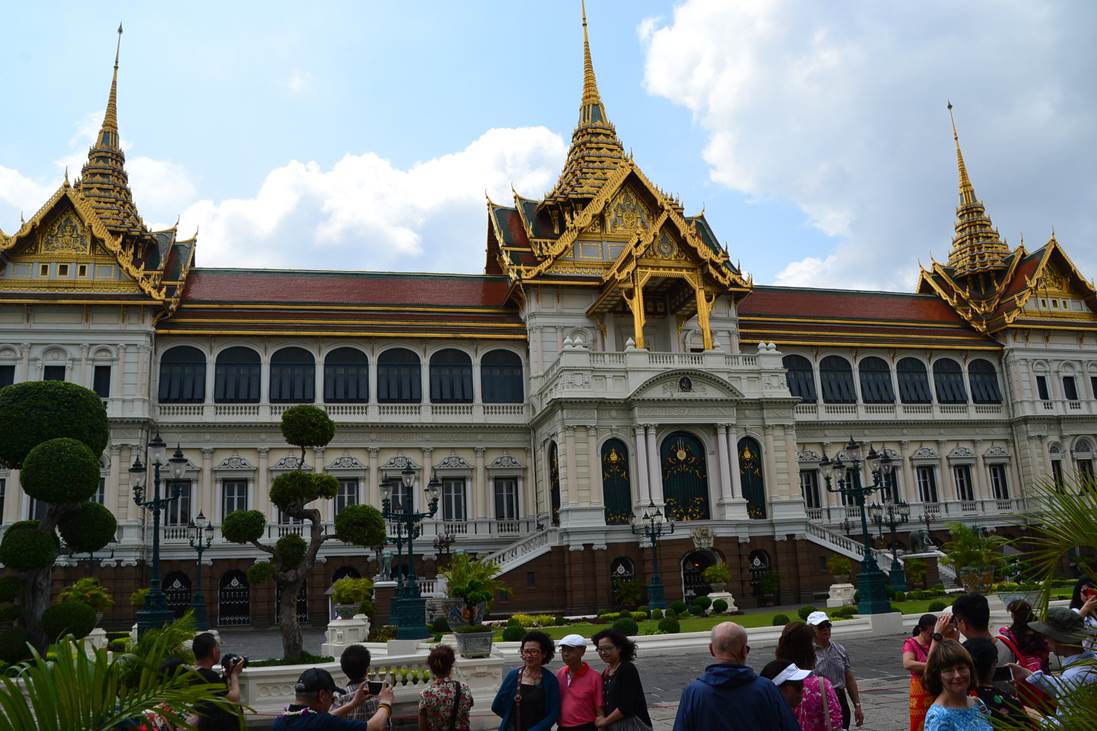 Wat Pho
Wat Pho is the second most popular temple and home to the largest, golden reclining Buddha in Thailand. It's located south of the Grand Palace. But you can only get out of the palace from the main entrance, thus you'd have to walk back there before heading for Wat Pho. The 10 minute walk to Wat Pho can feel like an eternity when you're getting baked under the sun. Also, when google maps tells you 10 minutes it actually means 15, so if you can manage to find a tuk tuk driver who agrees to take you to Wat Pho for 10 to 20 Baht that's a good deal.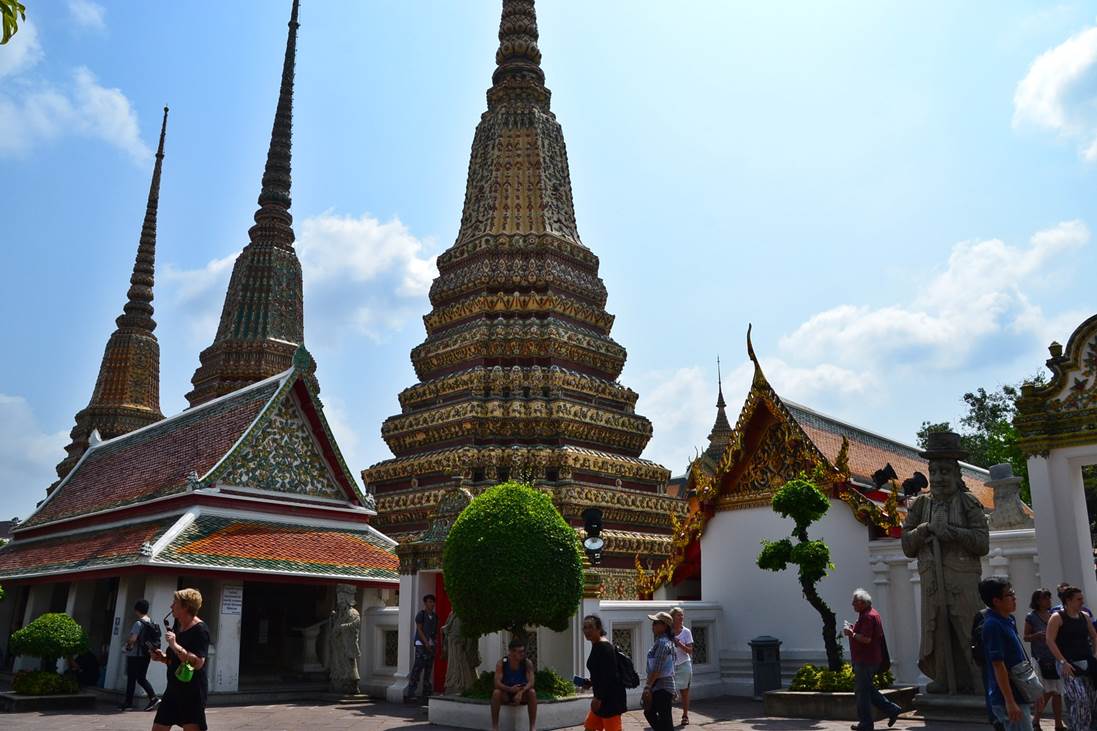 The admission fee to Wat Pho is 100 Baht. The compound is huge, equivalent to that of an 8 hectare farm. Inside the compound you'd find colorful stupas of all sizes, impressive statues of deities, well manicured gardens and hundreds of Buddha statues from various eras.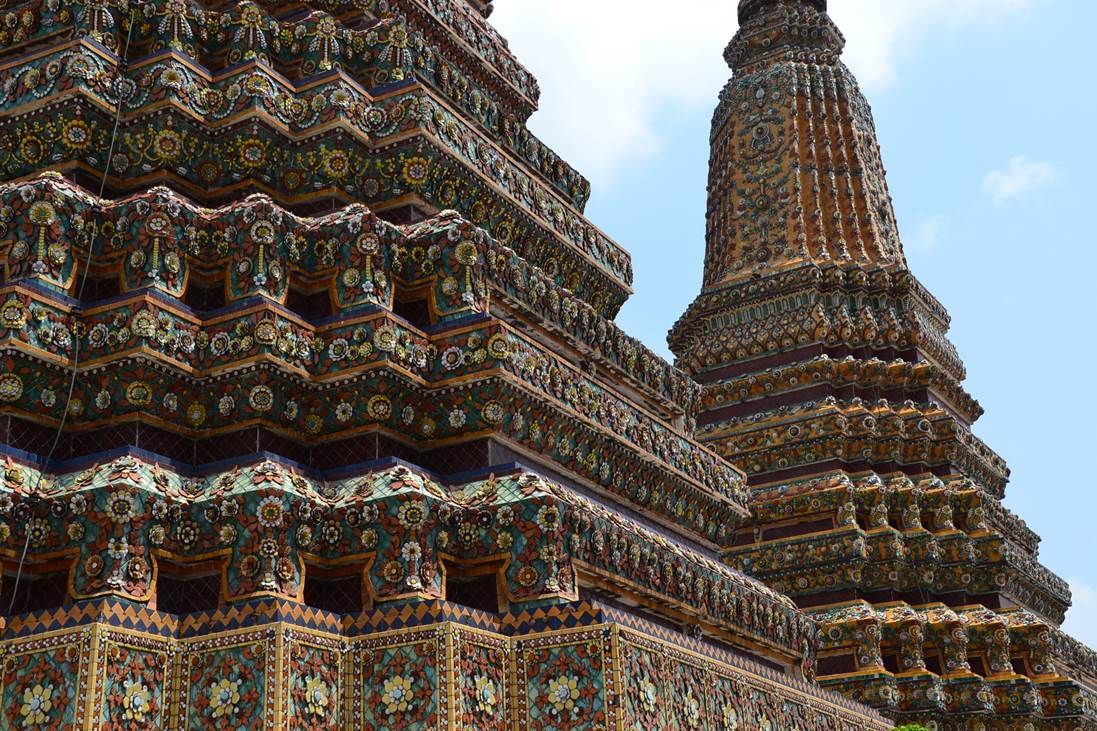 Wat Arun
From Wat Pho it's a short walk to Tha Tien Pier where you can get on a ferry to cross the river to Wat Arun. The ferry only costs 4 Baht. Wat Arun, known as the "Temple of Dawn," was built in the mid 17th century. It's famous for its towering spires which visitors can actually climb.
Photo by Manoonp via Wikimedia Commons
Aside from the beautiful spires, there's a park and ornate pavilions where you can hang out for awhile. It's free to walk around the compound but if you'd like to enter the gated temple, there's a minimal admission fee of 50 Baht. Climb the spires to admire the city skyline from the west side of the river. The temple is open until 6:00pm.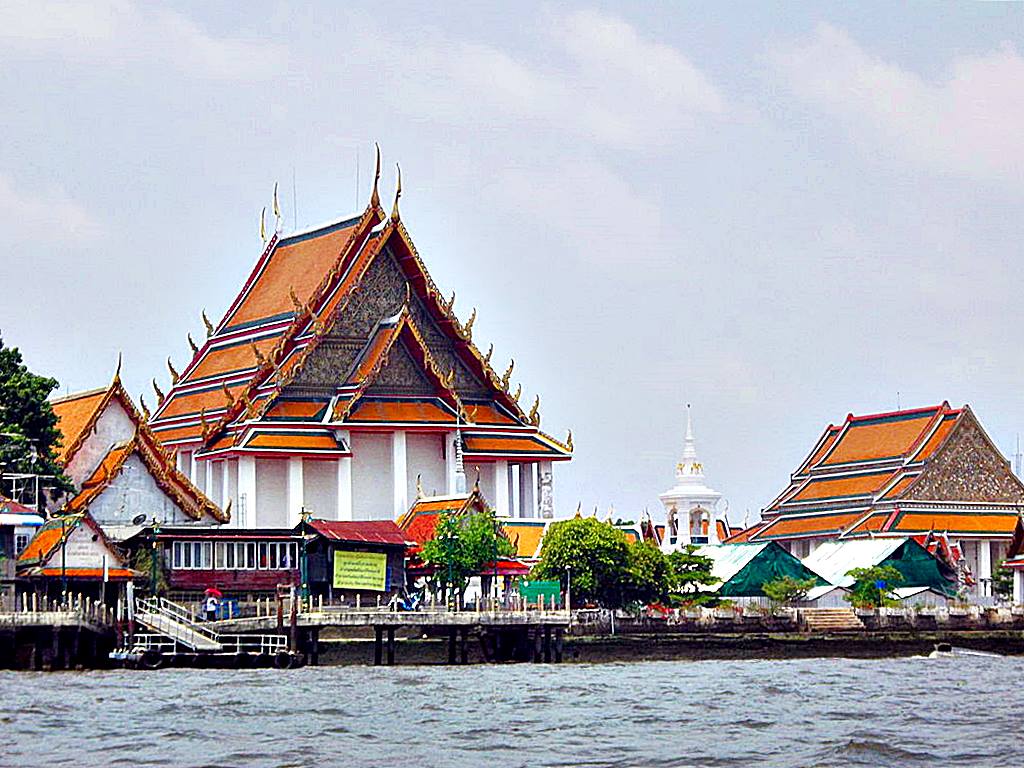 Photo by กสิณธร ราชโอรส via Wikimedia Commons
Wat Kalayanamitr
Once you're done at Wat Arun you can take a 15 minute walk to a nearby temple called Wat Kalayanamitr, if it's too hot, ride a tuk tuk or a cab (always negotiate the fare with tuk tuk drivers). Like Wat Arun, Wat Kalayanamitr sits on the west bank of the Chao Phraya River. It houses one of the largest golden Buddha statues in Bangkok and is more frequented by locals than by tourists. It's often overlooked because of its popular neighbor Wat Arun but with lesser crowds it's a more solemn site for prayer and contemplation. Visitors can make offerings and join in prayers at the temple.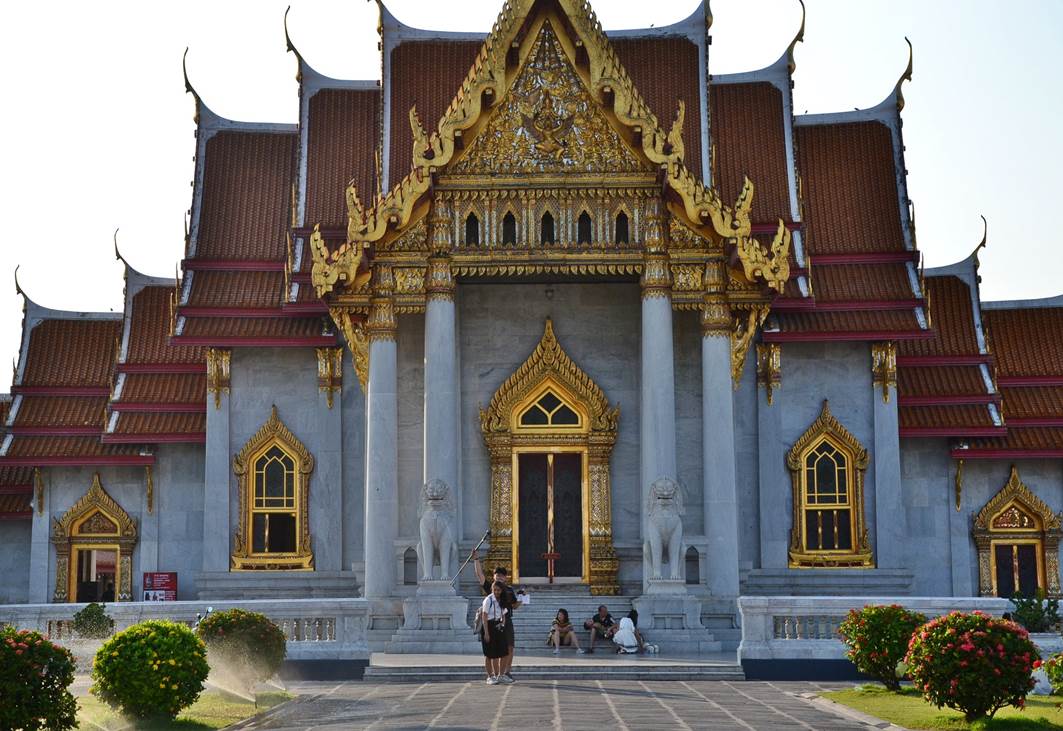 Wat Benchamabophit
From Wat Kalayanamitr you can finish your day at Wat Benchamabophit also known as the "Marble Temple." It's located on the east side of the Chao Phraya River about 6 kilometers from Wat Kalayanamitr. It may take around 20 minutes by tuk tuk or by taxi to get there. Taxi fare would cost around 80 to 100 Baht. On the other hand, you may want to consider hiring a tuk tuk to experience a short open air tour of the city. Tuk tuk drivers usually charge 100 Baht per trip. Again, always negotiate with the driver.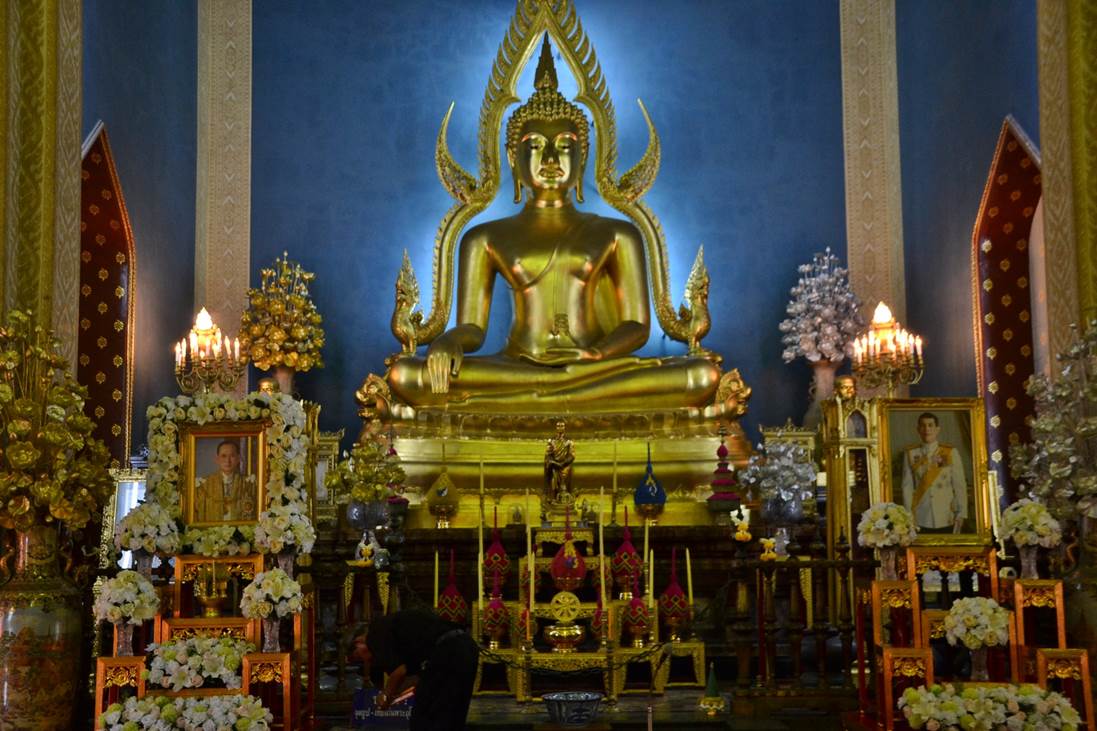 Compared to the 3 Big Wats, Wat Benchamabophit is considered a second class temple like Wat Kalayanamitr. It's more frequented by locals than tourists but it stands out in its own unique way. The temple's red gilded roof and majestic frame is an eye-catcher whenever you pass it on Nakhon Pathom Road. It was made from marble exported all the way from Italy in 1899. Like Wat Pho, it houses countless Buddha statues lined around a beautiful courtyard. It's free to walk around the compound and its lovely gardens, but if you'd like to enter the main temple there's an admission fee of 20 Baht. When I visited the temple, it was late afternoon, there were few people around and I really enjoyed the quiet and solemn ambiance after spending hours at the busier temples earlier.
Because of their close proximity to each other you can visit these five temples all in one day. There are many other beautiful temples to see in Bangkok but for me, one day at the temples was good enough and the rest of my trip I spent in attractions outside of the city. – And one more tip, a perfect way to end your day is by treating yourself to a delicious Thai meal followed by a soothing Thai massage.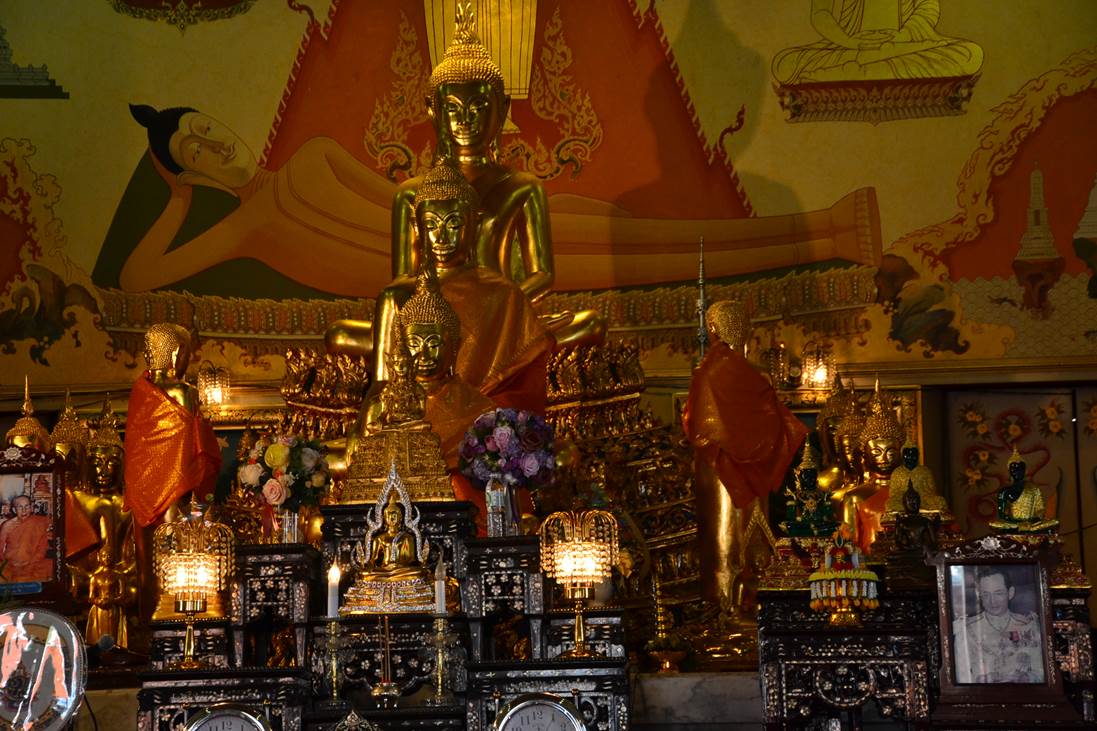 If you found this article useful, please like and share it. Thanks!!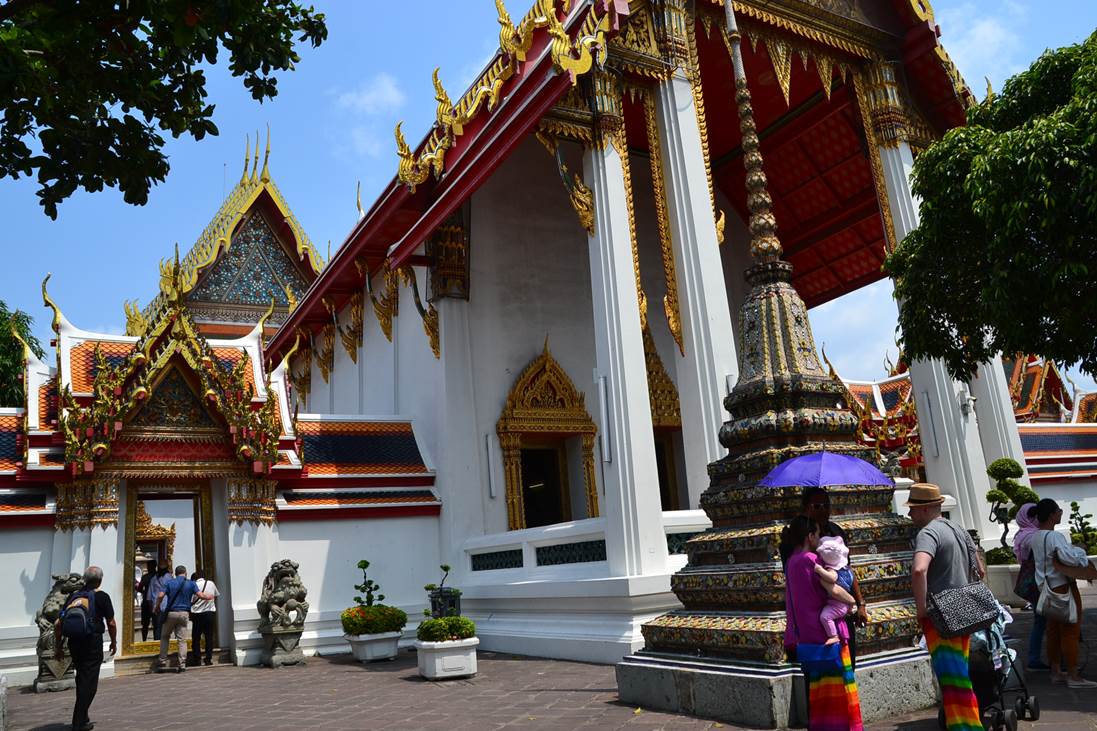 Like, Share and Spread the Love!!