Skydiving in Tugerah, Memoirs of a First-Timer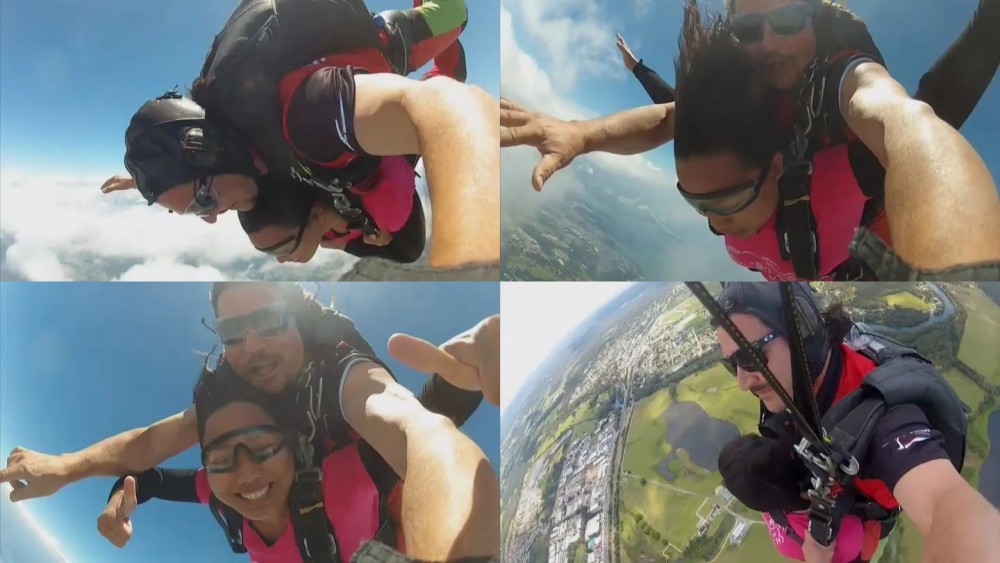 If skydiving isn't on your bucket list, it should be. Yes, it's dangerous and risky, and maybe not for everyone. But, if you're someone who is always up for an adrenaline rush, have dreamt of soaring in the skies like a bird, and just love watching fantastic drone videos, then skydiving is for you.
I had a chance to go skydiving in Australia a few years ago, and it was the most liberating experience of my life. The site was in Tugerah, a vast forested region in north of Sydney, and bordered by the stunning Central  Coast on the east.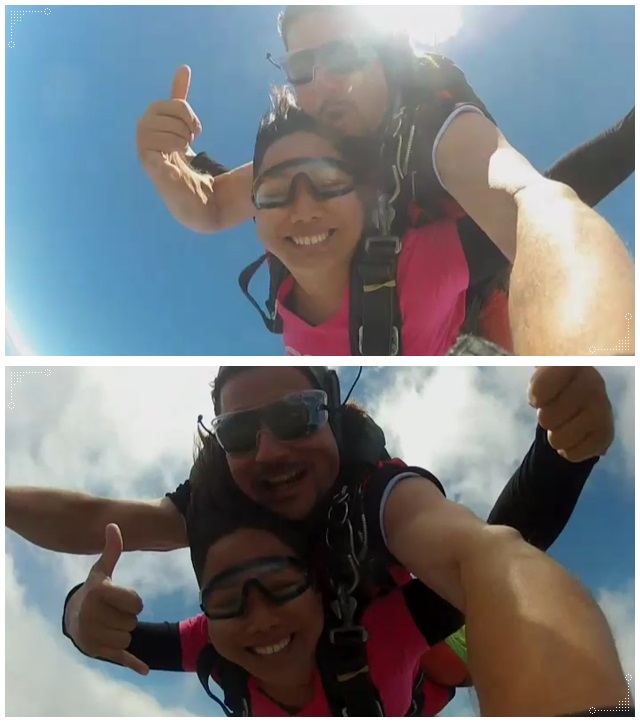 Upon arriving at the site we were instructed to fill up some forms and although we got there 30 minutes early, we still queued for 2 hours.  Finally, while I was watching skydiving previews at the lounge an instructor called out my name, I waved at him and he introduced himself. Kent my instructor was a veteran who has been jumping off planes for the past 18 years. This was  very pleasant news. He and his co-instructors do anywhere from five to ten jumps each day depending on the volume of customers.
We were provided thick, synthetic-like pants which were surprisingly comfortable. Then, after a 10-minute briefing session our instructors attached our straps and harnesses and we were on our way.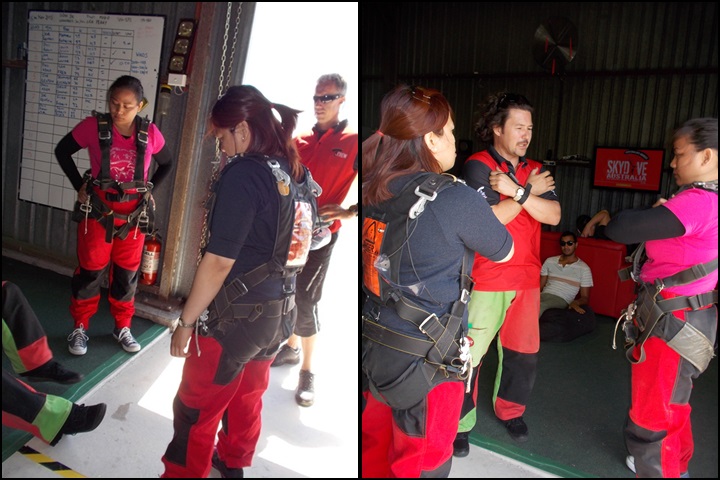 Skydiving 101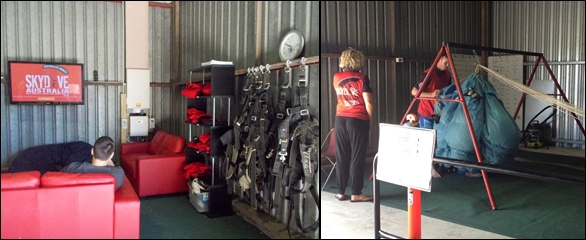 The lounge and briefing area
A shuttle took us to an airstrip which was at least 20 minutes away from the parachute landing zone. Since we arrived at the site I didn't feel anxious at all. But, at the airstrip the sight of our cessna plane seriously triggered my fears. It was a tiny 5-seater plane, which to me seemed slightly larger than a boat except it had wings. I've never felt nervous about getting on commercial airplanes, but getting on this tiny plane was different, I felt very uneasy.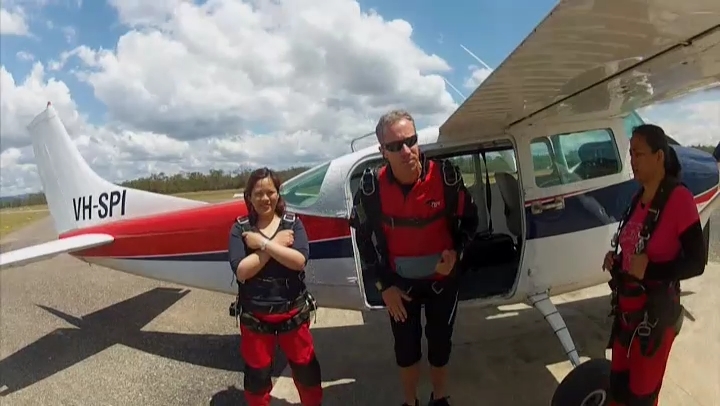 Our petite Cessna plane
The cabin was large enough for the five of us including the pilot. Once we were all onboard the engines roared, the plane sped off and in a few minutes we were up in the clouds. Tugerah is at the Central Coast, our plane flew over vast grassland, forests and the ocean side. I was enjoying the spectacular views so much I didn't want to get off.
My reverie was interrupted when my instructor suddenly shouted "three minutes!!" my heart started beating, "one minute!!" In a flash I see my sister and her instructor jump-off. Shortly after I was seating on the side of the plane with my feet dangling 14,000 feet from the earth. Once the door was opened the strong wind forced its way in, it was hard to move. But after a few seconds we were finally positioned on the side and then we jumped…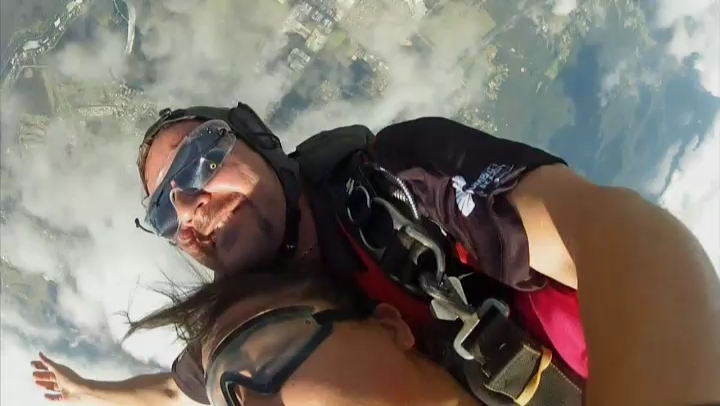 The free fall speed is said to be about 200 kilometers per hour. During this period, my mind stopped working, I couldn't think, I could only feel. I felt like a spectator watching something like a sack of rice fall from a plane, except that — I was that sack of rice.
As we were falling, I had my arms folded against my chest, then my instructor tapped my shoulder which meant I should spread out my arms. I felt the cool mist on my face and realized we were falling through a cloud. As you fall the pull of gravity can be overwhelming and the air pressure begins to pound on your ears. I felt a simultaneous mix of fear, excitement and awe. The sight of the earth below was breathtaking.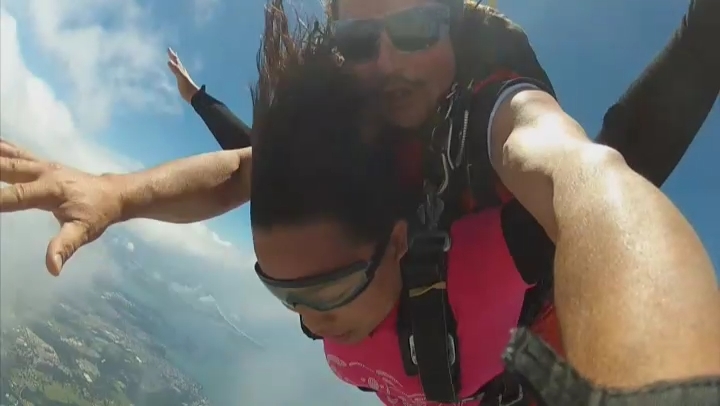 The free fall lasts for about  30 seconds. Just as I was getting a hang of it my dive master released the parachute. It was an abrupt stop. By the time you reach 5,000 feet or so, your instructor has to break the fall.
At the instant the parachute opened, our weight pulled heavily against it causing the tight strap to move up to my chest which hurt a lot. Fortunately, my instructor sensed my discomfort and offered to loosen the straps right away. I was so relieved since it would've taken a few more minutes before we reached the ground.
Admiring the Central Coast on the way down
With the parachute open we were falling at a more relaxed speed. The freefall was the highlight of the jump, but hanging from the parachute as the wind slowly carried us toward the landing zone was equally fun. From that height you'd be overwhelmed by the vastness of the ocean and the marvelous terrain beneath you. If I could've floated up there all morning to admire the rugged mountains, endless greens and incredible deep blues I would have. It was so surreal to feel the sky, the wind, and the mist around you with no barriers whatsoever.
Kent seamlessly navigated toward the drop zone and we had a perfect landing. The landing process can actually be dangerous. For tandem jumps, you'd need to stretch out your legs like in a seating position, as high as you can to make sure only the instructor's feet touches the ground. Otherwise, things can go awfully wrong.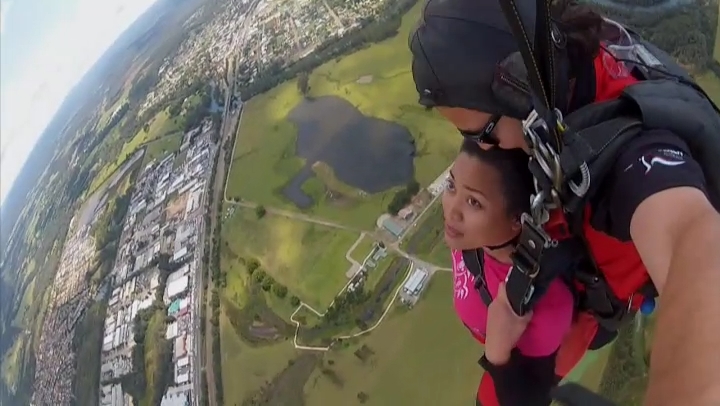 A FEW TIPS FOR FIRST TIMERS
SKYDIVING SITES
Our skydiving site was in Tugerah, in the Central Coast. It's roughly 1 hour away from Sydney by car. Coming from a farther suburb it can take 1.5 hours. Skydiving is a sport that requires wide landing zones, so the site are far out from the city. Some skydiving companies offer free shuttles to and from Sydney City Center.
TANDEM SKYDIVING
First-timers are always accompanied by a dive master. It's called tandem skydiving. Experienced skydivers can jump on their own as long as they provide their documents.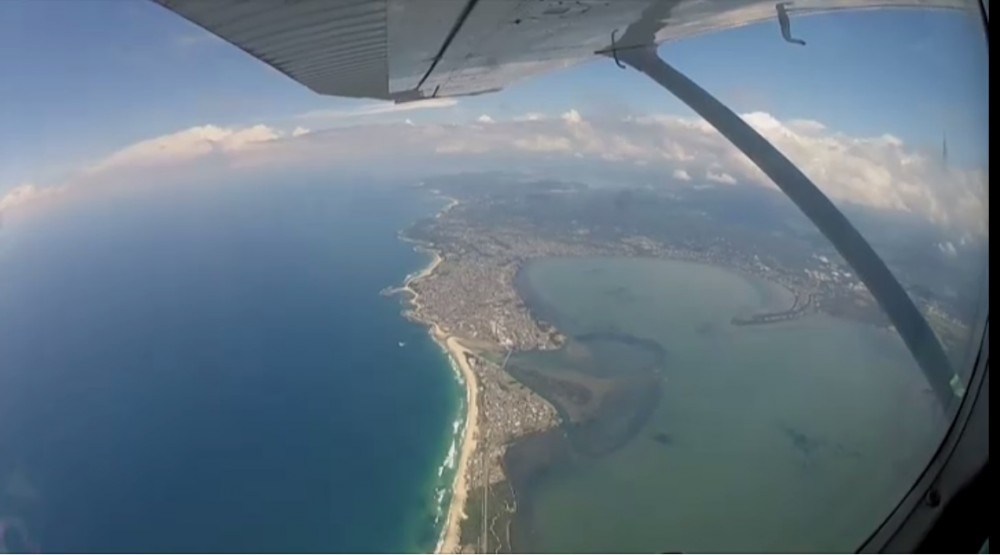 SKYDIVING COSTS (Australia Skydiving sites)
Tandem Skydiving Rates range from $260-$300 AUD (rates are often higher on weekends and vary with the location).
SKYDIVING WEBSITES
OTHER COSTS
$30 AUD Levy to be paid at the site
$99 – $150 AUD – Photos package (photos are grabbed from the video)
$150 – $170 – Photo & DVD packages
$30 Insurance – (This is optional but I recommend it)
CLOTHING
Wear light and comfortable clothes that you can easily move in and footwear that won't slip off. A pair of sneakers is suitable.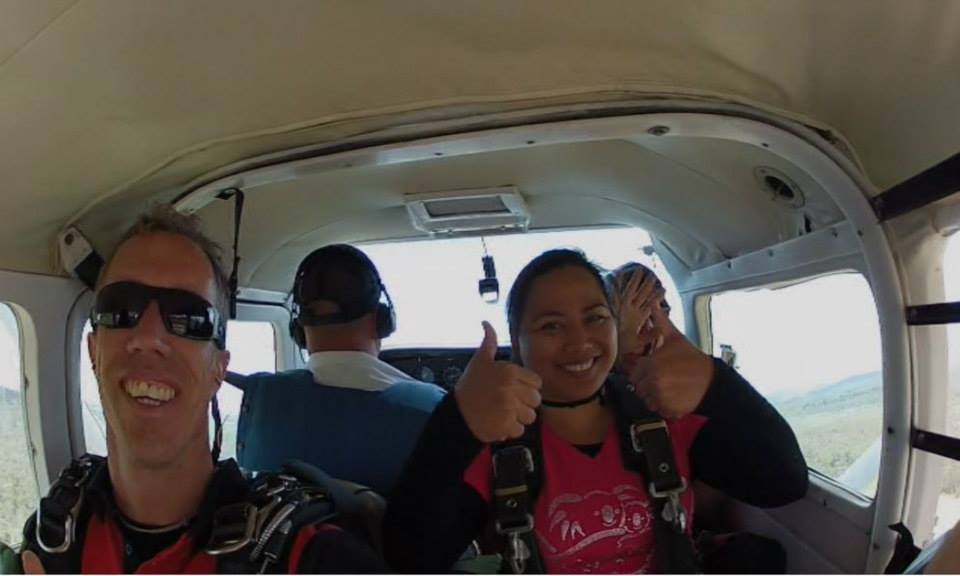 OTHER PREPARATIONS
You will be asked to arrive 30 minutes before your schedule for briefing and paperwork. Basically, you have to sign some papers confirming that you understand what you're getting into and that you won't hold the company liable in case things go wrong. This is where the insurance comes in and I highly recommend it if you are from a foreign country.
Finally, it's a half-day activity so bring packed food, snacks and drinks because there aren't any restaurants at the site.
If you found this article useful, please pass it on. Thanks.
You can read about my other Australia adventures here 


Like, Share and Spread the Love!!