Pros and Cons of Traveling to Bolinao, Pangasinan
When travelers head off to Pangasinan, Bolinao is often their second stop after Alaminos City. Located on the tip of a peninsula, Bolinao offers  travelers more opportunities to soak in the sun and sea before leaving Pangasinan. The region is littered with secluded caves, waterfalls, and idyllic coves waiting to be discovered. But, just like any other destination, there are things about Bolinao that could either delight or disappoint you. If Bolinao is your next stop, below are some useful tips and insights to help you make the most of your Pangasinan adventure.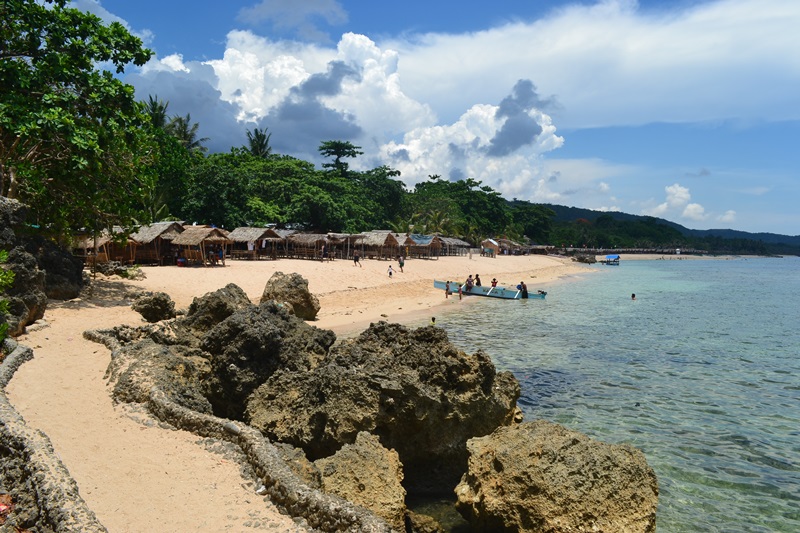 Patar Beach, Bolinao, Photography by Iza Sanchez
Getting There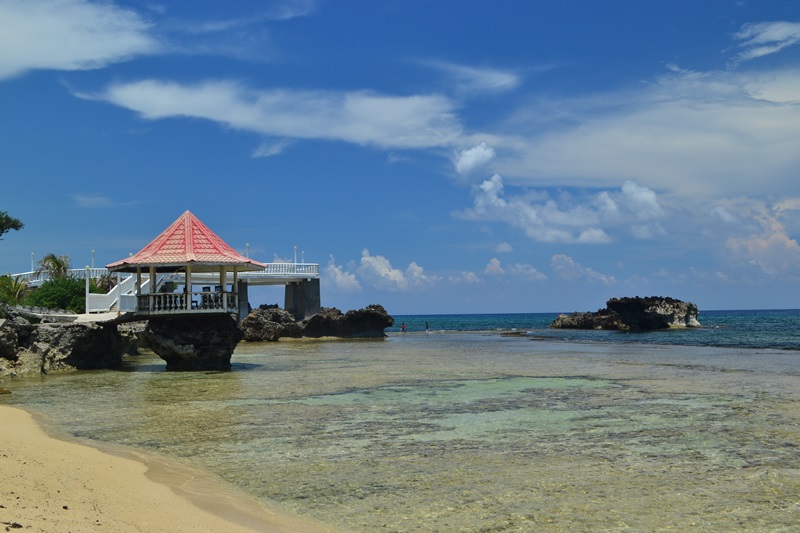 PROS
Traveling to Bolinao is quite easy. Several bus lines ply the Manila-Bolinao route from terminals in Cubao and Pasay. There are hourly trips beginning at 6 a.m. through 11 p.m. Once you arrive in Bolinao just hop on a tricycle to the beach resorts. It takes roughly 20 to 25 minutes depending on the location of your hotel.
CONS
From Manila, it's a long and tedious, 6-7 hour journey to Bolinao. If you're not into road trips Bolinao is probably not your go-to destination. In addition, buses pick up passengers along the way which adds up to the travel time. Here's a tip – Take an evening trip so that you can sleep through most of the journey. For further directions to Bolinao check out – How to Travel to Bolinao, Pangasinan – Backpacker Style.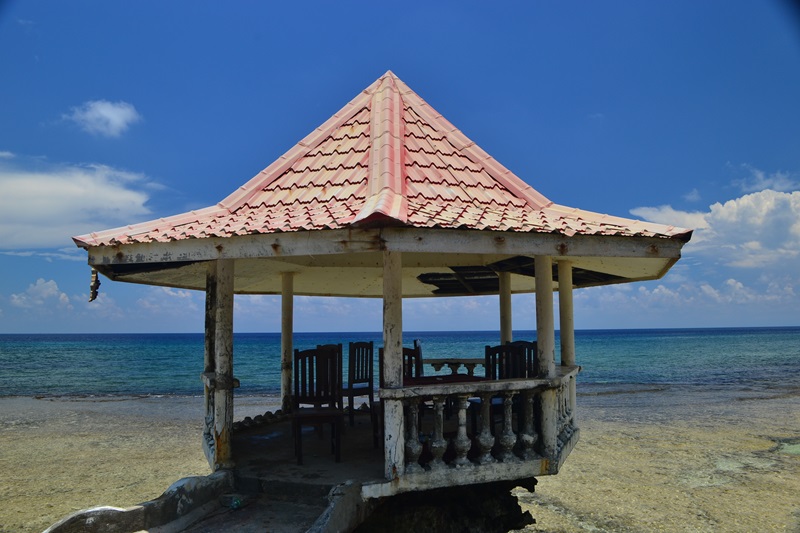 Photography by Iza Sanchez
Infrastructure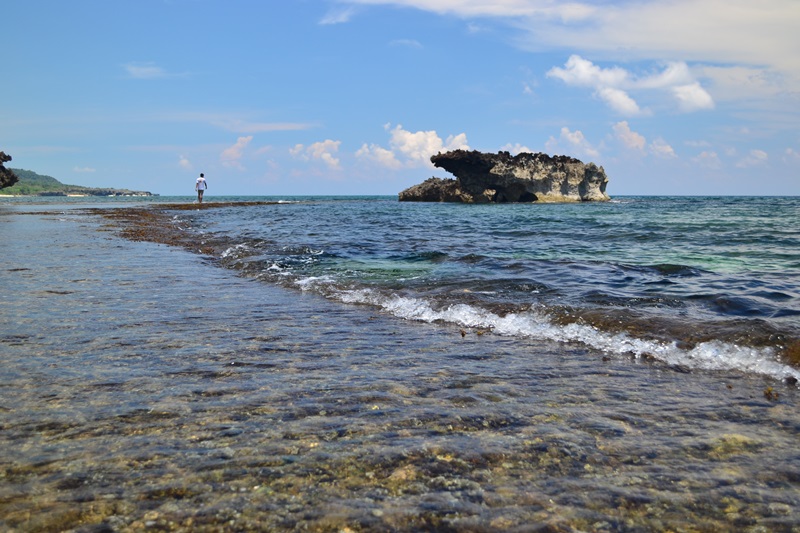 Photography by Iza Sanchez
PROS
Bolinao is a fairly established tourist attraction. There are many low-cost, mid-range, as well as luxury hotels to choose from. In addition, transportation to and from the town is plentiful. As for network signal, it isn't so bad, although just like in many provinces, it's poor in some areas.
CONS
Patar road is the only path to the resorts. Unfortunately, the road has intermittent gaps between paved and unpaved sections. According to a local, this is a result of the road project being awarded to multiple contractors on a per-kilometer basis. Apparently, the road ends wherever government funds ran out. With that in mind, it's best to hold off on taking a trip to Bolinao in the rainy season since passage through Patar road could be difficult.

Photography by Iza Sanchez
About the Beach
Photography by Iza Sanchez
PROS
Patar Beach has very attractive, mocha-colored sands  and spectacular rock formations. It's also not as touristy as commercial beaches close to big cities like Manila, so you can easily find a quiet spot to bask in the sun. A perfect vantage point to take in panoramic views of the beach is at the rock bridge of Treasures of Bolinao. You would have to pay a fee though to use the hotel's facilities including the bridge.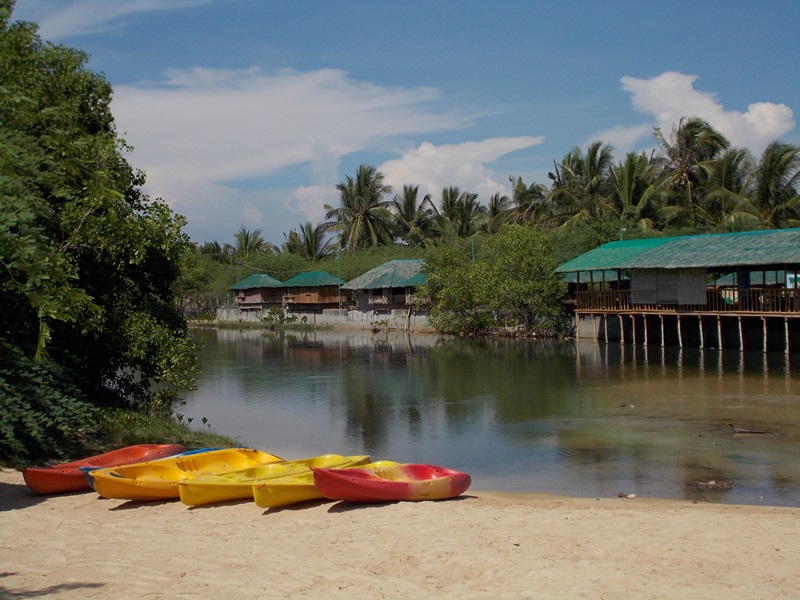 There is a river called Ilog Malino which runs alongside the beach. You can kayak through the river at Punta Riviera Resort. Kayak rentals cost ₱350 per hour. You can also go to Puerto Del Sol Resort to kayak. However, I recommend Punta Riviera because there you can view the point where the river merges with sea.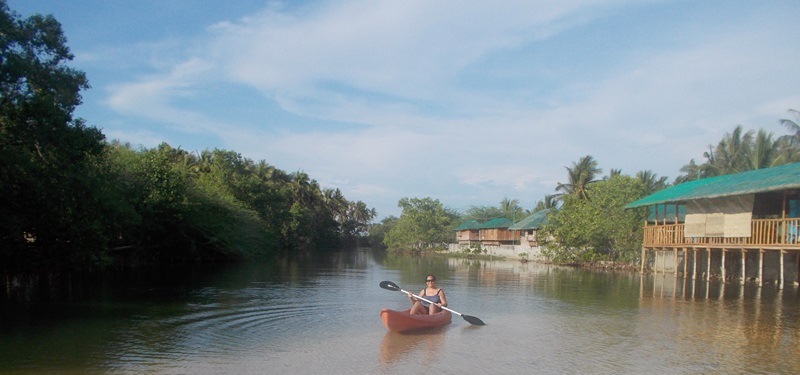 Ilog Malino, Bolinao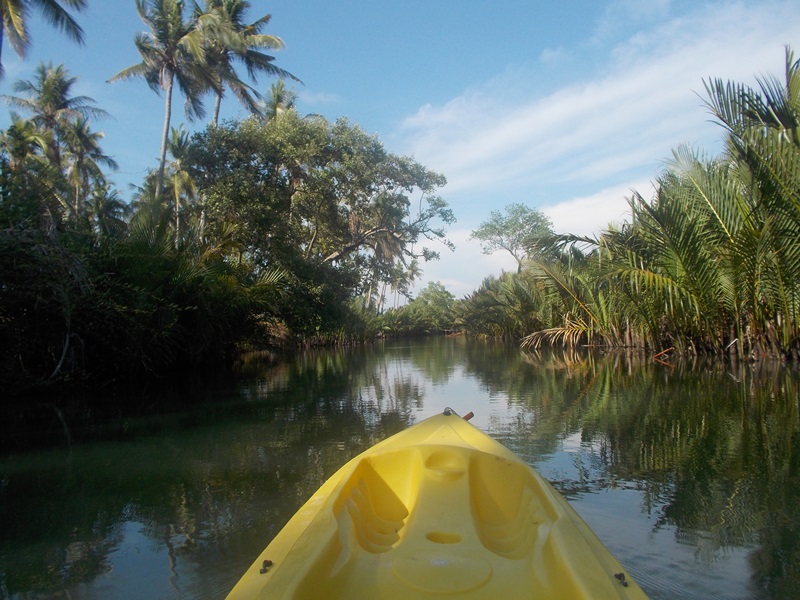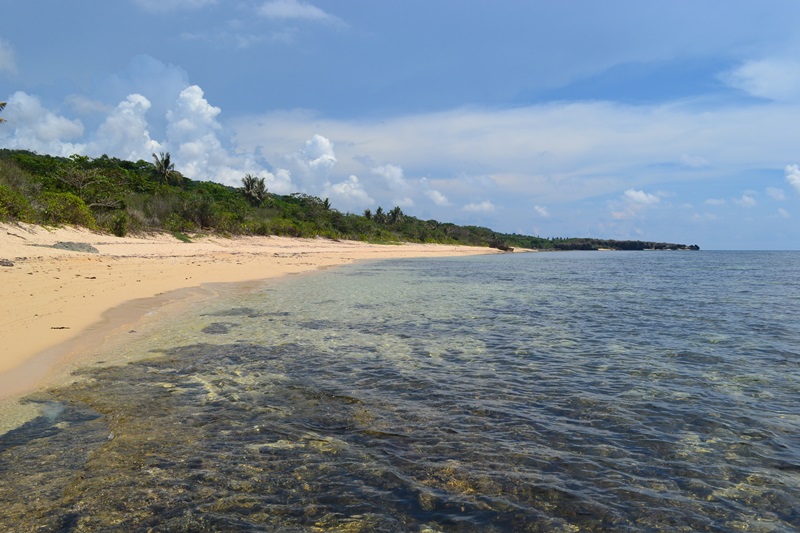 Sea grass and weeds cover most of the shore of Patar Beach
CONS
The locals have labeled Patar Beach the Boracay of Pangasinan. However, if you've seen the likes of Puka Shell Beach in Boracay or Port Barton in Palawan, you might be in for a major disappointment. Yes, Patar Beach is not as strikingly beautiful as the white-sand beaches of Central Philippines, but it does have its own unique charm and is still worth a visit.
Abundant sea grass covers most of Patar's shores which makes the beach look slightly unattractive, although this is a sign of a healthy marine ecosystem. Here's a tip – wear slippers or surf shoes to avoid stepping on anything sharp, slimy, or alive with your bare feet.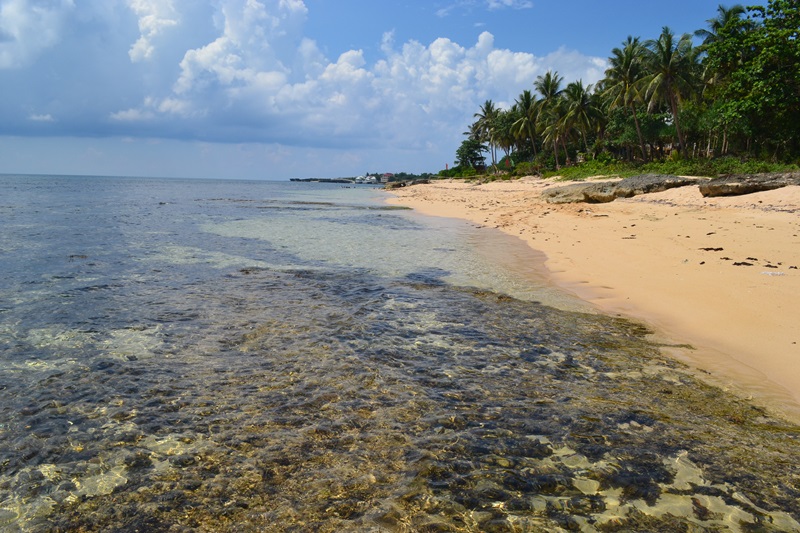 Photography by Iza Sanchez 
No Snorkeling Sites
There aren't any snorkeling sites in Patar Beach.  If you'd like to go snorkeling, take a side trip to Alaminos and  visit 100 Islands National Park. To help you decide whether you should swing by Alaminos, check out these photos of the beautiful coral reefs near Quezon Island. It's just one hour away, so you might as well go.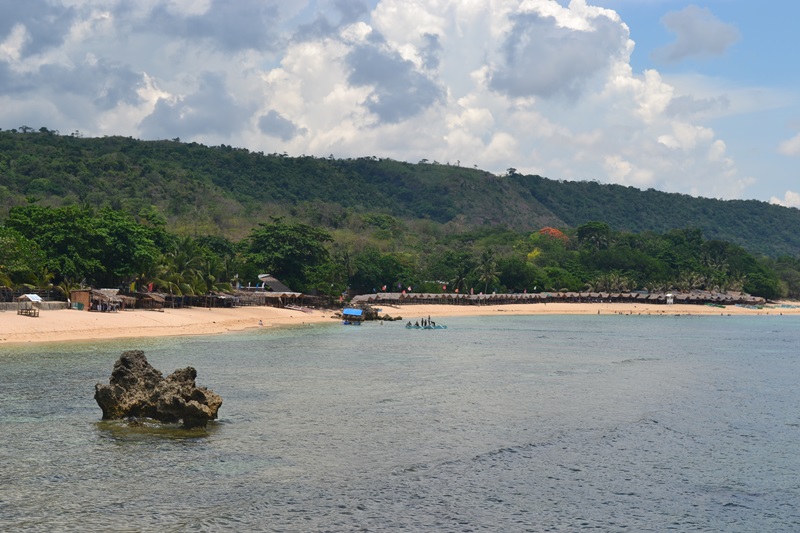 About Accommodation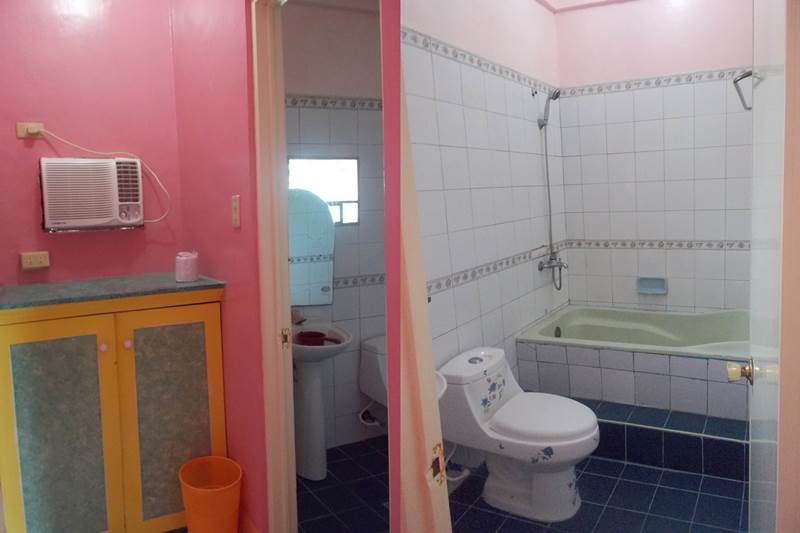 PROS
A Wide Variety of Hotels
There are many hostels along the beach so you wouldn't have to worry about booking in advance even during  the peak season. For budget travelers you can find places that offer fan rooms for as low as ₱800 per night. Check out Benjie's Kubo and Ilog Malino Hotel.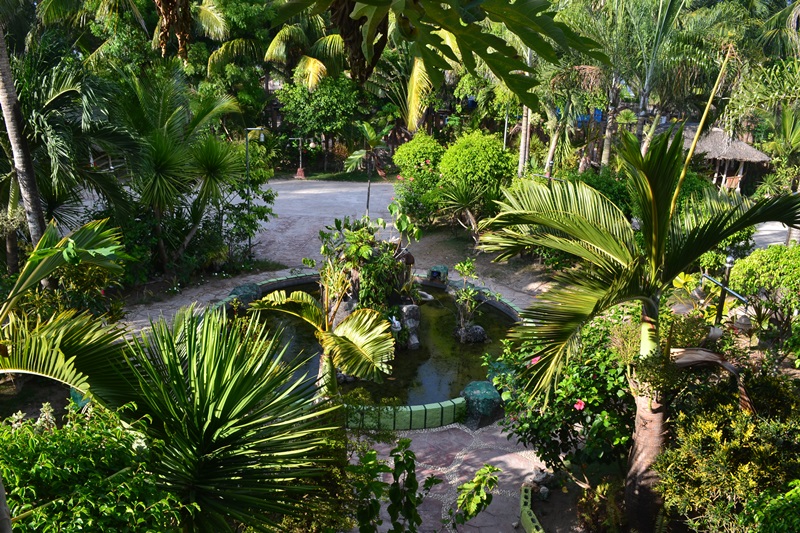 CONS
No Websites
Many low-cost and mid-range hotels in the area do not have websites. It's a far stretch from one end of Patar Beach to the other and if you don't have a private vehicle, hopping from one hotel to another on a tricycle to check out each one could be very time consuming. It's best to book your accommodations in advance with a hotel that has a website to save time and energy.
SCL Paradise Beach Resort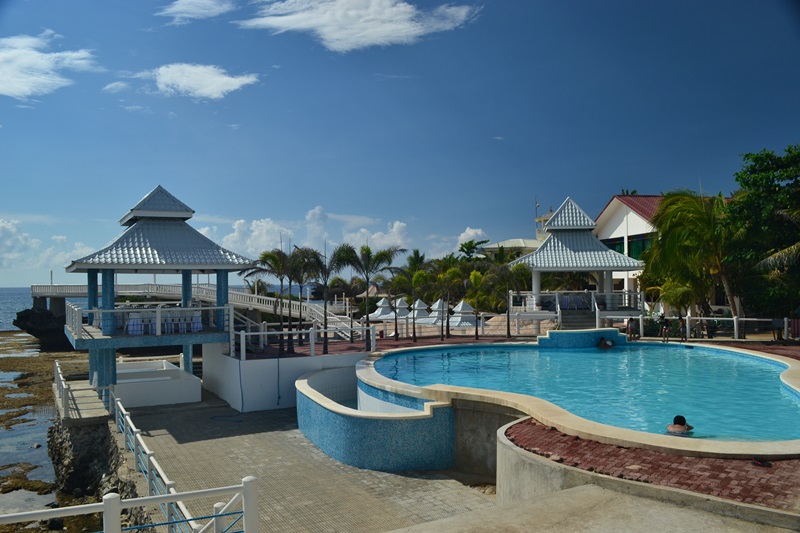 Treasures of Bolinao Beach Resort
There are at least three high-end resorts in the area. I got to see the room rates of two and found them quite pricey for a tourist spot like Bolinao. Treasures of Bolinao Beach Resort has the best location of all. Do take note that the beaches in front of any of these hotels are not exclusive to their guests. You can swim and sunbathe in any part of Patar Beach regardless of where you are booked. At Treasures of Bolinao and Punta Riviera visitors are welcome to rent kayaks and use some facilities like the infinity pool and other recreational areas for a fee.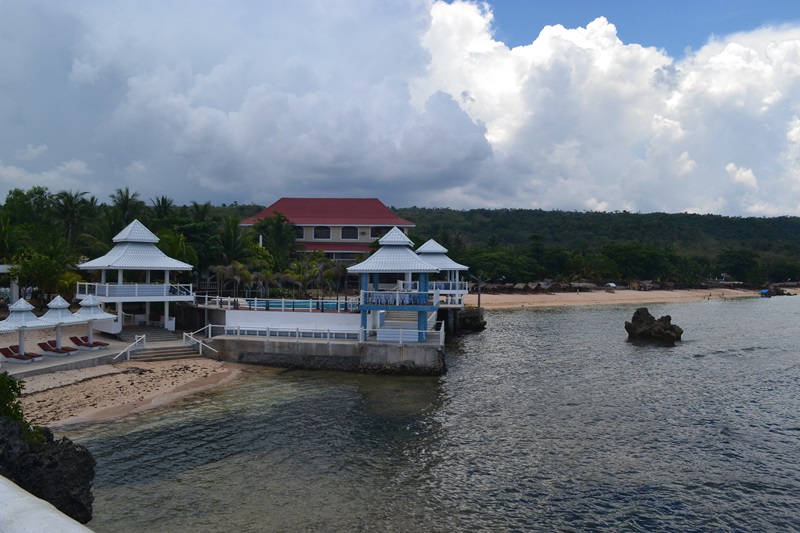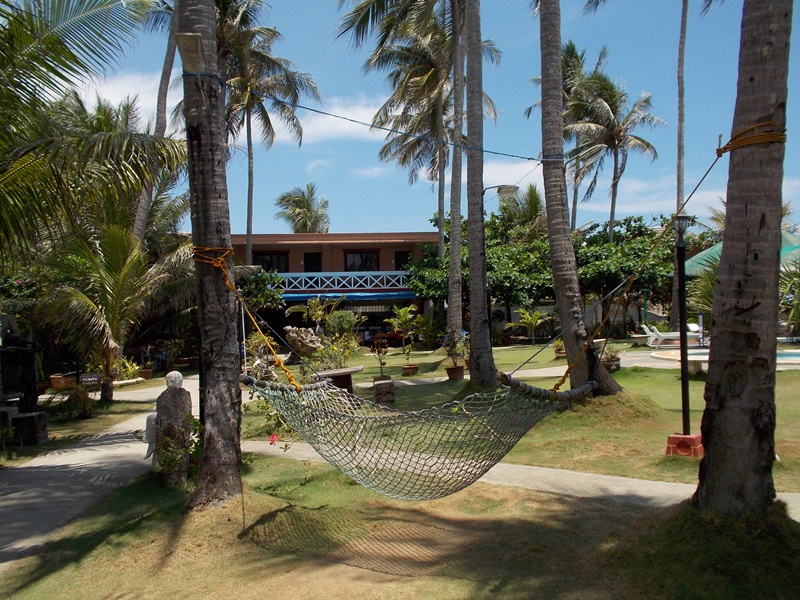 Halo-halo after kayaking at Punta Riviera Resort, superb!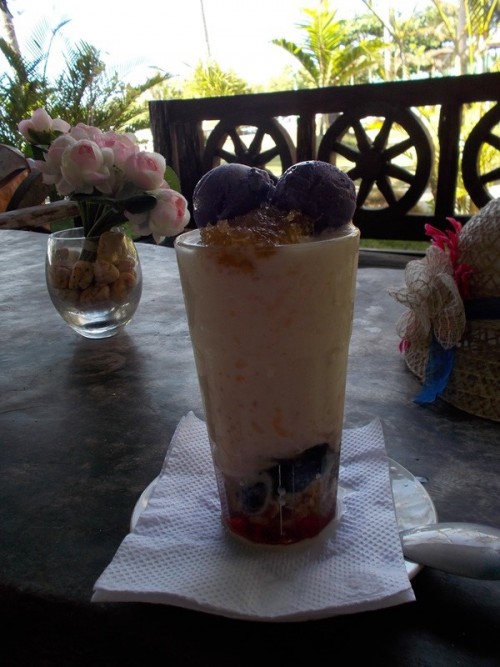 My home away from home at Bolinao was SCL Paradise Beach Resort. It was a mid-range hotel that charged ₱2000 per night for a standard room with the usual amenities. Considering the location I found them quite pricey. However, the hotel's ambiance was nice and the wifi was good, and at that time I really needed the wifi for work.
The beach across SCL Paradise Resort does not have the wow factor. In fact, you might be disappointed at first glance. But when the sun is up and the sky is clear you'll find it a lot more attractive. From there you can walk for 15 minutes to the nicer beachfront of Punta Riviera and Villa Soledad hotel.
Beachfront at SCL Paradise Beach Resort 
Where to Eat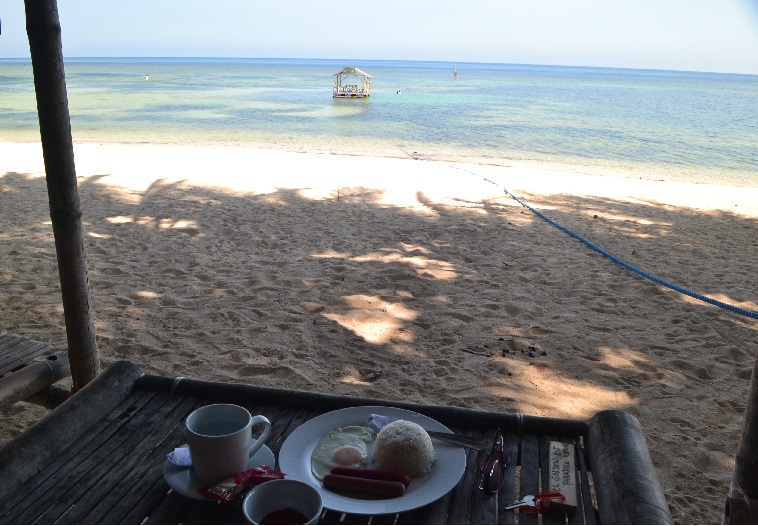 If you're traveling solo, you will likely spend a huge chunk of your budget on food since there aren't any cheap restaurants along the beach. I bought some chips, biscuits, and bread in town which was 30 minutes away from my hotel and lived on sandwiches for most of of my trip. I also ordered food from the hotel restaurant a few times, but it was expensive. Some hotels have an open kitchen where guests can cook. Inquire at your hotel if they have one and bring your own food provisions. This could help you save on food costs.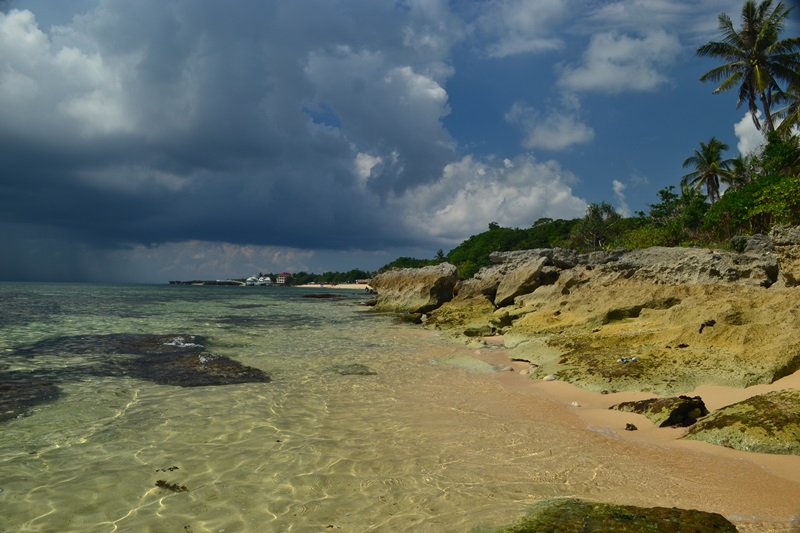 If Karaoke Bothers You
I spent an afternoon swimming and kayaking at Punta Riviera resort. Kayaking was fun. Unfortunately, the neighboring hotel called Villa Soledad had an open karaoke facility. If you're staying at either Punta Riviera or Villa Soledad, you can expect loud and endless singing from other guests. If karaoke bothers you, pack some advil you might have a migraine or better yet, make sure you ask your hotel about this before you confirm your reservation.
One last tip, if you go to Bolinao in the summer, swim in the morning because by noon the water recedes several meters from the shore and you really couldn't swim anymore unless your hotel has a pool.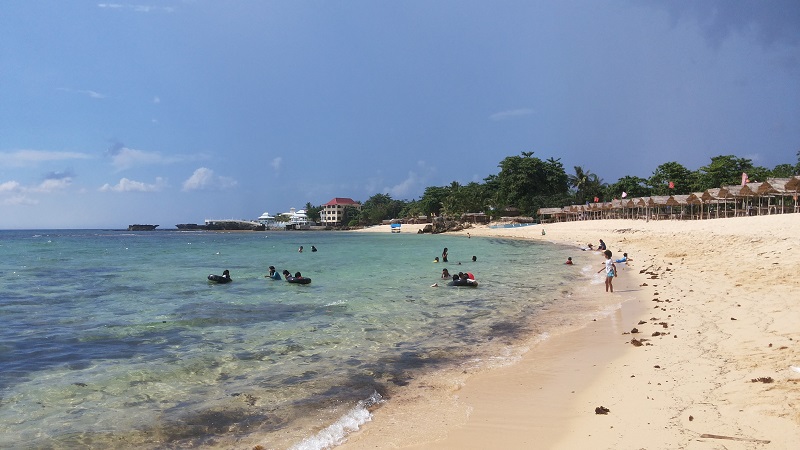 These boats can be rented for ₱500 for a 30-minute trip across the beach

If you found this article useful please give it a thumbs up and pass it on.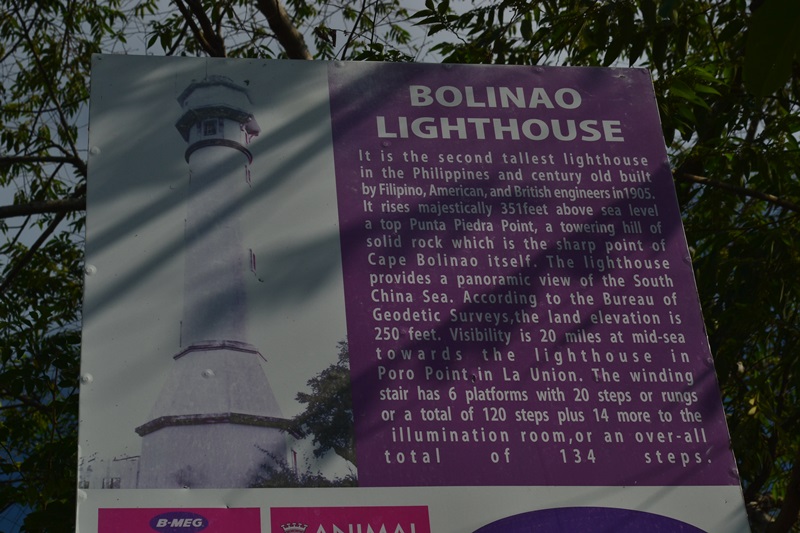 Bolinao Lighthouse, Photography by Iza Sanchez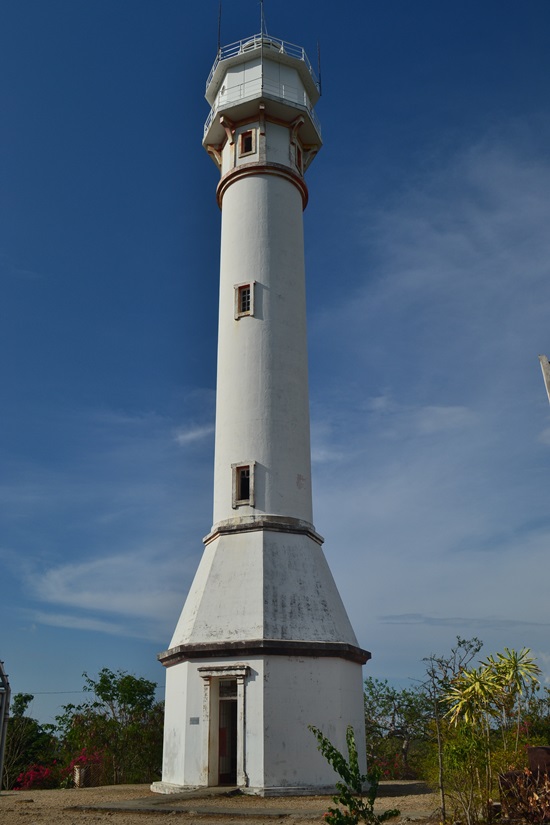 Like, Share and Spread the Love!!